Melody Queen Noor Jehan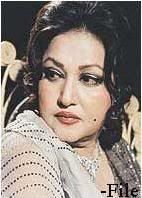 Noor Jehan (September 21, 1926 – December 23, 2000) was a famous Punjabi singer and actress. She is revered in Pakistan by her title Mallika-e-Tarranum (Queen of Melody)and is considered to be one of the greatest singers to have come from the Indian Subcontinent. Noor Jehan has appropriately sung around 10,000 songs in Hindi, Urdu, Punjabi and Sindhi films in both India and Pakistan.
Birth and Family
On the dark night of Tuesday, September 21, 1926, in a small house of poor musicians, at Kot Murad Khan in the sleepy town of Kasur, in rural, undivided Punjab, a newborn baby girl was crying. When the child was born, her father's sister on hearing her wail, said to her brother "This one even wails in accordance with the scale". She was named Allah Wasai. This girl's voice was destined to be heard beyond the four walls of the humble dwelling in years to come. Her parents were professional musicians and genealogists working for local landowning families, performing at life cycle events. The family also performed at the local theatre and at seasonal fairs. Her father was Madad Ali and her mother was Fateh Bibi and she was the youngest child of her parents in a family of thirteen. Noor Jehan had six brothers - Mian Nawab Din, Gul Muhammad ("Gulloo"), Muhammad Hussain, Muhammad Shafi, Siddique, and Inayat Hussain. Noor Jehan had six sisters - Eidan Bai, Haider Baandi, Gulzar Begum (or Bibi Gulzar), Ameena Begum, Baharo, and Undam Begum ("Umda" or "Machine"). Sadly, three of her brothers ended up in mental institutions.
Childhood and stage career
From an early age, she displayed signs of having a melodious voice, which became more apparent by the time she was four or five years old. She could pick up just about anything - be it a folk song or a popular number from a theatrical drama - she could imitate it to perfection. Realizing her immense talent, her mother began to believe that her daughter had something exceptional to give to the world. So, the family moved to Lahore, where Noor Jehan's sisters, Eidan Bai and Haider Bandi, began their stage careers. Her mother arranged for her to begin her training in singing and dancing. She received early music lessons under Kajjanbai (a singer between 1920 and 1930) who made her do "riyaz" up to 12 hours a day. After her morning "riyaz", a teacher would come and teach her to read and write. She received early training in classical singing under Ustad Ghulam Mohammed who instructed her in classical music and voice production within the framework of classical forms of thumri, dhrupad, and khayal. From Lahore, the family moved to Calcutta, in hopes that Eidan Bai and Haider Bandi would break into films. However, this did not happen, yet they continued their stage careers. In around 1930, Noor Jehan won a part in a silent feature film called Hind ke Tare (1930), produced by Indian Pictures. Thereafter, the family moved to Bombay where she acted in 11 silent films in 1931, launching herself as a prominent child star of the 1930s in both silent and soon sound films. Her first talkie feature film was Sassi Punnu, released in 1932. She joined Kohinoor United Artists and appeared in some of their films. Later, she was employed by Seven United Artists and played the lead in some of their films opposite Khalil. She took up singing at six years of age and began making stage appearances with her elder sisters for rural theatre companies called the Taka Theatre. Later, she joined Sharda Film Co. and played important roles in several of their films. She did not sing original songs but the famous hits of the day. She then went to Lahore with her sisters and took part in zinda nach gana (live song and dance) which usually preceded the actual film show. She was only nine years old when the great Punjabi musician, G. A. Chisti, introduced her to the stage in Lahore. He composed some ghazals, naats and some folksongs for her and she was paid 7.5 annas for each song. She also received some classical music lessons under Ustad Bade Ghulam Ali Khan. The sisters then proceeded to Calcutta. During their stay in Calcutta, Mukhtar Begum, the sisters' ideal and a famous singing star in the 1930s, encouraged the three sisters and recommended them to various producers. She also recommended them to her husband, Urdu drama writer, Agha Hashar Kashmiri's Maidan Theatre, where Noor Jehan received the stage name Baby Noor Jehan. In later life, Noor Jehan adopted Mukhtar Begum's style of performing and wearing of a sari. The sisters were offered permanent jobs with one of the Seth Sukh Karnani Companies, Indira Movietone. Their popularity grew as they became known as Punjab Mail.
Last years and death
In 1986, on a tour of North America, her mild chestpains recurred with severity. Her doctors diagnosed angina and an immediate operation was advised. The American surgeons performed a smooth surgery and Noor Jehan returned to Lahore with a winning smile while hiding her ticking pace-maker. She looked slimmer and prettier and flaunted a band around her neck that changed colours with ever-changing saris. Even her voice sounded fresh. Her facelifts in London were perhaps already known and perhaps also a minor surgical manipulation of her "singer's nodules" which are known to occur with voice overuse.
In 1996, Noor Jehan recorded her last song in Pakistan which was "Ki Dam Da Bharosa?" for the film Sakhi Badshah (1996) and stopped singing due to failing health and newer trends in music. Noor Jehan stayed away from the limelight for four years - a period which seemed like ages for fans, and during which she received treatment at various hospitals. Fans and family, friends and foes, all prayed for a magical cure. Her ex-husbands, sons, daughters and grandchildren waited in attendance. Admirers carried fragrant bouquets and well-wishers sent get-well-soon wishes. Dilip Kumar visited from Bombay and General Musharraf from Islamabad. But none could stop her ailing heart from its downslide. It had taken much and could take no more.
Noor Jehan's last days were painful. Once, she almost died but came through. She said that God had spared her life so that while she was alive, she could divide her property among her children because if she had not, after she was gone, there would be disputes and that would make her very unhappy. She was not to be disappointed. Her large home in the Liberty Chowk of Lahore's Gulberg Town which she had been smart enough to get declared commercial property by the Corporation was sold for Rs. 20 crore. She gave each of her six children Akbar, Asghar, Zile Huma, Hina, Shazia, Nazia Rs. 2.5 crore each. She was truly happy and relieved after she did that.
Noor Jehan had been suffering and fighting off a terrible protracted illness concerning her ailing heart as well as several other ailments. She was sent to Karachi for treatment, where she suffered a heart attack. On Saturday afternoon, December 23, 2000, Noor Jehan died from heart failure. She died on the night of Laylat al-Qadr (27th Ramadaan), which is a very important night for Muslims. The funeral prayers were offered at Jamia Masjid Sultan, Karachi. She is buried in the Left Side of Gate 2 at the Gizri Graveyard near Saudi Consulate in Karachi. Her grave is built of golden marble and is a grave of striking beauty. In death, Noor Jehan dissociated herself from those she kept her company all her life, and left in the company of taraweeh prayers. When news of her death spread, people could not resist and turned on their TVs in the middle of the holy night's prayers for one last look of that smiling, dimpled face - that magic, charisma, that legend they called Mallika-e-Tarranum Noor Jehan.
Another source describes her death as: Allah Wasai of Kasur died in the arms of her loving daughters in Karachi - the daughters she had brought up as a single parent. Leaving behind millions in gold and cash for her children and thousands of immortal melodies for her fans, she had embarked on her last journey. The falling night of December 23, 2000, was the holiest night of the month of Ramadaan, a night when sins are forgiven and when the doors of heaven are flung wide open. Noor Jehan, who never sang in her life without advance payment, was leaving for the Hereafter with booked promises.
Personal Life
When Shaukat Hussain Rizvi was asked to come to Lahore to direct Khandaan in 1942, Noor Jehan, who with her sisters was in a dance party which performed from town to town, was in Amritsar. He was to choose a heroine for the new movie which was being produced by Dalsukh Pancholi. He recalls that through the help of S.P. Singha, who was vice chancellor of the Punjab University, several girls were sent over for audition but he did not like any of them. He wanted his heroine to look no more than fifteen or sixteen on the screen, which was how old Nur Jehan was at the time. He decided that it was she whom he wanted. She was sent for but he did not tell her that she was going to play the lead. That was when their affair began which ended in marriage against the wishes of her brothers who did not wish to lose her. She was the soul and the main draw of the roving dance party.
One day, during the shooting, Rizvi said to Noor Jehan by way of a joke, "What sort of oil do you use on your hair? It smells awful." He says the moment the words left his mouth, she burst out crying and just would not stop. "What sort of a woman is this!" he recalled saying to himself. "I should have been warned that she was a very dangerous woman but I was in love. I could not see that." As a result of this incident, the shooting remained interrupted for five or six days. When it was resumed, he says he came back, fully determined that he would ignore her. However, after some cajoling from the Pancholi clan of nephews that hung around the studio, Rizvi made up with her. The love affair was resumed. One day, old Pancholi sent for him and said, "Look Shaukat, my nephews are your friends and I treat you as one of them. Let me give you some advice. Let this remain a little game between the two of you, no more than that. Don't let it go too far." He wrote, "To this day, his words ring in my ears. But I was blinded by love."
In Rizvi's words, "She was having this affair with me on the one hand, while carrying on with some others on the side. One day, I ran into a friend on the Mall (in Lahore) who said there was someone looking for me." He was led to a house off the Mall where he was surprised to meet Noor Jehan. But she was not alone. In her wake came Hassan Amin. It seems they were having a playful pillow fight. "I was taken aback," wrote Rizvi, "Here was the woman who used to assure me of her love … I asked Hasan Amin what it all meant. He replied that it was Noor Jehan's idea. She was who wanted him to send for me. The idea was to make me jealous." Her family, he adds, was in on the little game, although Amin knew that she was having an affair with Rizvi.
Hasan Amin told Khalid Hasan himself that Noor Jehan was his first love. He was a student at Government College, Lahore, when he first saw her, performing with her sisters on the stage. He was smitten. He chased her all the way to Kasur and despite the opposition of her family, Noor Jehan had an affair with him. "She wanted me to marry her, but all wanted to do in those days was play cricket," he said wistfully.
But returning to Shaukat Hussain Rizvi's story, Noor Jehan promised to drop all others and the affair revived. Some time later, she began to come to him with stories of her mistreatment by her family, including beatings by her brothers. Rizvi told her to make a declaration to that effect (before a judge) but she did not do that. Meanwhile, their affair became even more torrid. Khandaan was now near completion. One day when the studio car went to fetch her from Hira Mandi, Lahore's famous flesh district (where she was obviously staying), there was word waiting that the family had left. Police warrants were issued, Seth Dalsukh Pancholi being a man of influence, and forty members of her family were arrested from Kasur and brought to Lahore. That day the scene to be shot included the actors Ghulam Muhammad, Pran, the hero, and Noor Jehan. Her elder brother tried to make a protest to Rizvi who told him to be on his way. Noor Jehan, once again, began to cry complaining about her treatment by the family. He told her to go before a judge, tell him the truth and declare that she wanted to marry Shaukat Hussain Rizvi. She promised to do so the next day. The police case against her family was also to be heard the next day. Her brother Shafi told the judge that the family was afraid Rizvi would abduct Noor Jehan. When this was put to her by the judge, she said that to her Shaukat Hussain Rizvi was like a "brother". This, Rizvi wrote, was typical of her, adding that he could narrate not one but "two thousand five hundred" such stories.
Khandaan was released and it was an immediate hit. Shaukat went home to see his parents in U.P. When he returned to Lahore, there were several messages from Noor Jehan waiting. She was in Amritsar with her dance party doing shows at the Rialto Cinema. Rizvi finally relented, travelled to Amritsar with friends and when he met her, she told him the same story. She explained that she had been forced to make the "brother" statement in Lahore because of pressure from her brothers. However, this time, she assured him she was willing to go with him. He told her that he would send for the police which would take her to court where she should make the necessary declaration, but wrote Rizvi, "she again cheated me. The fact was that she did exactly what her brothers told her to do."
He returned to Lahore and from there he took off for Bombay where he was assigned by V.M. Vyas to produce the film, Naukar. Noor Jehan had also arrived in Bombay and wanted to be cast as the lead. However, Rizvi refused and, when pressed, agreed to make her the "side heroine" but he made it clear to Vyas that he did not wish to speak to her. According to Rizvi, one day Noor Jehan's brother Shafi came to him, asked for forgiveness and said, "Baby (he called her Baby) is not herself, please forgive her." Then he stepped out, brought in Noor Jehan, who was waiting outside and left her there. Noor Jehan told him how cruelly she had been treated. She showed him marks on her body resulting from beatings given to her by her brothers. The two reconciled and they were married. This was in 1943. However, more trouble was afoot. Nur Jehan's parents filed a suit against Rizvi charging abduction of their daughter. Rizvi sent for her birth certificate from Kasur (reproduced in the book) which listed Nur Jehan's parents' profession as 'tawaif' or prostitute. The same document gave her date of birth as 21 September, 1926. Rizvi and Noor Jehan's first two children, Akbar Hussain Rizvi (b. 1944) and Asghar Hussain Rizvi, were born in Bombay. Their third child, Zile Huma, was born in Pakistan.
In 1955, Noor Jehan appeared in the Punjabi film, Patey Khan, and fell in love with the film distributor M. Naseem. This created a gulf between Noor Jehan and Shaukat Hussain Rizvi, and they were divorced. Syed Shaukat Hussain Rizvi demanded Shahnoor Studios from Noor Jehan in return for Zile Huma's custody. Madam gladly signed the property papers to get her daughter back. However, her film Pardaisan, produced by M. Naseem, released in 1959 and failed at the box-office, which led to differences between Noor Jehan and M. Naseem, and the two parted ways.
However, Noor Jehan didn't remain single for long. She soon fell in love with 25 year old actor Ejaz Durrani and they became very close. On October 19, 1959, they were married. Their marriage produced three daughters. They were Hina, Mina, and Tina. Noor Jehan glowed with marital bliss and was utterly devoted to Mr. Durrani (she seriously considered giving up singing for him). However, they were divorced on April 28, 1971. They were divorced because of Ejaz's affair with the famous Pakistani actress Firdous. A couple of months later, when Ejaz was picked up at Heathrow Airport, England with a cache of narcotics concealed in film cans, tried, and sentenced to four years in prison, it was Noor Jehan who came to his help. She paid lawyers' fees, which were quite considerable and spent a lot of time and money to bail him out, despite her reputation of being tight-fisted. The man who had let her down and left her to raise three daughters, she helped generously in his adversity.
Descendants
Noor Jehan has a few famous descendant's such as her daughter Zile Huma, who is a well-known Pakistani singer and the only of her four daughters to follow in her mother's steps, and her granddaughter Sonya Jehan who is a fast-upcoming Bollywood actress. She was born to Akbar Hussain Rizvi, Noor Jehan's eldest son and his French wife, Florence. Her birthname was Sonya Rizvi but she was re-christened Sonya Jehan in honour of her grandmother. Her son now runs Shahnoor Studios alongside his half-brothers. Also, Zile Huma's youngest son Hamza Ali is an upcoming name in the Pakistani film and music industry. He made his debut in films in 1997 when he first appeared in Sala Bigda Jayay. He said "I have seen it all, though it hasn't been long since I've joined showbiz but I have been part of it all my life because of my Naano and my mom". Carrying stardom in his blood, his elder brother, Ahmed Ali Butt, is the lead vocalist in the rock band E.P.. Also, two of the Pakistan movie industry's younger and highly talented singers, Azra Jehan and Saira Naseem, are Noor Jehan's direct family.
Trivia
* Noor Jehan is credited in various ways such as, Nur Jehan, Nur Jahan, Madam Noor Jehan, Madam Noor Jahan, Noorjahan, Noorjehan, Nurjehan, and Nurjahan.
* Sour and oily food is death to a good throat - who doesn't know that? And yet Noor Jehan used to eat pickles by quarters of seers and the interesting thing is that whenever she had a film song to record, she would eat quarter seer of pickle quite ritualistically, wash it down with ice-cool water, then reach over to the microphone. She said her voice was enlivened this way.
* Noor Jehan never liked to step out of her home and never liked parties. She also preferred to avoid hotels and public gatherings. "I want to lead a simple, uncomplicated life", she added. Her eldest daughter, Zile Huma, only got to see the inside of Shahnoor Studios after she was married. Her three daughters from Ejaz Durrani had never done that once, she added with a tinge of pride. Noor Jehan never sang at private functions because she believed this practice to be unprofessional.
* Noor Jehan had a distinct look, her hair parted at the center and was tightly combed back in a braid. She believed in big and bold jewellery and wore double-breasted "kurtas" and "shararas". She brought back conservative dress code with her "dupatta" covering her head putting an end to the carefree heroine of the 1930s. The oomph and glamour Noor Jehan possessed certainly caused many eyes to cast glances and many mouths to go on blabbering. Her trademark, heavy make-up, specifically of the eyes and lips remained hers till the end. Nobody managed to carry off those colourful and gaudy saris like Noor Jehan. Rumour has it that she hardly wore the same clothes twice and the jewellery she adorned could be seen sparkling from quite a distance. Noor Jehan also wore some revealing dresses in her days, including a one-piece bathing suit on the Clifton Beach, in Koel (1959), with Aslam Pervez by her side.
* Noor Jehan always preferred her year of birth to remain a romantic mystery. When interviewer Khalid Hassan first met her in 1967 she told him "People often wonder how old I am. Let me tell you, in terms of experiences of life and men, I have always been 100 years old."
* Noor Jehan is one of Asha Bhosle's most favourite singers. On another website she said a few words on Noor Jehan:
"Badnaam Mohabbat Kaun Kare Badnaam is my favourite song by Noor Jehan. I had seen her in my early childhood when Badi Maa (1945) was being made. I played a small role in that film. I used to call her Apa. She sings beautifully. She was one of the greatest female singers at the time of K.L. Saigalsaab".
* Master Ghulam Haider whom she considered to be her "film line" ustad, taught her how to stand in front of a microphone, how to render words such as hai and mohabbat, and how to breathe while singing.
* Despite being deaf from one ear, Noor Jehan's voice and her music are an excellent piece of work.
* Noor Jehan sings in Ragi which means she strains her vocal cords, thus rendering voice an artificiality. She is able to change, vary, strain, snap, twist, and swing her vocal cords according to the demand of the song. Noor Jehan's capability to strain her vocal cords wherever and whenever she desires has really made her a unique artist. Even in Alaps (prelude modulation), Taans (stretched key note), Pulteys (turn-over modulation) and Murkis (sudden metrical zig-zag), she is able to produce variety. Even master musicians have to be careful in the rise and fall of her voice. However, Noor Jehan had a lack of refinement and purity in her voice, which eventually gave her more popularity in the lower classes of the Indian Subcontinent. Add to this the intensity of her vocals and you have a singer who has the power to make people hysterical. Being the cultural epicentre, Punjab certainly had a lot to extract from her, and the queen had more than enough to give.
* When she made an early meeting with Khalid Hassan, she told him about her growing up in Kasur. She said "We were brought up with great love, and our parents always doted on us and also told us that true joy resides in your own heart and you always carry it with you no matter where in the world you go. Nobody can bring you joy if you don't have it within your heart". She said many things that her parents told her that had guided her through life. "My father used to say that if you cannot help people, you should not harm them. He also used to recite Kabir: Aey Kabira teri jhoonpari jal-kattion ke paas: Jo karain ge so bharian ge, too kyoon bhavo udas. Because of my parents we grew up honest and hard-working, never greedy or envious of others who had more. We were happy with what we had. We were not ashamed of our slender means. It was not important. When I was a child, there was one prayer I always used to say: O God, do not make me dependent on anyone except on Your glorious mercy. I have taught the same thing to my daughters".
* The late Naseer Anwar once told Khalid Hassan a lovely story about Noor Jehan. It happened in the 1930s in the city of Lahore. The devotees of a local Peer had arranged a special evening of devotional music in his honour. Among those who were brought on to perform was a little girl who sang some naats. "Sing us something in Punjabi, little daughter", the Peer said to her. She immediately launched into a Punjabi folk song, one line of which went something like: "may the kite of this land of five rivers touch the skies". As she sung the words in her young and perfectly modulated voice, the Peer went into a trance. Then he rose, put his hand on the girl's head and prophesied, "Go forth, little girl, your kite will one day touch the skies". How Pakistan has regressed as time has past was brought home to Mr. Hassan in the late 1970s when a mullah in Lahore issued fatwa against Noor Jehan, declaring her "outside the pale of Islam for having said that music was a form of worship".
* Noor Jehan was an extraordinary woman who lived her life on her own terms. She went through good times and bad, marriages, divorces, heartbreaks, casual and serious love affairs, fame, fortune, lonelinesss, and in the last years of her life, unremitting ill health. She bore it all with quiet confidence and much grace. She never felt sorry for herself, never looked for pity. She was accused of being possessive. It is true that she was because she wanted to hold on to what she had acquired through her own efforts. She bore the financial burden of helping her large family through the years. Noor Jehan looked after the financial needs of her large family - and even the family that was not immmediate - all her life. Once she said "People often ask me why I don't stop working. Well, how can I? If I don't work, who is going to take care of all these people". However, Noor Jehan was never known to have been religiously inclined. Noor Jehan was as extravagant as could be and created a style of vivacity and flamboyance all her own.
* In a conversation with Naveed Riaz somewhere in the 1980s, she remembered her early years and spoke of them movingly. "I was only fifteen years old when I became a mother (actually seventeen and a half or eighteen). I did not know anything about children. I thought of myself as a child. I really was too young to understand anything". Then she spoke about her mother "After my morning riyaz, a teacher would come and help me learn how to read and write. At times, I found it a bit much and so one day, I declared that I was not going to study anymore. That was the only time my mother hit me. She struck me just once and said Nahin Nooriji, tussi parho gai. Now that I think about it, had it not been for her, I would not have learnt to read and write. When I record a song, I have the words in front of me on a sheet of paper. And by God, every time I look at sheet of paper, I remember my mother. I feel like raising my hands in prayer to God and asking Him to shower His blessings on my dear mother. You know, so much time has passed, but I can still feel the thrill of riding on my father's shoulder as he walked through the street. There I am, perched high, looking down on people and shops. Oh, I remember those days!"
* On another website, legendary music composer Naushad remembered Noor Jehan and spoke about her:
"I don't remember exactly when I first met Noor Jehan. It was much before the Partition of course, when she was singing in India. She was working in Mehboob Khan's Anmol Ghadi (1946) along with Surendra Nath and Suraiya. That was when I was first introduced to her. I was recording the song, Jawan Hai Mohabbat, set in Raga Pahadi. I was just told the story, the situation of the film and asked to record the song on the lyrics given to me. The recording was in Tardeo at National Studios, which is the air-conditioned market now. She liked the tune very much when I first played it for her. She even complimented me in front of Mehboobsaab. This was good for me because when I started giving music in films, she was already a big name. Her words carried weight and that helped me a lot. She sang for a lot of films for me and she gave me a lot of respect whenever she would sing Aawaz De Kahan Hai in every concert she had. Her first film was Khandaan, in which she also acted. Her husband, Shaukat Hussain Rizvi also made many films for her. She acted with Dilip Kumar in Jugnu too. She was a very warm and friendly person. At the same time, she was a very mischievous person also. In fact, while recording Aawaz De Kahan Hai, we had only one microphone. So she would stand on one side, and Surendra Nath stood on the other. Surendra Nath was a very timid man. A thorough gentleman and he could not take Noor Jehan's mischief in stride. What she would do is sing her lines and instead of turning away, she would stare right into Surendra Nath's face, making him nervous! He could stand it no longer, so he came to me and requested me to ask her to turn away once she finished singing her lines. She laughed and then did what I asked her to do. She had a certain innocence when she played such pranks on her colleagues, but they didn't mind it because they liked her very much. She missed her Bombay friends a lot. Recently, when we were both in America, she called me up and cried that she misses her old house in Chowpatty and her friends there. She always kept in touch even though she went to Pakistan. For an artiste, there are no boundaries. So even if she was in Pakistan, she was always remembered here as she remembered us."
* Noor Jehan and Lata Mangeshkar were very good friends from the time they first met on the sets of Badi Maa (1945). At that time, Lata was an upcoming singer and a fan of Noor Jehan's. Noor Jehan commented her and praised her. She said:
Log kahate hain ki Lataji tumhe itna manti hain, Lataji tumhe Ustad samajhti hain, tumhe pyaar karti hain. Yeh sab main samajhti hoon unka badapan hain kyon ki Lata to Lata hain. Lataji ki tarah meri nazar mein to koi aaj tak paida nahin hua, Lataji ko Allah ne awaz di hain, ilm unhe unke Wallid sahab se mila, khuda ki taraf se unpar karam hain. (People say (to me) that Lataji believes in you so much, Lataji considers you to be her mentor, she loves you. All this I understand, it is their elevation (of appreciation) because Lata is Lata. Nobody in the likeness of Lata, in my eyes, has been born to this day. Allah has given Lataji her voice, she received her knowledge from her father. She has been bestowed on by God).
* In an old edition of the Filmfare magazine, Dalsukh M. Pancholi wrote an article about how he discovered Noor Jehan:
One morning, a ten-year-old girl was standing at the entrance of my studio, and on seeing her, while getting out of my car, she began to sing. Her singing lacked polish and her movements were clumsy but her voice had a rare charm, and it held my attention. It took her in and cast her in my three films - Gul Bakavli (1939), Yamla Jat (1941) and Khandaan (1942). The girl was Noor Jehan who became famous as a singing star and was known as the Nightingale of Punjab.
* Noor Jehan's elder sister Eidan Bai was a famous stage singer, dancer, and actress in her days. She had a melodious voice and great acting skills. Eidan Bai was starring in the Urdu stage drama, Mallika, written by Tanvir Naqvi. Eidan Bai fell in love with Tanvir Naqvi, and their marriage took place in Lahore in 1948, two years after Naqvi's debut as a lyricist in Anmol Ghadi (1946). Their marriage lasted for 15 years and finally ended in a divorce in 1963.
* Noor Jehan's upbringing, unfortunately, did not give her the same refinement that Lata had. The former was akin to having petty disputes (mostly professional), and while at it, also using foul language! Her insecurities led her to some very awkward situations, like at the time of the shooting of the pre-partition hit, Anmol Ghadi (1946), with co-star, Suraiya. Both stars were getting ready for the shooting of a song, in which Suraiya's clothes were slightly more beautiful than Noor Jehan's. Before the song could be shot, the latter could not control her anger and took a pair of scissors and made shreds of the dress. Such was her insecurity.
* Noor Jehan's forte was film music, but her strong classical music foundations gave her the liberty to sing the most difficult ghazals, both for film and non-film albums. A Pakistani poet has not tasted the sweetness of success if Noor Jehan has not obliged him by singing his work. Qateel Shifai, Ahmed Faraz, and Nasir Kazmi all have been immortalised courtesy of their works which Noor Jehan has sung. Faiz Ahmed Faiz, a giant in his own right, went so far as to gift his famous poem, Mujhse pehli si mohabbat to her, upon hearing her rendition. In fact, most film pandits go so far as to refer to it as the greatest Urdu song ever sung. Quite a title, once you understand what that implies, for hundreds of Urdu poets have had their works sung by an equal number of singers, but the credit goes to none other than Noor Jehan.
* Noor Jehan and Lata Mangeshkar are both legends, albeit being separated by borders. Where the latter made no show of this fact, the former was quite the contrary. Noor Jehan knew quite well that she was an icon and an institution, and never made the effort to hide this. In an interview telecast on National TV, she was bold enough to say "I would leave my husband, but not my music". This sweeping statement reflected not only her audacity, but her passion as well.
* When Noor Jehan was very young, she accompanied her elder sisters, Eidan Bai and Haider Baandi, in an Urdu song extolling the Holy Prophet of Islam , which became a hit. Its opening line was: Hanste hain sitaare, ya Shah-e-Madina and it was composed by G.A. Chisti. The director of the Punjabi film Pind Di Kudhi (1935), K.D. Mehra remember the popularity of the devotional song in Punjab some years earlier, and he put it in his movie although it being in Urdu, it was a bit of a misfit in a Punjabi movie.
* Soon after Noor Jehan's first heart operation, when she returned to Lahore and began to sing again, she said This voice is God's voice and I have preserved it with His grace. In 1992, she told Khalid Hasan, When I stand before the microphone, it is not just me standing there. Behind me, I can feel the presence of my parents. I know they are there. It is a miracle. When I go out, there on stage during a performance, the voice that you hear is not my speaking voice. Believe me, I do not know where it comes from. It His gift which He has graciously place in my care. It is His, not mine.
* After her heart bypass operation, Noor Jehan said she was not sure she would be able to sing again, but six weeks later, assailed by doubt and greatly apprehensive, she sat down one morning and began to sing. I sang for forty-five minutes and my voice was good and strong and I was overcome by my gratitude to God. I love my work. When I sing, I feel the presence of God. It is my world, my life, my faith. Only God knows what goes through my heart, how I feel. I can't express it. My only aim now is to bring happiness to others, to serve the people, to build hospitals, to help my children. I feel that the life God has granted me after my operation is for some special purpose. I want to use this time in the name of the Holy Prophet, whom God bless! That is the way I feel now.
* According to an authentic source, Noor Jehan recorded her last song at Evernew Studios in Lahore for director Masood Butt's film Insaaf Ho To Aisa (1998). The song was "Ladki Phansaali Tune", the music was composed by Taafu, the lyrics by Khwaja Pervez, and the song was picturised on Khusbu. Most probably this song was recorded in mid-1996. Due to her health problems, Noor Jehan spent a lot of time to record this song; she recorded word by word with a lot of pauses. She never went to a studio after the recording of this song.
* An entry in Film Stars, a compendium published in Lahore in 1933, says, "She is slim, delicate and beautiful. She has soft black hair and bewitching eyes. She has recently appeared in Patit Pawan of Pratima.
* Noor Jehan always referred to Yasmin, Syed Shaukat Hussain Rizvi's second wife whom he married after divorcing Noor Jehan, as Gittho Begum because she disliked her very much.
* Zile Huma, Noor Jehan's daughter and Ahmed Ali Butt, Noor Jehan's grandson are both singers in their own right but both differ greatly from the maestro whose genes they inherited. It took Huma quite a long time to convince her mother to allow her to sing at private functions (something that Noor Jehan strongly condemned and never indulged in personally), but when she got permission, her mother arranged a top-of-the-line orchestra to accompany her daughter. But Ahmed had a tougher time in getting his grandmother to accept the heavy metal music he loved. "She wouldn't even let me touch my guitar when she was in the house", Ahmed says.
* In Madam Noor Jehan's last interview, she made the observation, "Life is a lie, Death is the truth".
* In the book, Stars From Another Sky, in the chapter, Noor Jehan: One in a Million, Saadat Hassan Manto mentions that near the residence that Noor Jehan and her husband Shaukat Hussain Rizvi lived after their marriage, one of Noor Jehan's elder sisters owned a brothel.
* In an interview, Pran, the famous character actor of Bollywood, talked about his first Urdu film, Khandaan (1942) in which he played the male lead opposite the then upcoming singer/actress, Noor Jehan. He said At that time Noor Jehan was still a growing girl and she was so short. They used to give her bricks to stand on. Even then, she was still a little bit shorter than me.
* Noor Jehan never sang to record a larger number of songs to her name, but for the sheer pleasure of singing. While an actress, it was easier to strike a hit because she new the mood of her songs which also gave a whole new touch to her marvellous talent. For example, in her song Kisi Tarha Mohabbat Main Chain Pa Na Sake..., the way she sang the last words - Pa Na Sake... was simply unmatched. This exceptional style is still known as the Noor Jehan touch.
* Noor Jehan's music lives as it has lived from that distant time over sixty years ago when her nightingale voice was first heard in the music halls of Lahore and the smaller towns of Punjab. It was an electrifying voice, never false on pitch, never striking an untrue note, but something perfect God had fashioned on a good day. She did not fritter away from her gift. She worked hard, unceasingly, devotedly, indefatigably, uncomplaining, all the time honing and polishing this abundance of genius she had been invested with. She worked hard to be great.
* When Noor Jehan first suffered a heart ailment, Khalid Hasan said "But of course it had to be the heart, considering how many claimants it has had and how often it fluttered for those on whom she has chosen to smile, even if fleetingly or on a mild summer evening". He always believed "The Madam" to be indestructible. Her death, therefore, was the kind of loss that it takes a long time to reconcile with. She suffered much pain in her last years. Now at last she is in peace. Once somebody asked her since when she had been singing. "Maybe I was born singing", she replied.
* In his book, Noor Jehan Ki Kahani Meri Zubani, Shaukat Hussain Rizvi recalls his first encounter with Noor Jehan. He wrote that she was no more than eight or nine. This was in Calcutta. He was film editor at a movie studio owned by Rai Bahadur Seth Sukh Karnani. Once, he asked the manager of the Corinthian Theatre, a man by the name of Naseer, to go to Punjab and come back with some girls. The man came back with fifteen or twenty of them, among whom were the Noor Jehan sisters, the two elder ones, Eidan Bai and Haider Bandi, and the eight-year-old future queen of the Indian cinema. These girls were collectively called the Punjab Mail.
Filmography
* Mirza Ghalib (1961)
* Koel (1959)
* Pardaisan (1959)
* Neend (1959)
* Anarkali (1958)
* Choomantar (1958)
* Nooran (1957)
* Intezar (1956)
* Lakht-e-Jigar (1956)
* Patey Khan (1955)
* Gulnar (1953)
* Dopatta (1952)
* Chanwey (1951)
* Mirabai (1947)
* Abida (1947)
* Jugnu (1947)
* Mirza Sahibaan (1947)
* Maharana Pratab (1946)
* Jadoogar (1946)
* Sofia (1946)
* Humjoli (1946)
* Dil (1946)
* Anmol Ghadi (1946)
* Bhaijaan (1945)
* Badi Maa (1945)
* Gaon Ki Gori (1945)
* Zeenat (1945)
* Dost (1944)
* Lal Haveli (1944)
* Naukar (1943)
* Duhai (1943)
* Nadaan (1943)
* Khandaan (1942)
* Faryad (1942)
* Dheeraj (1942)
* Chandani (1942)
* Susral (1941)
* Umeed (1941)
* Red Signal (1941)
* Chaudhry (1941)
* Yamla Jat (1940)
* Sajni (1940)
* Pyam-e-Haq (1939)
* Imandaar (1939)
* Gul Bakavli (1939) (as Baby Noor Jehan)


Edited by Lovers Ka Love - 21 August 2007 at 6:28am