Sundae:One of the most familiar ice cream desserts in the United States, the sundae typically consists of a scoop of ice cream topped with sauce or syrup (often chocolate, caramel, butterscotch or strawberry), and in some cases other items such as chopped peanuts, whipped cream, or maraschino cherries!
Ice Cream sundae
.....Wht do u think now??Yummyyyyyyyyyyyyyy
Ice Cream Sundae
...Hearing this u say just 1 word-Yummyyyyy..Isnt it
..Yes everyone likes them
...They are delicious tasty with lots of nuts....ahhh u just wanna have one right now
..So havve ittttttttt
.....
July8th,Its Ice Cream Sundae Day ! The perfect time to enjoy loads of yummy, creamy scoops of Ice Cream Sundaes..

Types of sundaes
Hot fudge sundae
The classic hot fudge sundae is often a creation of vanilla ice cream, hot chocolate sauce .whipped cream, nuts, and a single bright-red maraschino cherry on top. A hot fudge sundae can be made with any flavor of ice cream; though, as a chocolate sauce is generally favored, non-chocolate ice cream flavors are preferred.
A variation of the hot fudge sundae is the banana split, which generally has two extra scoops of ice creams of different flavors, over a split banana.
Turtle sundae
The popular combination of vanilla ice cream, chocolate and caramel sauces, and toasted pecans is known as a turtle sundae.
Banana split
Three sundaes in one, side by side between two halves of a banana, sliced lengthwise. Includes strawberry ice cream topped with strawberry syrup, chocolate ice cream topped with chocolate syrup, and vanilla ice cream topped with crushed pineapple. Each scoop is individually garnished with whipped cream and a cherry.
So July 8th,heres wishing everyone
....with lots of different flavours,cherries sauses Nuts and all ur favourite Ice Cream sundaes
....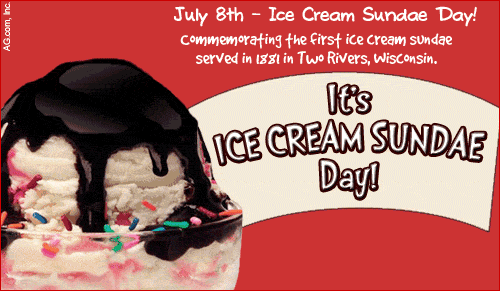 Sundae trivia
The most expensive sundae
For the price of 1000 U.S. dollars, the most expensive ice cream sundae is the Serendipity Golden Opulence Sundae, sold by Serendipity 3 restaurant in New York City.. The dessert consists of five scoops of Tahitian vanilla bean ice cream infused with Madagascar vanilla, covered in 23-carat edible gold leaf, rare Amedei Porceleana and Chuao chocolate, American Golden caviar, passion fruit, orange, Armagnac, candied fruits from Paris, Marzipan cherries, and decorated with real gold dragees. The sundae is served in a baccarat Harcourt crystal goblet with an 18-karat gold spoon.
The Smallest Sundae
A chocolate sundae from Dan Ryans restaurant, dubbed The World's Smallest Sundae.
So lets enjoy this day.....Well on this day tell everyone...Discuss:
Whts ur fav Ice cream Sunday?
Do u like nuts with it or anything else..Whts it ur favourite add ons to sundae ice cream?What's ur current favourite topping on the ice cream?
Why is the "Sunday" in an "Ice Cream Sundae" spelt differently?
Do u love ice cream? If yes then how many ice creams do u eat per day?
Do u love home-made ice cream? Do u know how to make an ice cream?If yes Plz give us a Recipe
Enjoy this special day with lots of Ice cream Sundaes
Loads of Love


Edited by ankuhujulover - 07 July 2007 at 3:11pm