Guess The Lyrics : This game is planned and designed by Ray

Guess the hindi version
Example: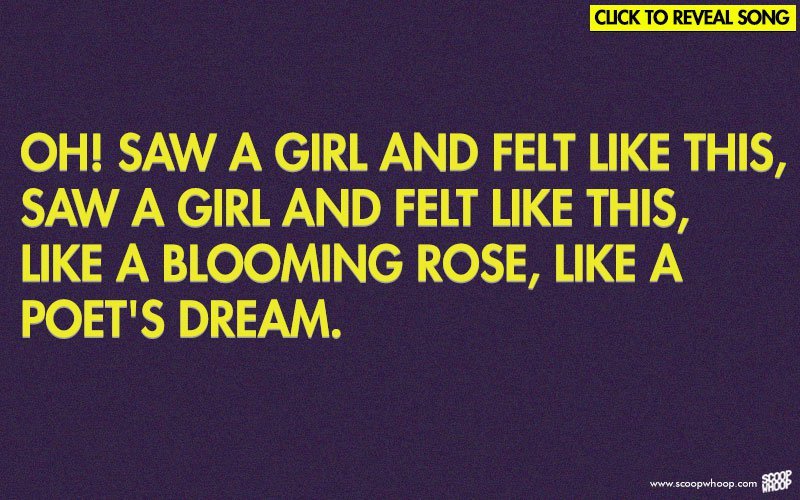 oh! ek ladki ko dekha toh aesa laga
jese khilta gulab jese shaayar ka khuwab
***
Guess the songs:
In this game, one member of the CC will post the English version of a bollywood song and others will guess the original version.
This game is originally planned by Ray and as it is liked by members so I think we should continue playing this game in this cc too

Role Reversal Game :
Originally planned by Ray . I would like to request her to introduce her game in this CC and we continue playing that game in next cc too. Ray can select any member and request her to play a role which may be a character from a TV show or any other fictional character . You may also be requested to behave like another CC member
and whether to play or not to play , will be members' decision completely.

Questions for members
(Posting as a game, play only if you are interested)

Do you think you're brave?
What annoys you the most about people?
When do you feel your most vulnerable?
Do you usually follow your heart or your head?
What was the experience that impacted you the most in your life?
What are you most grateful for in your life?
Who is the first person you call when you're in trouble?
Where do you go when you need some inspiration?
What are some things that you wished people knew about you?
Do you believe in second chances?
What is your idea of a perfect vacation?
What's your favorite thing you own and why?
What kind of art do you enjoy most?
What movie title best describes your life?
They say that everyone has a book in them. What would your book be about?
In what situation or place would you feel the most out of place in?
If you could make one rule that everyone had to follow, what rule would you make?
If you could make a 20 second phone call to yourself at any point in your life present or future, when would you call and what would you say?