Devi Draupadi's Greetings and Gifts to Semadi [Urmila } !
The Goddess of Dawn Usha is greeting the Horizon with her enchanting colours !
Devi Draupadi decided to send" Shubhkamnaye " to her Ishtha Sakhi Urmila on the occasion of her Birthday !
She informed her husbands about the HAPPY BIRTHDAY celebration of her dear friend Urmila , who has given her the beautiful idea of writing a love letter to each one of them , to share her lovely hidden feelings with them , to cheer them up !!!
Yudhisthir asked the Dharmadevta , to choose the Brightest Stars from the sky to make a star necklace to gift it to Urmila .
Gadadhari Bheem asked the Cool Breeze to collect all the floral fragrances from the Spring Gardens , to make a sweet scent , as a present to Semadi !
Gaandeevdhari Arjun asked the Apsaras from his father Indra's Dev Sabha ,to descend to earth to decorate his great adorer Urmila and adorn her with all the divine thoughts !
Then the twins Nakul and Sahadev requested the Gandharva Kanthas to weave a beautiful Rainbow coloured Saree to gift the Birthday lady to wear it for the evening party , for which Mohan Krishna himself is going to attend !
Devi Draupadi carried all the gifts to the house of Urmila !
In the evening ...there was a huge party , the stalwarts of Mahabharath and Ramaayan are present there , but they are visible to only few pure souls including Urmila , rest are enjoying with the earthly celebrations .
Here comes the Avtar Purush Lord Krishna and he first greeted his Sakhi Krishna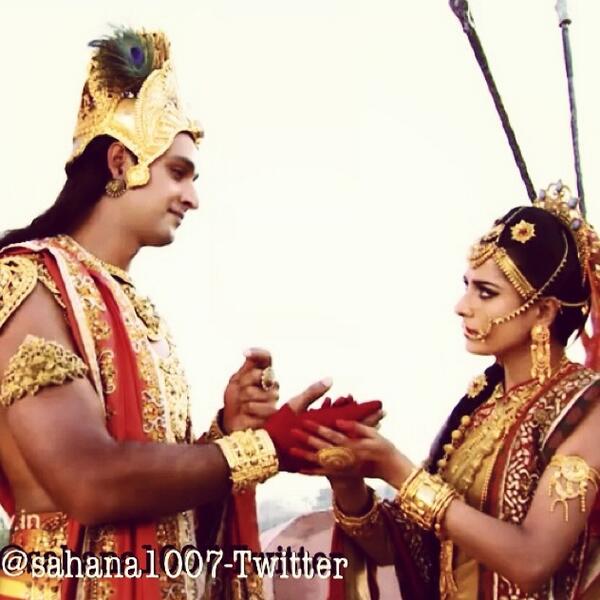 Then accepted the Saadar Pranaam from the birthday girl and blessed her to write many more OS & FF in future , and earn so much admiration from her readers !
Urmila felt very happy for the Divine appearance and advises , and sitting there watching the songs and dances of her friends , but seriously thinking about the plot , for writing a story on the interactions of Sita and Drraupadi there in that Party !
HAPPY BIRTHDAY , MANY HAPPY RETURNS OF THE DAY !