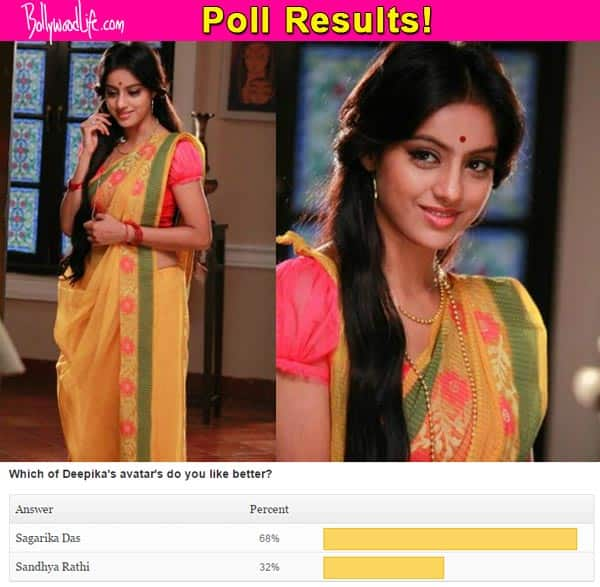 Sandhya might have been ruling hearts for all this while, but the times have changed now
We know that Deepika Singh aka Diya Aur Baati Hums Sandhya is presently seen in a new avatar for her mission. She is now posing as Sagarika Das who is supposed to marry Himanshu Dubey, the prime funder of a terrorist group. When we first saw Sandhya's new look, we were pleasantly surprised and asked you fans to decide which of Deepika's avatars is better - Sandhya or Sagarika. Well your verdict matches ours...
68 per cent viewers have voted for Sagarika Das. Clearly, fans have found the new look as refreshing as we did.
On the show, Sandhya is torn between her real self, who is a married woman and that of Sagarika, who is asked to marry someone. We saw Himanshu (Amit Dolawat) asking Sagarika to marry her before they go the temple. Now it is important that Himanshu comes to the temple for their plan work but the marriage clause has put Sandhya in a fix. She has now finally managed to come up with the perfect solution to escape this marriage...
While talking to Himanshu, Sandhya claims that it was her mother's mannat that she visits the temple with her husband-to-be before getting married. Obviously, Himanshu honours the manatand agrees to visit the temple prior to the wedding.
In the Rathi house, meanwhile, the differences between Bhabho (Neelu Waghela) and Emily (Pooja Jain) are sorted and things seem to be getting better between Chavi and Emily too.
In the upcoming episode we will see Sandhya getting even more possessive about Sooraj (Anas Rashid) as she now has just three days in hand to be with her family. Post this she will have to leave for Kolkata and the chances of her coming back alive a very slim. Sandhya's possessiveness surfaces when the Rathi family is deciding who will play what part in the Shiv play. Sooraj is obviously playing Shiv and Sandhya is chosen to play his first wife. The part of his second wife, however, goes to Laali and Sandhya immediately objects to it saying that she alone is Sooraj's first and second wife.
Let's see how the Rathi family reacts to this. Stay tuned as we have more drama in the coming episodes.