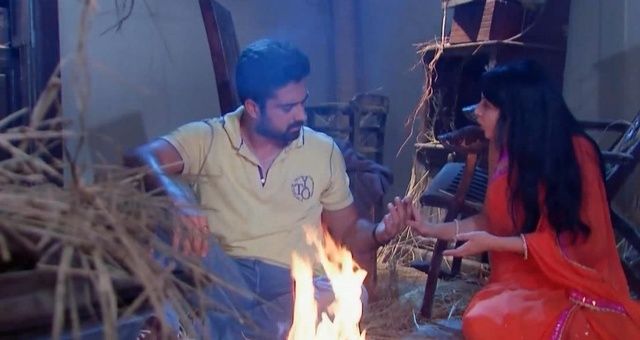 The episode starts with aastha sitting near the fire and dozing off.,in the jungle hut , Shlok who was standing near the window and stares at her , slowly he comes closer and covers her with a blanket , then as she is about to fall ,he sits besides her He takes her pics on his mobile ,She gradually slides and rests her head on his shoulder. He gently pushes her away. Caresses her face , pushes back a strand of hair , stares at her, he then moves away and gets thoughtful .
At sid's house jyoti apologises to renuka, by holding ears , she tries to appease bitter renuka , requests her to let her make a new start , promises to give this family her best. Renuka forgives her.
The moment jyoti leaves the room , renuka spouts her bitterness again .
At the jungle house Aastha wakes up as the sunlight falls on her face She finds shlok is missing , But next moment he enters , She reprimands him for leaving her all alone , Shlok says he left because she was fast asleep. Now it was time for them to leave for home
Elsewhere in the jungle choksi, rekha, sojal are waiting for Ashlok at the old temple , They decide to remember their dialogues properly so that aastha is not suspicious.
At sarkar house , Indra informs his close men that they had to trace Barkha's mobile phone , He gets furious as his men who suggest taking help of police
He shouts at them saying police would not come into internal matters of his home , Apsara notices indra's distressed condition.
At kirloskar house kalindi has gone out of the house without informing anyone and had not returned. Ajju is worried for him. But mala and Ankush assure her that kalindi would be OK
In the jungle aastha is following shlok and is tired, hungry and thirsty
She asks shlok to arrange for something to eat , Shlok finds a watermelon in the jungle , he offers it to Aastha , she wants him to cut it , Shlok breaks the watermelon by bashing it on a boulder , he offers it to her .
Aastha enjoys her fruit as shlok watches her
One seed is stuck to her nose
Shlok points to the seed and she removes it as ashlok are about to go Choksi and sojal, rekha others disguised as goondaas, dacoits capture ashlok
Aastha begins her natak pretends to fall sick
A funny scene as aastha tries to hoodwink them and the dacoits flee leaving shlok disgusted
Kalindi is seen meeting a lawyer secretly and asking him to file a case as soon as possible , She wants her aastha back as soon as possible
At sarkar house indra is shouting at someone on the phone to trace barkha's phone fast , or face dire consequences
At the jungle aastha is struck by thorn and she feels giddy and faints , Shlok is shocked and shouts for choksi , And all of them come out of hiding
Rekha says it was a poisonous thorn and if not treated it could prove fatal
Rekha quickly crushes some leaves applies on the wound , All help carry aastha to the main road
Shlok soon manages to hire a car and they are on their way home
In the car aastha rests and leans on shlok
The moment indra receives the message about barkha's phone location Barkha enters home with shlok's arms around her ,Shlok indra challenging eyelock
Precap :Indra thanks shlok for taking care of his barkha
Shlok accepts his thanks and whispers that he should take care of his wife aastha
The scene freezes on Shlok indra angry eyelock
DO NOT COPY THIS POST AS THIS IS EXCLUSIVE TO INDIA FORUMS


Edited by Sutapasima - 13 May 2015 at 12:48pm