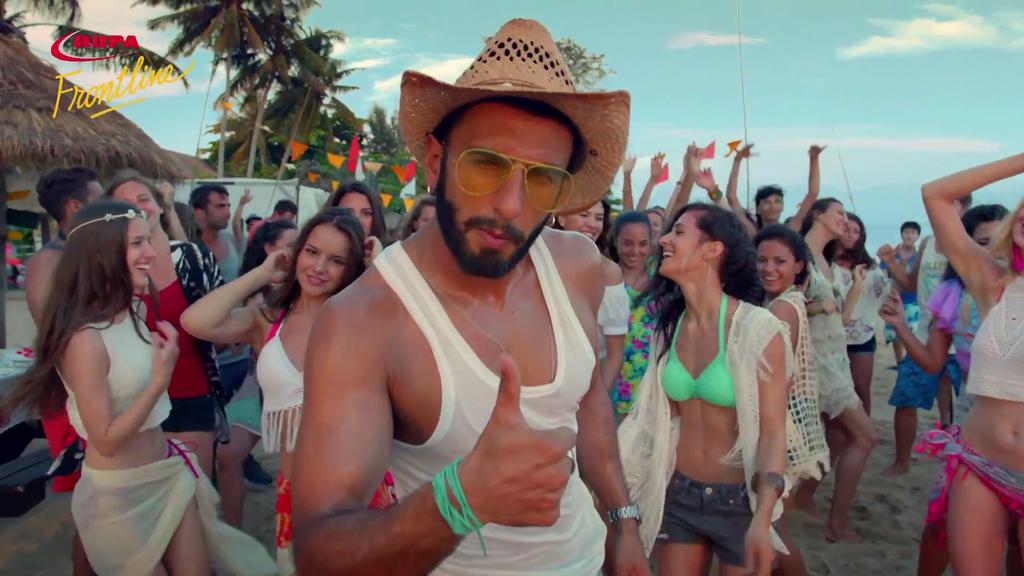 The actor is seen beating a shark left, right and centre to protect a girl from the creature, in turn impressing her.
It has been established that Ranveer Singh is one hell of a rapper. We have seen him flaunting his skills in ads such as Do the Rex' and My Name is Ranveer Ching.' Well history does repeat itself indeed as the actor has pulled off such a stint yet again in his latest ad about a popular underwear brand where Mr Singh is being his quirky, goofy and eccentric self. Allow us to come straight to the point- Ranveer in this ad, is the macho man who manages to impress all the ladies. Plain and simple.
The ad starts with the Dil Dhadakne Do actor showing off his uber cool swag while wearing a vest from the underwear brands' collection. He makes an impression with his suave dance moves, catches a cricket ball in between his but cheeks, builds a sand castle faster than Rajinikanth and the list goes on. Ladies are swooning over the handsome, sexy and macho Ranveer, much to his pleasure. But things turn ugly when a girl calls out for Ranveer's help from the sea, where she spots a shark at a near distance. The brave Baniyaan man' as he refers to himself, jumps in to save the girl, without thinking twice.
This is the part where we thought Ranveer would pull the girl out from water and bring her back. Instead, the actor is seen dealing with the shark himself, beating the living daylights of the creature and eventually throwing it away with a mighty punch. Why, why we never imagined animal cruelty could be cool'. Though the shark is OBVIOUSLY not a real one and is simply a toy, yet the stint pulled off by the actor with the same is distasteful to say the least. Let alone the fact that sharks are endangered, it's disheartening to see that an act as such could be shown not only to highlight the machoness' of a man but also as a trick to impress a girl!
Ranveer pulls off the Call me' sign while beating the shark and the girl responds with a smile. Neat is it? Well next time if we are bothered by any animal, a man could simply thrash it and get into my good books, cuz' that's exactly the way to a woman's heart eh?