Originally posted by pearl.white
Originally posted by DexterRocks
Originally posted by .SoHu.
Originally posted by DexterRocks
Originally posted by .SoHu.
Originally posted by DexterRocks
Originally posted by .SoHu.
Originally posted by DexterRocks
Originally posted by .SoHu.
Originally posted by Sweet_wish
Sujal is such a caring husband
I'm jealous of Kashish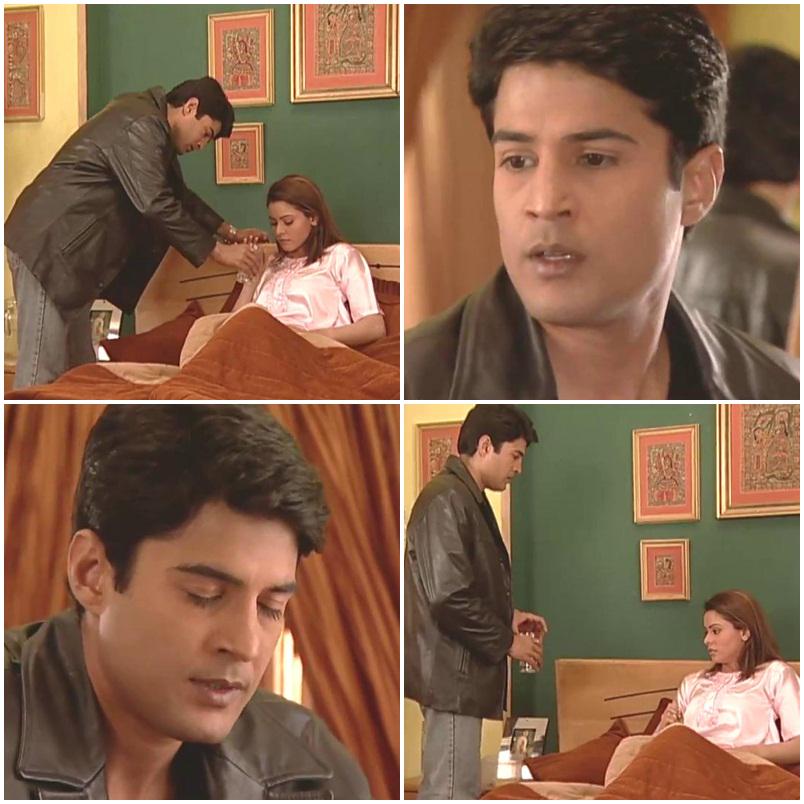 I'm jealous as hell! Look at him. How can anyone think of hurting him even in their wildest dreams?
look at the first picture on the left, Sujal is trying hard to bend towards her, but he still does, and with so much self restrain and conviction that he is very much fine, its she who needed his support . such brilliant form of love this man was.
This man is simply unbelievable. Lovers such as him are too far fetched to become a reality. They just don't exist. Its highly toxic for our systems to even think of a man or a character like sujal.
He infact was lethal, don't you see he was not only self destructive but slowly he changed the course of kashish's life, the woman who was a girl, with dreams and self respect was turned into a very bitter woman, who had not only burned herself in his love but made him burn in the same too. Sujal's love was sadistic and lethal, happiness is a very mild word to be used as a consequence for his love being succeeded.
Tabah karne wala ashiq that apna hottie. There was nothing mild in anything that had sujal involved in it. Whether love, hatred, betrayal anything. Too much of intensity and too much of passion. Honestly, his aura was such no girl would have complained getting destroyed by his love.
and its true, more than hating on sujal and destroying him, kashish had done destruction to her own life, look at her , i mean she could never smile again after she had filled herself with so much of bitterness against him, she could not sleep with peace at nights because the thoughts of betraying him would never let her be in peace, she was unable to look at the miror once he touched her because she was guilt ridden to see herself as sujal's wedded wife who was betraying him, that never allowed her to look at herself with respect. There was never a moment when kashish did not shed tears of helplessness, because she was bound by him so much that she even tried to kill herself and him both just to end the game.
Kashish infact was on the more weaker side, Sujal was strong, he never let his own self respect die down, he could proudly look at himself and claim for him being right, whereas whenever kashish used to look at the mirror she used to be ashamed, guilty, her own reflection would disgust her. That was how sujal's love torn her, and she allowed him to do so.
This love story was just to epic and intense, none of the other shows can even bear one percent of what Kahi to Hoga had in form of sujal-kashish.
Dexter, do you know that no one, I repeat no one understands and decodes kth better than you? Your perspectives and insight to the characterisation are so bang on that it makes me fall for sujal kashish with a new intensity. You rock girl.
<font color="#ff0000">I agree completely. She was overshadowed at every step by his love. She knew she was succeeding in destroying him and it was exactly what she had planned, yet she felt hollow from within. The pangs of guilt engulfed her soul. She knew subconsciously that her act wasn't right but she was torn between piyush's vidhwa and sujal's kashish. Aamna was brilliant. Her helplessness was so beautifully depicted. One moment she could feel his pain, the other moment she planned to inflict more pain on him. I mean such a vacillating state of mind. Her heart cried seeing him in pain but it was her mind that overruled the voices of her heart. Every moment she needed the assurance that she cannot fall weak in front of sujal. And that speaks of the greatness of sujal's love. When a person can't just possibly hate you inspite of repeatedly trying for the same and happens to fall in love with you every moment, that defines the power and strength of your character.</font>
SoHu, don't flatter me much, it embarrasses me, whatever i feel about Sujal-Kashish is just the crazy man in me
, i have loved every form of these two, and this was one genuine Love-hate story, unlike the recycled ones which we see onscreen these days. Both Raj and Aamna deserves every kind of applause, we talk about Raj often but i would mention Amna today, she was flawless as kashish, the actress in her delivered it brilliantly, especially in the revenge track, because it is not an easy task to make your audience disgust and loathe your character, she was truly an actress there, she made kashish as genuinely hate able as the writer wanted to.
@red-
i just love your lats two line sin the red part. EXACTLY, your catch is just bang on here. She TRIED hard, infact she sold her soul, she sold her every ounce of dignity to hate him, and she failed. Isn't is just so beautiful, and there is even a sequence when kashish questions herself that " why does sujal love me so much, that i want to hate him so much more ? '. These words, justifies everything she had done.
As a woman, she sacrificed her biggest asset for sujal, her self respect, her dignity, and she did in order to destroy him, but still a woman like kashish who was so uptight about her values and moral ways, failed to follow the, because thats how much torn she was in his love. The final nail in coffin was when she cosummated with him, obviously the last asset that remained in her as only piyush's wife had also been surrendered to sujal, so in such cases any woman would go crazy, it was not defeat of her ego but her existence, because she knew may be if he was jailed he would never be able to face his family and her family too, but she would atleast be true to er dead husband, but after cosummation, she had given her everything up, and then how would she justify and be fair with the wife in her, she wanted to be sujal's wife, stay with him, love him, and that part of her resurfaced everytime she tried to harm him.
Calling herself piyush's widwa was just to defend her ways to shove sujal away from her, which again failed, because Sujal ensured that whatever she does, she receives only love, respect and loyalty from his end, and its upon her if she wanted to judge his love as obsession or her salvation.
Wow girls, you have both analyse Kashish's every nuance to perfection!
I loved Amna's performance during the revenge track ( Offcourse keeping asides that OTT hysterics that she broke into being Piyush's widwa)...
Kashish was a strong and practical woman. I admire her tenacity to make her marriage work despite having the biggest temptation infront of her. She was no wimp.
Yet she failed spectacularly to keep her emotions in control when it came to Sujal.
She kept on persuading herself that she hated Sujal but she could never truly manage it; her heart betrayed her.
In revenge times, a woman of such strength lost herself completely yet she was unable to hate him.
The torn woman, who hated him for a moment n loved him in another and this very love fuelled another kind of hatred in her!! She was never at peace- her heart cells kept on fightinhg with her brain cells and her doul was pullex towards her soulmate - a plethora of emotions ran through her entire being!
Sujal dard mei tha toh Kashish bhi kaha sukoon se thi..
The best scene in the show which depicts that love triumphs all - was the sk consummation.
It is such a beautifully poignant moment signifying the union of two wounded souls.
The injured man who had an idea of the hatred his soulmate possesses for him yet he was ready to die for her and completely surrenders himself to her needs, for giving her love n assurance!
The woman whose soul cried on witnessing the depth of love of a man she hated, love dissolved every accusation , she could not stop herself from loving and surrendering to this man- she chose to drown in Sujal's love that night ...