Ariya"~"sach ya haqueekat"~"
Last ending lines...
They all wondered except samjun.
Sam saw them and said..'' aagayi mera plan B... Miss Riya Mukharjee.. Ab dekho kya hota hai..''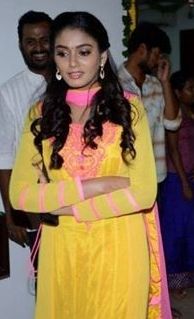 Part 11...
This part is dedicated to angelariya...
Sweety...
here's ur birthday gift...
one more...
and to swethalovely tooo
Hpe YOU LIKE IT...
Here we go guysss
Aye: Plan B????? Sir aap ka bol rahe ho.??? mere kuch samjhe main nahi aa raha...!!!!!
Aur ye Riya aise traditional kabree kyun pehne rahi hai... Aaj toh koyi special occasion bhi nahi hai... Aur iss modern collage main toh saari ladkiyon ne Dresses , short skrits aur jeans jaise kabree pehne hai..
Dekhiye naa sab ussko kaise ghurr rahe hai...
~~~~~~~~~~~~~~~~~~~~****************~~~~~~~~~~~~~~~~~~~~
Now back to Riya...
Her POV...
Wow..
So its wrking..
.
Almost sab mujhko ghurr rahe hai...
. so this salwar suit is wrking...
Mera bechara team...
dekho toh mujhe yahan dekhkar kaise unke hoss hi urr gaye...
Kabhi socha bhi nahi hoga ki main iss tara se ETF phirse join karengi...
~~~~~~~~~~~~~~~~~*****************~~~~~~~~~~~~~~~~~~~~
Now the collage boys...
First time
they saw a girl coming in the collage in traditional dress...
They were completely lattooo on Riya...
Gulabi aankhen jo teri dekhi sharabi yeh dil ho gaya
Sambhalo mujhko oh mere yaaron sambhalna mushkil ho gaya
Dil mein mere khwab tere tasveer jaise ho deewar pe
Tujhpe fida main kyu huwa aata hai gussa mujhe pyar pe
Mai loot gaya maan ke dil ka kaha mai kahi ka na raha kya kahu main dilruba
Bura hai jaadoo teri aankhon ka yeh mera kaatil ho gaya
Gulabi aankhen jo teri dekhi sharabi yeh dil ho gaya
Maine sada chaha yahi daman bacha lu hasino se main
Teri kasam khwabo mein bhi bachta fira nazneeno se mai
Tauba magar mil gayi tujhse nazar mil gaya darde jigar sun zara oh bekhabar
Zara sa haske jo dekha tune mai tera bismil ho gaya
Gulabi aankhen jo teri dekhi sharabi yeh dil ho gaya
Sambhalo mujhko oh mere yaaron sambhalna mushkil ho gaya
Not even 5 minutes of her arrival in the collage and there all were mesmerised by her...
They observed her...
Her smile...
Her dimples...
Her dove like eyes...
All boys were waiting for her to approach them...
~~~~~~~~~~~~~~~~~~~~~~******************~~~~~~~~~~~~~~~~~~~
Just then Riya walked towards them...
They were looking at her holding their breath...
Seeing Riya approaching them even more They were feeling happy... and waiting for Riya to talk to them...
Riya was just then nxt when she continued walking
and went directly to Shree who was exactly behind thoses boyzzz looking at her with his mouth open...
She walked to Shree... And closed his mouth saying...
'' aree Mujhe aise kyun dekh rahe ho??? Munn[mouth] toh band karo...aur tum mujhe chorr kar collage kyun aa gaye??? Pata hai naa Ki I was waiting for you...!!!!!!!!!!!!!''
She complained like a baby leaving Shree completely in Shock...
Shree in mind:
Pehle toh binaa inform kiye aagii
Phirse iss collage main where no one wears such clothes , she wore this india clothes ...
Upar se mujhe hi suna rahi hai...
Riya pinched him to bring him back...
Shree'' OUCH... it hurts yaar... pinch mat maar..!!!!''
Riya:''theek hai theek hai.. mujhe koyi shauk bhi nahi...!!! Waise I think ki classes ka time ho gaya hai.. Chalo class dhundte hai.. We are new here naa...'' She reminded him of their mission indirectly...
Shree understood and agreed... He turned to pick his bag Nd lappy and saw tht the others were looking at him... He thought.. but soon he realised tht the center of attraction was Riya and not him... They went to the Princi's office where all the neccesary arrangements were already made and baki ki team bhi wahani par thi...
All bombbarded Samiya with questions except arjun who was the mastermind behind the famous plan B... Samiya looked at Arjun as if telling them to ask him which made them remain silent..[after all sher ke munn main haath koun dalega yaar...] Arjun knowing their reaction said...
'' Mujhe pehle hi pata tha ki ye ladke Shree ko unke grup main itni aasani se nahi lenge.. So I thought ki ladka naa sahi toh ladki hi se kaam chalte hai.. Ayesha aur Liza yahan par already thi aur sakshi hamare saath undercover nahi aa sakti so.. Riya was the only one remaining.. So I called her after making this plan B with Rathore... ''
Riya:'' Haan ... kitni achi need main thi main aur muje utha diya dono ne.
..'' she thought...
Sam: okii team now disperse aur shree remember Riya is ur sister... Twin sister..!!!!!!!!!! ye baat alag hai ki tum dono twins nahi lagte ho.. but.. isse hi kaam chala na hoga... and ya ur both surnames is Sharma...!!!!!!!!!!. now everyone back to wrk and keep ur ears open...
All dispered at different intervals to avoid doubts... Shreeya were the first to come out of the office...
Riya caught attention of smething... and said..
'' Iss ki itni himmat...!!!'' and rushed in tht direction...
She stopped behind tht person and pulled him...
and Dhappp
she slapped him..!!!!!!!!!!!!!!!!!!!!!!
Bass aaj ke liye itna hi...!!!!!!!!!!!
Aaj ka show samap
Agle bhag ke liye
Lambe comments aur likes
Aniwarya[complesory] hai
Dhiyan ke liye shukriya
AB SHREE KO NAHI TOH KISSKO RIYA NE SLAP KAR DIYA?????
NOW YOU PEOPLE THINK...
sooo bye bye...

see you later

Lots of love

Ganga