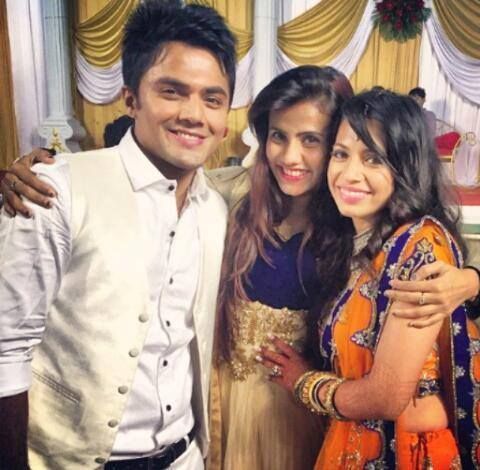 Alvira and Shivam
Chapter 3
Taani comes out of the washroom and stands at the washroom entrance and removes her robe which was covering her nighty and stands in a seducing way.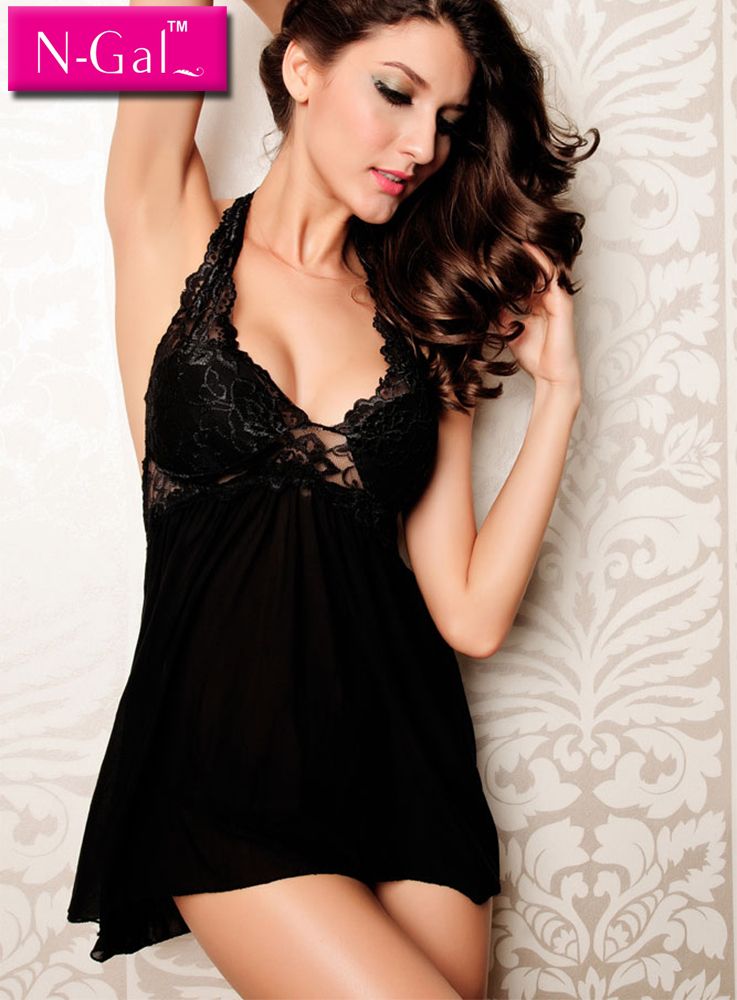 Taani's Nightwear
When he heard the click of the washroom knob he looked towards the direction and was shocked to her in the outfit as he never expected Taani to something like that. Her appearance had aroused his desires. Taani felt his intense gaze and thought to tease him. She just went and slept on her side of the bed. Rey was like "What The Hell". He calls her.
R: Taani?
T (suppressing her laughter): Kya hua Rey? (Innocently)
R: tum sach me ye pehen ke sone wali ho?
T: haa Rey. aap aise kyu puch...
She was stopped by Rey's lips. He smooched her lips hard. Even Taani gave up and her hands moved to his hair, her fingers massaging his scalp. He broke the kiss but didn't stop kissing her he kissed her eyes cheeks then moved down to her cleavage. He placed a trail of kisses from her cleavage to her shoulder. He removed the strap from her shoulder and bite her there. As he bite her a moan escaped her mouth Rey', which was like fuel to his desires. He ripped off her nighty leaving her in her inners. He moved his thumb on her breast which was covered with a black bra.
Due to shyness she hid her face in a pillow.
Her back was now facing Rey. He moved her hair aside giving him full access to her back. He opened her bra and started placing wet kisses. He moved to her shoulder and bite her. This brought her back to the world and she remembered that she had to tell Rey about her pregnancy. She instantly turned around and pushed him covering herself with a blanket. While he thought that he hurt her.
R: Taani I am sorry maine tumhe hurt kiya muje itna...
Taani placed her palm on his mouth before he could complete.
T: Rey aap kabhi muje hurt nahi kar sakte but agar aap aise sorry bolenge to mujhe hurt hoga.
To change the mood Rey again went back to his naughtiness.
R (pouting): to muje roka kyu? Let me love you na.
T: Rey control your sex hormones muje aapse kuch kehna hai. (blushing)
R: jo bhi hai jaldi bolo.
T: wo Rey... Wo...
Rey cupped her face.
R: kya hua Taani? Tum itna hesitate kyu kar rahi ho?
She closed her eyes and said it in one breathe.
T: Rey I am pregnant.
She slowly opened her eyes to check his reaction. His eyes were filled with tears of happiness.
R: ye baat tumhe kab pata chali?
T (smiling): kal.
R: so now it calls for double celebration so let's continue what we left in between.
T (blushing): Besharam. Aapko kuch aur sujta bhi hai ya nahi?
R: ab meri itni hot wife mere saamne hogi to I can't stop myself. Ab tum chup raho let me love my wife.
Then he again goes back to his work that was making love to her. He started placing kisses on her stomach as if loving his baby.
Taani rolled over and came on him and started kissing his chest. This was enough to arouse desires in him. He rolled over and got her under him.
Then he moved down and kissed her thighs. He removed her panty and kissed her private part. He again came up and saw Taani's eyes were closed in pleasure. He then removed her bra and threw it on the floor with their other clothes. He saw Taani fidgeting with his track pant. She finally got rid of it and his boxers.
He went upto her breast and bite her nipples. Taani moaned in pain. He then licked the area to reduce the pain. He placed wet kisses on her cleavage. He moved up to her shoulder and bite there making her moan.
Soon the room was filled with moans, groans and giggles.
After a long session of love making Taani was peacefully seeping on his chest while he was caressing her hair and watching her sleep.
After 8 and a half months
Rey was pacing outside the labour room while Shivam was trying to calm him down. While Alvira was with little Khushi who equally concerned for her mother who was screaming in the room.
Sh: Rey calm down ye Taani ki second delivery hai so tu kyu itna tension le raha hai?
R: arre ye log pata nahi meri Taani ke saath kya karte hai. Last time bhi wo kitna chilla rahi thi. Inko doctor ki degree di kisne. Kuch aata waata nahi aur khud ko doctor bolte hai. Iss baar to mai uss doctor ko chodunga nahi. Maine Dr. Mehra (head of the hospital) se kaha bhi tha ki koi aur doctor dena but wo kehne laga ki nai he is the best doctor. Aise doctor ko wo best bolta hai takla kahika.
Listening to this Alvira and Shivam were trying to control their laughter. Rey had no clue of what he was saying all he knew was his Taani was in pain and he was helpless.
Sh: Rey calm down. Taani ko kuch nahi hoga chill.
K: Aunty mumma itna shout kyu kar rahi hai? Khushi ko mumma ke pash jana hai.
A: beta aapko ek chota sa bhai ya behen hone wala hai.
K: wo mumma ke big-big tummy se aayega?
Alvira nodded in response.
Taani's scream slowed down and a baby's cry was heard. Rey's eyes were brimmed with tears of happiness.
The doctor came out of the labour room and was scared to face Rey as when Khushi was born Rey had almost chocked him by his neck. It gave Alvira and Shivam a hard time to free the doctor from Rey's grip.
Dr: congratulations Mr Singhania it's a boy. Nurse aapko saare information de dengi.
He was well aware of Rey's anger so before Rey could burst out he swiftly left the place.
Alvira starts laughing.
A (laughing): Rey ye doctor tumse abhi bhi darta hai.
Rey glares at her. After Taani was shifted to a private room everyone went to see her. First they sent Rey.
Rey went into the room there he saw Taani sleeping peacefully. And next to her was their little bundle of joy wrapped in a white cloth. He went and picked him up he was his carbon copy other than his eyes which he got from his mother. The baby was staring at Rey innocently. He felt secured in his father's arms. Taani slowly woke up and saw Rey with their son.
T: Rey...
She extended her arms indicating him to give her their baby. He gently placed the baby in Taani's arms and kissed her forehead.
R (with tears in his eyes): Taani tumne muje duniya ki saari khushiyaan di hai. I love you so much.
T: I love you too Rey.
K: Mumma-Deda...
Rey opens his arms to Khushi and she goes running into his arms.
K: mumma ye baby itna chotta kyu hai??
Everyone smiles at her innocence.
R: baby jab bada ho jayega na tab wo proper ho jaega. Pehle tum bhi aisi hi thi.
Alvira interrupts.
A: arre ab hume bhi to baby se milne do.
R (Irritated): tu na humesha aise hi aa.
Sh: ohho ab bas bhi karo tum dono. Tumlog business partners kam business rivals zyada lagte ho.
Taani agrees with him.
A: baby ka name kisine socha hai?
R: maine.
T: aapne kab socha?
R: jab tumne muje bataya that you are pregnant. Tab maine decide kar liya tha ki agar ladki hui to Khwahish aur agar ladka hua to Luv.
T: ye naam kyu?
R: Khwahish isi liye kyuki mujhe ek aur baby chahiye tha to so meri wish poori ho jaati. And Luv isi liye kyuki wo iss duniya me humaare pyaar ke wajase aaya. So humare baby ka naam Luv hoga.
Saying this he kisses Luv's forehead. And hugs his entire family.
***********
Do like and comment
It was my first try to write hot romance so forgive me if its bad.


Edited by TR_MN_KR - 24 May 2015 at 1:28pm