Gan thanks for starting this thread cause its exactly what I have been thinking ever since this Simi-Subbu angle started cause honestly it's making me think are we gonna get a track that will make the Mihika' Shagun bechari ko bachao mission track like an Oscar worthy nominee here
When last week Toshiji started to think along these lines I was like Not again! Woman when will you ever learn...then Simi spoke about not wanting to think of any relationship at this point and rather focus on having a career for herself and becoming an independent woman who would be able to look after herself and her daughter and I was like FINALLY! I cheered for Simi with all my heart and though I didnt expect the chapter to end so soon...tonight when the 'matrimonial' aspects started mostly because Toshiji, I suppose was already thinking of wedding gifts, the menu and all, she already has decided on the guest list and I think enjoyed Ishita Raman' wedding so much that she now wants the first available off-spring to attach themselves to an Iyer in holy matrimony faster than they can blink at the first available chance, this was my precise reaction.
I need GIFs today, cause god, words arent enough!
Seriously, what the hell is wrong with these people?
The woman wants her daughter to settle down AGAIN, even when the divorce is yet to happen which sometimes takes YEARS in Indian courts and the first guy she finds with the 'availability' tag has to be the new Groom...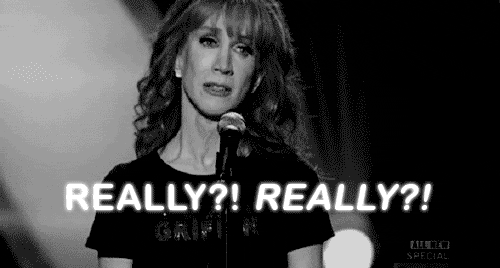 Sometimes I wonder at the so called modern Toshiji and her broad-minded opinions...the woman keeps oscillating from one end to another and as much as I hate to say this - god she seems like such a Indian mom - because the dumb shit that we witnessed onscreen today is sadly a mirror-image of the people of our times even now...Yes, as much as I hate this shit I cant help but think of something that makes me say this.
People think daughters shouldnt stay unmarried - because 'Samaj kya kahega' shit is on the top of their minds, like I said, I have seen an example of this myself - someone I know was married to a guy for almost 4 years, they had a son and the guy and his family were awful to the girl, finally 2 years ago she moved back to her parents and got a divorce in the next six months.
What do you think happened next with her?
She got remarried within a year, thats right a year tops and the parents just wanted to see their girl 'settled' so much, so desperately, apparently they didnt run a proper background check on this new guy and his family as well, despite their experience!
And guess what? She is back to square one once again, because this guy is no better than the first and it seems like the poor thing is headed for another divorce or seperation...and its taking its toll on her so badly. Her first husband wouldnt let her even meet her son, the second one came back from honeymoon with her dropped her off at her mom' and is now unwilling to have her in his home and life again...
The day this stupid, stupid mentality of 'betiyaan bojh hai' and 'beti toh paraya dhan hoti hai' shit along with 'kab take beti ko ghar baithake rakhenge' will prevail with the most famous of them all 'SAMAJ KYA KAHEGA' and 'Tu apni saari zindagi akele kaise bitayegi' remains - till mothers like Toshi and that mentality exist - sadly Simis will never cease to exist in our world and society.


Edited by EkPaheli - 11 May 2015 at 10:56am