Part 31
Ten days passed like this, Pari gets normal with her father again with his love and care, Anu and Kalpi's bonding grows more stronger with their physic session and Gouri was happy to look been everything comes on its normal track, leaving two faces...one is Kamini, because her all plan to insult Kalpi in front of all family members spoiled... and now Kalpi was the apple of everyone's eye, which boiled her blood tremendously, but she was helpless to do any harm to Kalpi, but one thing happened in her favor, Raghav and Kalpi's relation after that incident faded some little, which made her fain little.
And another is Raghav...who was regret for his action but now Kalpi's ignorance killed him, she behaved nicely with everyone, but with him she not even lift her lashes too, which fumed his anger than repenting. In these ten days, she did not talk him, not take his lift, and not enter in his room. Whenever Pari was with him, she sends Margret to call her, but herself...never went there. Raghav tried many times to talk her, but she keeps herself busy in Gouri and Anu, or spends her time in her room with closed door. Raghav now started to miss her, her closeness, her touch, her blabber, her tease, her angry widen eyes, her fumed face, everything...he only wants her with him, to talk her, to say sorry to her, to make her understand his dilemma to see his sister in trouble...he wanted to pour his heart to her...but his Ms. Attitude does not ready to break her shell at any cost.
In these days, anu's condition was improving with every day, she start walking perfectly without any support, and sometimes run behind Pari joyfully, her laughter echoed in whole mansion, the all family was happy with her development.
Everyone gathered on dining table while Kalpi was busy in feeding angel, and Raghav...in seen her from the corner of his eye, he felt dejected, when she not even throw a single glance at him...by mistakenly too. Gouri noticed her son's tantrum a little and felt bad for him, but she left it as their personal matter. They all busy in eating and smiling on Pari's antics, when her phone beeped, she looked at the screen and get up hurriedly,
"Aunty...I am leaving...Karan is waiting for me outside...see you at evening...bye angel..." she said kissing Pari and run toward the entrance waving bye to Anu and Gouri. Raghav watched her fumingly going with Karan again, he tried much to keep her away from him but Karan again come in between them, he slide his plate and stormed outside angrily. Anu and Gouri looked at each other with worrisome.
Raghav not feel well as Sammy too not talked him properly, their friendship curved in bitter path with all this mess, Raghav does not want to lose his friend. He entered in Sammy's cabin and stood in front of him wordlessly, while Sammy does not notice him as he was busy in dragging his head in his file,
"Yes...what you want?" he said without lifting his head, and misunderstood Raghav as peon.
"Your pardon...my friend" Raghav continued with weak voice, his words filled with the pain of his heart. Sammy surprised to see him there.
"Raghav..." he gets up from his place and went near him.
"I am sorry yaar...I was so scared to see her in that state...and all this happened...but I never thought my words hurt you all this way. I don't want to lose you Sammy...please forgive me..." he said drearily. Sammy hugged him tightly.
"Raghav...I understand yaar...I don't have any quarrel from you..." sammy murmured pacifying his back and continued, "but Kalpana...you hurt her more than anyone, tujhe usase sorry bolana chahiye".
"For that she want to meet me once na... par wo to aise muhh phula ke baithi hai ke baat tak nahi karati" Raghav replied furiously rolling his eyes.
"You shouted on her in front of everyone and want to say sorry in alone...you really think Raghav she will forgive you so easily" Sammy put point to understand him, which make Raghav think for a while.
"To kya karu..." he said biting his lower lip.
"Think some different"
"Is she agree with this"
"I hope so"
"Tell me correctly, it works or not" Raghav pouted.
"I think you miss your chipkali...right" Sammy smirked on him.
"Why should I miss her...this all only for my angel...because she misses her parent's love unitedly...that's it" he tried to give him an excuse, Sammy nod his head negatively in smiling.
"Ok" he gave him assured look "I know you very well Raghav...you miss her terribly...you are in love my friend and I wish...tu bohot jald is baat ko samaj jaye..." Sammy thought moving his hand on his neck with mischievous smile on his face.
At evening, Raghav sit in his room working on his laptop, when her high jinks felled on his ear, which catch his all attention and he moved near window to see her, she was standing there laughing with Karan, they was talking on something and Kalpi start slapping him on his shoulder, Raghav felt hurt to see her smiling with someone else, he wanted him to be there with her, but his bad luck...there was much distance between them, but in meantime his sadness converted in to miffed, when he saw Karan catch her waist and hug her from her back. He clenched his fist tightly and sifted on the frame of window.
"How dare of him to touch her..." he seethed in anger, when she waved bye to Karan and entered inside, Raghav too moved toward the hall.
"Margret...where is angel and others?" he saw her inquired Margret about Pari.
"Gouri madam went to Mandir with Anu madam and angel...and Raghav sir...he is in his room..." Margret replied her softly.
"Ok..." Kalpi nod her head emotionlessly.
"Anything for you madam..."
"Oh...no...I am going to my room..."
"Ok..." and Kalpi turned toward her room; her eyes felt him looking at her. She reached at her room and closed door when he came to talk to her. Raghav fumed in anger and punched on adjacent wall of her door loudly...as its vibration reach to her heart too, she closed her eyes dejectedly with sorrow, while he turned toward his room hotly and banged the door with full vigour.
Next day, Raghav came home with Sammy, as Sammy wanted to meet Annanya, when he saw Karan sitting in the hall with Gouri Anu and Kalpi beside him, Raghav clench his fist but controlled himself looking at the others.
"Hello aunty...Hi Karan...hi Anu..." Sammy greeted her softly with love in his sight, Anu smiled with gesture but shyly with blinking her lashes.
"Hi Sammy...what a pleasant surprise to see you here" Karan too greeted him with excitement, "hello Raghav..."and Raghav...in cold voice. Raghav responded him with a small smile but his gaze still fixed on Kalpi who stood there looking at the down playing the floor by her index finger. Raghav's heart sinks to see her snubbing attitude.
"Actually Raghav...i wanted to say sorry Karan for our behavior of that day" Gouri tried to understand him the situation,
"Oh...yes...Karan...I also apologies for my words. I tried to say sorry so many times...but it not worked..." Raghav explained Karan seeing Kalpi from one eye.
"don't bother, it's ok...I came here to invite you and Anu for my beach party...tomorrow is my birthday, and it is so special for me, my white witch is with me..."Karan said hugging Kalpi, and she smiled warmly at him, Raghav control himself not to look at them, "and Anu...she too recovered...so I want to celebrate this day...please come...and Sammy...I already gave you invitation..." Karan finished with a joyful smile, while Sammy nods his head in agreement, and Raghav watched them with surprise. "Now I want take your leave aunty..." he returned softly and moved toward door with Kalpi accompanied him, and Raghav turn toward his room with the fume in his eyes.
"For you I called him...otherwise..." Karan said angrily walking toward his car.
"Karan...please...I don't want to spoil my best friend's mood for tomorrow...ok...go you are late, Yasmin must be waiting for you..." she handled the situation with her words.
"Ok...bye..." he waved bye and returned toward his home.
The one more night passed with the smile of Pari and angry faces of Kalpana and Raghav, and sun rise with new thought...may it bind some relations or it may clash them...what happened no one knows.
Raghav sit in the bar counter taking the sip of his glass, while Sammy busy in talking with Karan...Raghav was bored there, as it was Karan's party...for that moment a biggest opponent of The Raghav Singhaniya...and he got no one to chit chat there, which make exhausted his mind more, but one thing is sure he was missing someone. Sammy came near Raghav and placed his hand on his shoulder,
"Are you enjoying Raghav..." he asked.
"Enjoying...only because of you I am here...warana...by the way where is Anu..." He said vacantly taking his drink.
"Don't know...I also waiting for them...you see girls...they are drooling on you man...you are star of the party..." Sammy taunted him, a playful smile come on Raghav's face, "no one beat you today my boy...not any gi..." and his lips stopped uttering the next word, Raghav looked at him with surprise as he was stood there with open mouth looking at front, Raghav followed his gaze, his eyes widened to see the beauties in front of him
"Oh...gosh..." Karan whispered in surprise and all three boys stand there looking at the angels of their life.
Boy's image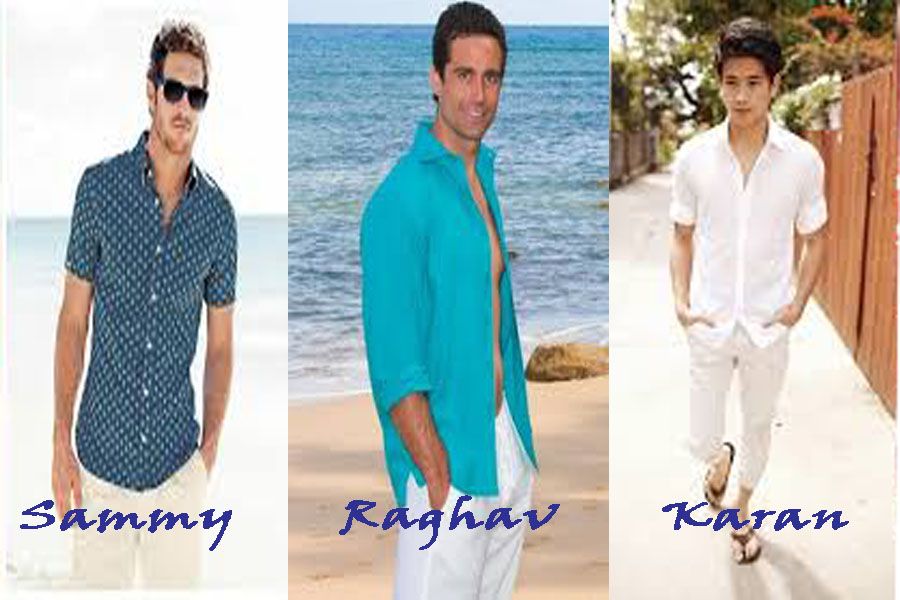 Karan behold Yasmin from hair to toe...his eyes filled with the desire for her, while Sammy...he still look at his sweetie with opened mouth as till yesterday the girl sit at one place with full sleeves and long skirt coming toward him like this...and that in so sexy dress. And Raghav...for him, this was the surprising moment...as he never thought to see her in such a hot look. All the men of the party looked at them with sultry eyes...as they first time saw Indian beauty...on the beach.
Girl's image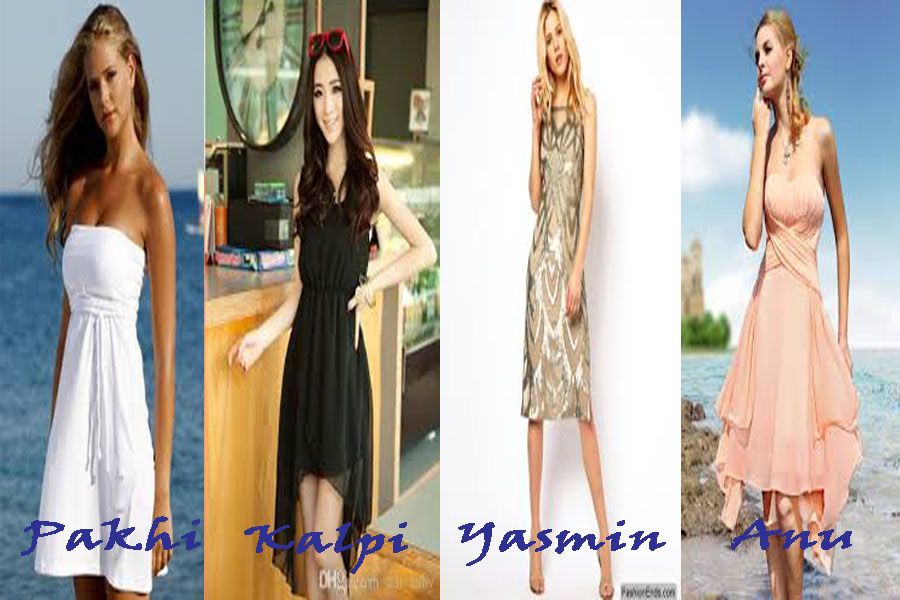 "Hi..."they waved hi to the boys who were till lost in their charm...Yasmin pinched Karan...and with his wince they came out of their trance... Sammy holds anu's hand lovingly at his and pulled her near him.
"Wow...you all are rock the party..."Karan said in appreciating, when Kalpi's eyes felt on Raghav who by mistakenly smiled looking at Pakhi, and Pakhi smiled shyly. Her heart disappointed with his gaze on Pakhi, when Karan wrapped his hand around her waist...Raghav fumed in anger. "Let's cut the cake..." and they all moved toward the stage to cut the cake leaving Raghav there.
Raghav observed her every move near Karan...her gaze on him...her smile...her excitement with sipping his drink. Suddenly someone jerked him...and his attention on her loosened when Karan fed his first bite of cake to Yasmin...and then to Kalpi...who fed him in return and in mean time Raghav too see her. He drank the whole glass in frustration
And music started... (the song of dekho nashe me sara jaha hai from film Race)
Karan dragged Yasmin on dance floor and with him Anu Sammy and other couples joined him. Kalpi watched them happily from side.
"Raghav...chalo dance karate hai" Pakhi came to call Raghav on dance floor but he rejected her and continued his drink.
Sammy twirled Anu in air, when Karan comes near Kalpi who said no in nodding her head in negative but Karan pulled her.
Karan: Dekho nashe me sara jaha hai kitni hasin mulakat hai
Betabi chayi hoto pe ayi dil me chupi jo bat hai
Karan twirled Kalpi on floor and she bounce on him. When Yasmin hold his one hand and he dance with both of them, while Raghav look at them with burning eyes.
Sammy: Bhoho me ake ashiq bana ke
Come shake it shake it more
Sammy hugged Anu from behind and they dance together.
Oh baby rock the dance floor
age bhi yehi sure piche bhi yehi sure
Rock...rock...rock...rock
Come on the dance floor
Yasmin Karan Kalpi Sammy Anu rocks on the floor while Raghav asked for one more glass to the tender.
Kalpi: khwabo me khoye khoye ye ghadiya soyi soyi
kar de ishara kuch to chori chori chori chori
She moved her hand happily and hugged Yasmin with joy.
Sammy : apni juba na kholu hoto se kuch na bolu
bandhu mai chupke dil ki dori dori dori dori
Sammy sings near anu's ear, she smile shyly and he lifted her.
Karan: najare mila ke dhadkan bhadha ke
Come shake it shake it some more
Karan and Yasmin joined their hand and danced on beat when Raghav again turned toward the bar tender.
oh baby rock the dance floor age bhi yehi sure piche bhi yehi sure
rock...rock...rock...rock
come on the dance floor
They all start dancing joyfully with each other, Karan Yasmin, Anu Sammy, Kalpi with some other guy...which fumed Raghav more.
Anu: jane man jane jaha jo bhi ho hona hai yaha
Yasmin: is pal me ho jane de ho jane de ho jane de
Karan: ye lamha ji lene de ankho se pi lene de
rangeen khayalo me tu kho jane de kho jane de
Sammy: mehphil saja ke sab kuch bhula ke
come shake it shake it some more
Oh baby rock the dance floor age bhi yehi sure piche bhi yehi sure
Rock...rock...rock...rock
Come on the dance floor
Yasmin get the call and she left the floor, Karan joined the Kalpi in dance and they all shake their legs together. Raghav get up from his chair and throw his glass. Everyone looked at him with shock when he came on floor. Kalpi's heart skips a beat, Yasmin again returned on the floor.
Raghav: Dekho nashe me sara jaha hai kitni hasin mulakat hai
Betabi chayi hoto pe ayi dil me chupi jo bat hai
He start his dancing with fluent steps on each beat, Sammy and Anu cheered him in happiness, Kalpi watched expressionlessly but then the anger rise there when he hold pakhi's waist and pull her with him looking straightly toward Kalpi.
Bhoho me ake ashiq bana ke
come shake it shake it more
They all again joined him on the stage...and danced together...Raghav shake with Pakhi and Kalpi with another one but their eyes stuck only on each other's.
oh baby rock the dance floor age bhi yehi sure piche bhi yehi sure
rock...rock...rock...rock
come on the dance floor
Kalpi come side from the stage to grasp some air but her eyes still placed on Raghav who busy in dancing with his sister, a pleasant but cute smile was continuously played on his lips...Kalpi's heart warmed to see him smiling, her lips also widened them to smile.
"I saw him smiled heartily after seven years..." she watched at voice astonishingly, Sammy was standing there looking at brother sister. "Thank you..." he said.
"Sammy...Anu is my best friend...I love her...please don't embarrass me saying thank you..." she replied sadly.
"Not for Anu...to bring my friend again in life...to spread a smile on his face...for Raghav..." he murmured with the happiness.
"maine kuch nahi kiya..." she returned stonily.
"yes...you are...I saw him dancing after seven years Kalpana...which was his passion but he left this, after Abhi Bhai left him...he covered himself in a shell of arrogance and pain...sab ko lagta hai wo khaddos hai...but how is he...only I know...he is like coconut...hard from outside...and soft from inner...and only you broke him...you gave him his life...a cause to live again...his angel, aur ye sab only because of you... to thank you to banata hai..." Sammy smiled softly. Kalpi gulped her spit in unknown fear...which she doesn't know.
"Don't think too much...the correct time tell you its meaning..."she looked at him with surprise, "by the way I am going to propose her..."
"What...really..."Kalpi said with excitement, "I am so happy for you both..." she hugged him by side.
Anu and Raghav was busy with each other, when Sammy's voice felled on their ears.
"Excuse me guys, I am sorry...this is your party Karan...but I want to say something" Karan blinked his eyes in approved with Yasmin at his beside. Kalpi saw them from standing at her place.
"Thanks buddy..." and he turned toward Annanya who stood there holding her heart.
"I fallen love with her when I don't know the meaning of love, she was sit there with playing her dolls and I only memorized her from the corner of my eye...her smile pulled me towards her, with growing age, our bonding also grown up...first we was strangers, then she was my best friend's sister, and then my best friend...her every dream...every pain I always felt in my heart...with every blink of my eye...I see her face in it...but she always rejected me...always refused to love me...but not today..."
Sammy came near her and bend on his knees with a beautiful platinum ring with blue diamond on it in his hand, Anu watched him with tear in her eyes, "Annanya...we played every role of life...strangers...best friends...lovers...but can you please play the role of my life partner now...till the eternity...till my last breath...I promise you, I accompany you on our every path in happiness or sadness...only wants your hand in my...will you please give me a chance to enter in your life...will you marry me?"
Yasmin and Kalpi shouted to say her "yes..." and with them others too. Anu looked at them with smiley teary eyes and nods her head in yes...and large sound of clapping running in the air. Sammy slipped the ring in her finger and hugged her tightly.
"Sorry guys...for interrupting this moment" they turned toward the stage where Raghav stood with the mike in his hand, "it is the most blissful day of my life...my best friend and my lovely sister very soon bind in a beautiful relation...and I felt like most happiest person of the world...we all waiting for this day very eagerly... it came...and if I did not give the credit to those hand who always prayed for them, then that will be very unfair" he said looking in her eyes, but she saw him with hatred in her sight, "my Anu stood only because of you Ms. Jadhav...and I really thankful to you for that...i am sorry for my words...which I used for you. But in front of everyone...I really apologies you...I am sorry" he returned with the repent in his voice, Kalpi looked at him woodenly, her eyes narrowed with anger in them and she moved from there toward the uncrowded space of the beach.
"kya samjta hai khudako...kahi bhi kuch bhi bolega aue mai maaf kar dungi...kabhi nahi" she muttered herself walking on the wet sand of sea shore.
"Ms. Jadhav...listen me..." he came there running but Kalpi was busy in her talks, he hold her arm to stop her.
"I said listen me once..." he said angrily pulling her near him.
"Why...?" she jerked him, "why I listen you Mr. Singhaniya...? You announced your greatness in front of everyone...then why you came here ha?" she shouted glaring him angrily.
"Greatness...you thought I did all this for heightening myself...right" she rolled her head toward other direction, his eyes turned red with her behavior, "I did mistake...insulted you without think once and from last eleven days I regretting for that day and night..." he hissed running his hand from his hair, "whenever I wanted to talk with you...you showed me your attitude...and now I said sorry then you thought..." he came close to her, their angry eyes meet each other, " you know what...you are sick Ms. Jadhav...in you and your best friend's arrogance...itani jyada ke tumhe kisi ke emotions bhi nahi dikhenge...it's my fault, I came to you...but not more"
"So who said you to come here...go there where your friend waiting for you..." she roared at him.
"Right...my mistake to come behind you. If you are not my angel's mother...then till now I throw you out of my life" he exploded.
"And me too...I am bearing you for that only...bus do mahine...then me and my daughter is out of your way for forever" she spluttered.
"Ye to waqt hi batayega...who take Pari..." he returned warning tone.
"dekhate hai..."she too raised her eyebrows.
And they both turned to the different direction with anger in their heart for each other. With the shattered faces of Yasmin and Annanya who watched them tensely going far away from each other with question on their face...will Pari's happy family complete any day?
Finished...thank you girls for your likes and comments and sorry for spelling mistake and grammatical errors...I hope the song the song and the part not bored you much...if bored...then sorry... love you all


Edited by swara2504 - 11 June 2015 at 6:22am