PART-2
NEXT MORNING DWIVEDI HOUSE:
A lady looking into mirror filling her fore head with sindoor,sitting on a dressing table lost in her own thoughts.
I don't know till date the reason behind ur hatred towards me. But some times i find love in ur eyes. You always show ur wildness on me but i never replied u back the reason behind it is not because i am ur wife and should bear it but because i love u , i love u so much, that gives me strength to bear ur hatred .I tried my extent possible to bear it but atlast, i gave up and ended up our relation by divourcing each other. Though i divourced u the love in my heart never became extinct . I love u Siddhanth ji ,i love u alot. Thinking about it tears started rolling down her cheeks.when she was about to wipe the tears she found 2 little hands closing her eyes.
Roli: o my cute little princess already woke up and got ready also.
Roshni: oh mom how u always guess me taking her hands from her eyes and clasping around her mom's neck. yes mom I have already got up and ready as i am going summer camp.
Roli(in low voice) : that means my little princess is ready to leave her mom and go.
Roshni: not at all mom if u say now also no to the camp i am ready to leave this plan. Then what is ur plan to stop me or to go.
Roli: No darling i will never stop u ,as it is advantage to build up ur future .so, now leave the topic come on we will go to join others.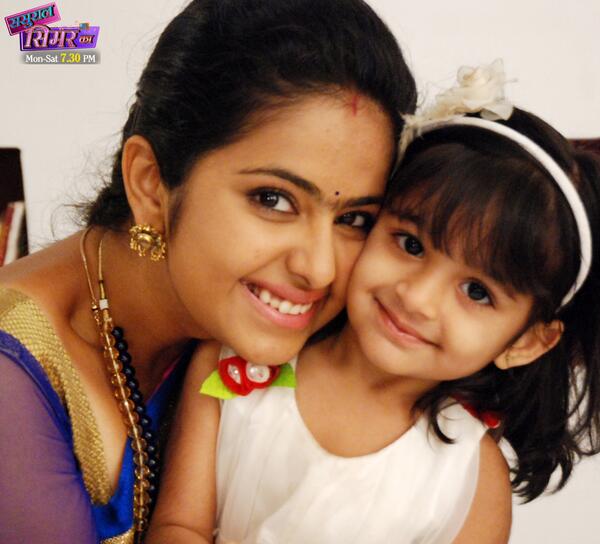 Roshni:Before leaving I wanted to ask u a question.
Roli: what darling.
Roshni: Mom y u were crying, when u promised me that u won' t cry.
before Roli could say anything Roshni cut her words and said
Roshni: mom again don't say me that u are thinking about ur disgusting husband. god knows when his thoughts will be vanished from my mother's mind.
.
Roli(in anger) : Roshni u should not say anything about him.He is ur dad right.
Roshni: dad ,the person who left my mom hurting her for these many years is not at all my dad and even in my dreams i will not accept that person as my father.
Roli: Roshni u should not talk like that..
.
Roshni: Mom lets not get into the fight now, and spoil my mood by talking about that person anymore
.
Before Roli could say anything Anjali entered into there room.
Anjali: Roshni and massi we are getting late we should go Mataji and all are waiting for us
.
Roli: Yes let s go dear.
After a while in the hall all are ready to give send off to there cute little princesses who are going to summer camp along with there mataji,and are going to miss for one month.
Simar: Anjali take care of ur naughty little sister and mataji.
Anjali: yes mom, will do as you said
Roli: Mataji take ur medicines on time don't neglect ur health ,alright.and don't start running behind these 2 little devil's over there also and u my little devil's be careful and enjoy ok.
Mataji: Yes Roli beta I will take care of myself and my cute dolls.
Roshni: mom don't worry about her I am there to take care about her .
Roli: Roshni now-a-days u talk like a grand maa beta .
Roshni: Mom I am not grand mom to u, I am ur daughter, Roli's Roshni. Roshni Roli Dwivedi.
hearing her cute words all started laughing.
.
Mataji: Ok ok my child its getting late we need to catch the bus of shimla on time so we have to leave right.
Before marching out Roshni rushed into the house and started talking standing on the couch.
Roshni : before leaving i wanted to say few words.
Prem : Roshni beta, what is this u people will be late . come, we will talk later.
Roshni : Yes uncle, just 5 minutes.
turning towards Jamunalal and Meena.
Roshni: Nana and nani u people are great escapers when its time to have medicine always I and Anjali should compel u to take medicines so promise me that u will take medicines on time and mom u , u should not cry again thinking about that person anymore. Prem uncle and simar maasi if they don't keep there promise do inform me I will not talk to them ok.
Jamunalal,Meena and Roli: ok we promise u.
Prem and Simar: ok will do dear any other concern, u people are getting late.
Roshni: Yes ,I am getting late because of u we are always late.
Roli:because of we Roshni ur talking too much dear.
Roshni: ok mom we will leave .
These 2 little princessess taking blessing of all the people and kissing them marched out of the house with there mataji to summer camp.
Roli went into the room waving bye to them,while others are in the hall.
Meena: Jamunalalji see because of our Roshni only our Roli is happy. otherwise we are used to see her crying face.
Jamunalal: Yes Meenaji u are right,she is happy due to Roshni. She is living her life by not thinking about that person to the some extent.
Prem : yes pappa u r correct the girl who never known to cry , her life has become a path of sorrows due to that person.
Simar: lets not get into the topic Roli is coming.
Roli: maa,pappa, bhaiya and babhi I am leaving to the office as I have an important meeting .Bye
.
Premar and her parents: Bye and be careful, drive safely.
Roli: ok will do, Bye!!!!!!


Edited by kshamaD - 17 May 2015 at 7:18am