Originally posted by Pharma3
Shame on you Salman Khan, says author Sreemoyee Piu Kundu in her open letter!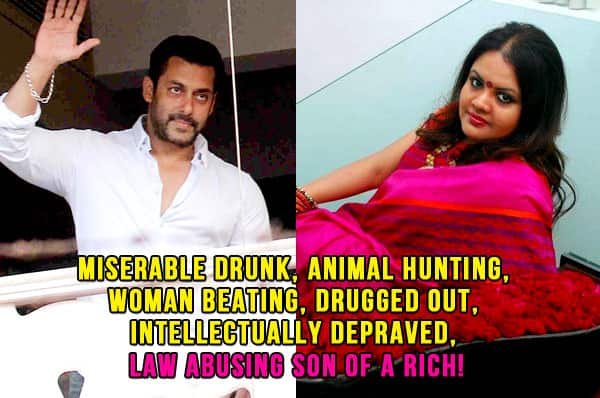 Yogen Shah/Facebook
Last night when Salman Khan thanked his innumerable supporters on Facebook it was crazy how fans not just celebrated the bail, but also wasted no time in responding to the actor. But not everybody was happy with HC's decision to let the actor free after the Session Court's conviction order. Here's the author of You've Got The Wrong Girl take on the actor and his court case...
Salman Khans family, friends and fans are hailing the actor's bail. But author, Sreemoyee Piu Kundu has minced no words as she expressed her anger and disgust after the Bombay High Court dismissed the actor's five year sentence. In an open letter on Facebook, the writer who's best known for her recent work, Faraway Music, Sita's Curse has called Salman Khan - law abusing son of a rich', woman beating', miserable drunk'! Kundu's anger is not just directed at Salman who she openly shames in this letter, but also at Indian judiciary, lawyer Harsh Salve, the actors sea of supporters and the Bollywood-wallahs who walked in huge numbers at the actor's Galaxy Apartment in Bandra.
Here read Sreemoyee's open letter...
"Just when you are impressed with justice in this country. You are bound to be disappointed. Shame on you Salman Khan. For all your Being Human bhaigiri and your adopted sister, you are just a miserable drunk, animal hunting, woman beating, drugged out, intellectually depraved, law abusing son of a rich and famous father who cheated on his wife and now lives with his wife, and mistress. Lacking the basic moral courage to call his spoilt son a criminal. A bunch of failed siblings all living off Salman's reflected glory. And for the stars, socialites and fans supporting this giant asshole who should get nothing less than his full term of ten years in jail, if not more, you deserve this shithole of a nation - scams, crooks and corruption at every level.
Shame on you Harsh Salve. Selling your soul time and again, to callous celebs who wield political power and huge monetary influence, instead of using your fancy legal degree to help those in need - yes, I mean men and women and children living on the streets. For defending another crook who for the last 12 years has bas***dised the system, being arrogant enough to miss most of his hearings, trying to use false witnesses and involve his poor driver Ashok Singh, buying out his loyalty.Shame on you prosecution and Mumbai police - for not dragging back singer Kamal Khan, another giant loser with an accent, who was sitting behind Khan when he drove over the innocent pavement dwellers. How is he even allowed to leave this country when he's a key material witness? Shame on you Bollywood producers and directors, lining up outside the Khan residence as if there is a condolence meeting in session, ass-licking an aging star who will help you get rid of your ill begotten wealth and substandard scripts - catering to a bunch of losers who watch this trash, year, after year, after year. Earning you another 100 crores of black money borrowed from Dawood, or some other Bhai, based in Dubai, in all probability.
Shame India. These are your Heroes.
This is your judiciary.
This is your real face.
And do yourselves a favor, screw the charity theory. The he's got a heart of gold. The million examples of how Salman Khan helps people in need. It doesn't count when you drive drunk. Shoot a black buck. Bash up and abuse the women you love. And bribe your way to freedom after killing a man. Feeling sorry doesn't justify what you did, or make your guilt any less.
You don't know Salman Khan personally, you just watch his films!
http://www.bollywoodlife.com/news-gossip/shame-on-you-salman-khan-says-author-sreemoyee-piu-kundu-in-her-open-letter/
wow this woman is so bitter! I can understand anyone being angry or sad about this case based on their expectations. The judicial system did its job as it does in any other case in India and as far as the opinion on his verdict goes I think its, to each, its own.
For me, I feel that community service should count for a hell of a lot when it comes to punishment. I don't think I need to justify my support for SK because that's my personal opinion but whether anyone likes what happened or not, doesn't this letter seem too personal or bitter. If this woman has a problem with the justice system then why doesn't she write an open letter to everyone who has a case filed against them or to Indian judicial system or to the government. Why get personal about his family, girlfriends, his charity or his sister.
If being a superstar shouldn't be the reason SK gets extra favor from people then why is it okay to use that as a reason to abuse him and his family like this. If this woman has an issue with his charity then she should or anyone else interested should pitch in and start donating to all the people he helps. Use your actions rather than your words to show that the charity he does is not a big deal.
I think people don't realize that their opinions and statements shines a light on them as a person rather than the issue itself.
-Gina