Meri Aashiqui Tum Se Hi: W*F is Ranveer doing by kissing Ishani?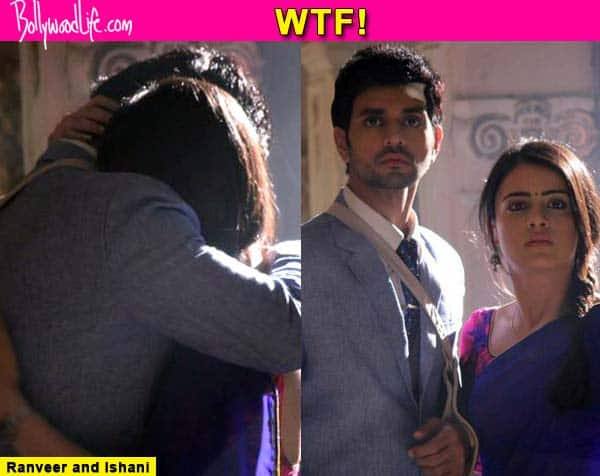 Clearly ego and revenge has warped Ranveer's brains, look at what he is doing just to have his way... Tch... tch... tch...
In Meri Aashiqui Tum Se Hi's latest episode, RV (Shakti Arora) comes to know that Shikhar (Arjun Bijlani) is in love with Ishani (Radhika Madan) and his parents are planning to get him hitched to her. He talks to Shikhar and tries to dissuade him from the idea. But Shikhar is true to his feelings and tells RV to buzz off.
However, Ishani is refuses to marry Shikhar because she doesn't want to spoil someone's life when can't give her 100 per cent to the relationship. But this is something RV is still clueless about. In the upcoming episode we see RV calls Ishani to a store house where idols of gods and goddesses are kept. When she reaches the venue, RV messages Shikhar and asks him to come the same place.
When Ritika reaches the place,she sees RV and Ishani getting intimate with each other. RV kisses Ishani and she loses control and goes with the flow, after all she still loves him.Obviously Ritika is heartbroken seeing this, when Ishani learns about RV's trick she pushes his aside and leaves.
Did RV's intensions succeed? Well not exactly the way he hoped. But my question is W*F isRV up to? In order to prove Ishani as characterless, he is also cheating on Ritika? So if she is a cheater what does that make RV? His character clearly doesn't understand bounds and boundaries; and using Ishani to make a point is wrong on so many levels.
This new avatar of RV is disgusting and an outrage. Why did they take away the sweet, innocent and trusting boyfriend and replace him with a stupid, dim-witted character? Share your thoughts on the topic in the comment section below.