heyy all i have been a follower of KKB since the beginning and have been a silent reader of this forum for a while so thought of posting a version of one of my composition here, happy reading
She passed out from school- status: not interested in boys! joined college and then after under graduate completed her post post graduate studies- status: I don't want to get married! as a beautiful girl from a cultured and reputed family who earned a good name along with a respectable salary as a literature professor , it was not that she never got proposals but she admitted that she is a simple and boring person but it was after rejecting 34 proposals she met abhishek mehra who said he rejected more than double the number of her proposals. she remembered the day she was going to meet him on her mother's insistence and like any other guy she was going to reject him but after that meeting she felt that he is a nice guy, in fact he was the first one for whom she felt something and then both the families danced with joy, and they both got married in a big fat Indian wedding ceremony. She just wondered looking at all his framed pictures that how easily she got ready to marry him and now she was officially MRS. ABHISHEK MEHRA!!!!
You can take your own sweet time wifey to adjust in these new surroundings, to adjust with me he said. She felt very much relieved because she herself wanted that as a couple both of them have their time to know each other to understand each other. She thanked him along with an embrace. he felt special and he was happy that he got his life partner with whom he will share his life. He liked her but now he wanted to know her, he wanted to love her and he wanted to make her feel very very special! She did not know what kind of a feeling it was but she felt very comfortable with him because with some moments spent with him she realized that he liked her, he cared for her and he respected her
As she freshened up and came out of the bathroom, he saw him struggling to adjust himself on the couch and when she asked what exactly happened to him-it was just that he wanted her to feel comfortable in her room. But hubby dear this is our room, we have our bed and m your wife so why are u behaving in such a weird manner? i say pls stop watching Indian daily soaps if u do! And he made a face at that. as they both lay on the bed he started talking about all his wedding time fun, about his oh so well-behaved friends, about his OTT relatives and about all his excitement but soon he noticed that his lady had become the sleeping beauty and then as he closed his eyes immediately something hard hit his chest and not at all a surprise for him it was anu and her so many heavy red bangles which she had worn for him. it hurt but more than that he enjoyed the way she crawled to him and slept hugging his arm!!!
bachaaooo, she screamed in a high pitched voice from the bathroom and he got scared. He rushed towards the bathroom, she tried to run but slipped, he tried to hold her but finally both of them fell on the floor. What happened??? He asked worriedly, there is a big fat lizard in the bathroom she cried, u r scared of a lizard??? But pls don't worry she will go away and after all it is not going to eat u up, is it? he said to comfort her. but till that moment she had lost herself in his deep chocolate brown eyes which spoke volumes of affection he possessed just for her and now as his hand slid under her dress and her fingers tickled the soft skin of her waist her lips moved close to his, his moved closer and closest to hers but then she put her face against his chest which had turned ruby red.
it was a treat for him to watch her jumping beside the kitchen counter with her every effort failing to hold the coffee jar . Will u pls come and help me, she called for him. He went and stood behind her held the coffee jar but did not bring it down. Instead he had a better idea; he held her by the waist and lifted her to get the coffee jar down. What r u doing??? She questioned- helping u sweetheart he mischievously replied. After he brought her down she asked him about his taste for his coffee now that his fingers slid down her hand and then knitted into her fingers, his breathe fell for the fragrance of her body mist. Very hot, with something sweet with a little bit of spice makes a perfect combination for me both for coffee and the person who is making it. After skipping a beat her heart actually stopped beating but continued playing with her hair until Purab came to disturb them with his demand for a glass of milk. He started teasing pragya and then abhi gave him the "I will kill u now" look!!!
How did she manage to look so beautiful in every picture he saw from their wedding album, her smile made him smile, her grace mesmerized him and her beautiful eyes left him spell bound. Here is Ur coffee hubby! she said offering him the mug. Where is urs or u wanna share? u know they say sharing multiplies love!!! m not a coffee person she answered having a look at the pictures but still he made her have a sip. Then they enjoyed looking at their wedding pictures. she introduced each and every relative of hers to him and he mimicked all his aunts, uncles, grandmothers and grandfathers reacting to which she had a stomach ache as she could not stop laughing! she wiped his coffee moustache and all his cute and innocent gestures made her feel that ROCKSTAR ABHI MEHRA was more of a 5 year old kid now!
This color really suits u he said playing with the hook of her baby pink blouse and even complimenting her lehengaa. as his fingers traced down her spine a chill ran through it and she was not able to utter even a single word, they both had to go to the temple to pray for their married life but it was because of him that they were getting late, adding to her discomfort was the fact that he was wearing his sherwaani even on her insistence all he was doing was standing bare chested behind her as his toned muscles teased the supple skin of her back. as he gifted her with the first kiss on the nape of her neck and she clutched hs arm tightly, her worth worshipping taayji entering blabbering harsh words loudly in punjaabi some of which she was not even able to understand, giving an ear to what her taayji was screaming about she got really scared and more than that confused of what to do and what not to do and so she simply turned and buried her face into his chest!!!
now my turn to make the effort she thought while changing the bed covers and putting a life size picture frame of their marriage photograph on one of the wall, the moment she entered his room she thought it was plain, dull and somewhat boring the only thing that caught anyone's attention were his framed picture on the wall and his awards & trophies in the glass cupboard so it was time to add some colour and give that room some life so she got nice flowy drapery, along with a few show pieces and a big bunch of fresh flowers. she started with dusting and brooming and then changed the whole scenario of the room, it looked beautiful, the fragrances were better now and finally it looked their room!
he came back from a recording as she was setting the dinner plates on the dining table but without even looking at her he went to his room straight away and now she was excited about how will he react after seeing their revamped room but her excitement was short lived as he came out of his room and just blowed up on her and lectured her for being careless for misplacing one of his important file which he had kept on the side table. she held his hand and marched into the room, opened his cupboard and threw his file against his chest. god damn, it was just a matter of asking!!!!
(and for this reason I say girls can fall for their lovers who have cute and caring gestures but only wives can bear with their husbands amd mark my words, it is not at all easy!!!)
having his share of guilt pangs, he wanted to apologize to her but she was not ready to give a look to him and just then one of their neighbors knocked the door demanding a bowl of sugar and as all of u woul have understood she was yet another crazy fan of all rajat's ways. Flirting with him she complimented him about how sweet as sugar and hot as spice he was!!! rajat was badly stuck in the situation but anu was enjoying the scene from a distance and so rajat wen to her and tightly held her b the shoulder and the deadly looks of her's were enough for her beloved neighbor to run away from there and that to without sugar!!!!
he put in his best effort but her was stubborn not to give in so easily but what made her heart melt were the air tickets for newlywed MR. & MRS. MEHRA and confirmation of hotel bookings which she found in his laptop bag and that was enough for her to run towards him and cling on his shoulder and saying thank for the holiday. it is honeymoon wifey he whispered in her ears and now as she turned tomato red a big smile appeared on his face
SACHHI SI SAARI TAAREEFE
DIL SE JO MAINE KARI HAI
TU JO MILA TOH SAJI HAI
DUNIYA MERI HUMDUM...
AASMAAN MILA ZAMMEN KO MERI
AADHE AADHE POORE HAI HUM
K TERE NAAM PE MERI ZINDAGI
LIKHDI MERE HUMDUM...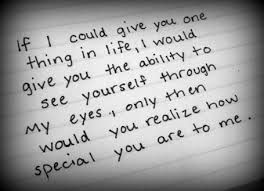 love not a commodity but an emotion is felt and so expressed, we can never ever plan to fall in love or force love on anybody for any two people on earth, they feel and fall for each other because they are destined to be together and so very correctly they say marriages are made in heaven and celebrated on earth
GUYS I REALLY HOPE U ENJOYED THIS ONE!!!