Bajrangi Bhaijaan teaser: Salman Khan makes one helluva Bajrangbali Bhakt!


Share on Whatsapp
There are few films that manage to stay in the news and create a huge buzz even before their first looks or trailers are released and this Kabir Khan directorial is one of them and is easily the most awaited film of the year. And we, like most others, are eagerly waiting for the film's release this Eid on July 17.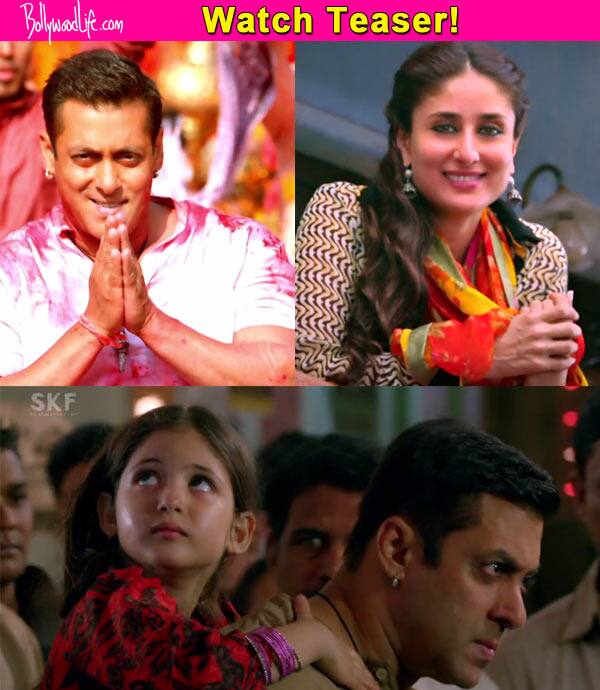 The looong wait for Kabir Khan's Bajrangi Bhaijaan trailer has finally come to an end! And here's what we thought of Salman-Kareena's latest outing together...
After a first look that's an absolute tease, the makers of Salman Khan and Kareena Kapoor Khan's upcoming romantic drama, Bajrangi Bhaijaan, have just released the trailer of the film and judging by what we've seen so far, looks like we have a mega blockbuster in the making.
From what we know the film narrates the love story of a Muslim man (Salman) and a Hindu Brahmin woman (Kareena). But the teaser has left us intrigued as it promises much more than a mere love story. It promises a lot of excitement and fun and chases and more. We see Salman as a Bajrangbali Bhakt who is out to save a Pakistani kid, a pretty young girl. And Kareena looks beyond beautiful.
The Aise hain bhaiya bajrangi tune is as catchy as it is tension arousing. You know a tune has worked it's magic when you're singing it after just 30 seconds of it playing.
The build up to the promo has been massive. From Shah Rukh and Aamir tweeting about it to the fans creating online hysteria. Bajrangi Bhaijaan has become an event of mammoth proportions. After seeing the promo it's obvious that the days leading up to the release are going to be full of sheer excitement and anticipation.


Edited by wat_up - 28 May 2015 at 11:44pm