Before you read this, let me remind you I am a bit TedHa.
Hey guys, This is Rashmi. Can call me rashmi/darling/pinks. This is my index of Ishra and Sahil(Yeh Hai Mohabbatein and Qubool Hai)
Dil ki kuch Baatein hote hein jo likne ya bolne keliye bohut mushkil hote hain, par is likhe ya kahe bager log ise jane kaise? Bas feel kar sakte hai dil se. Jab dil se log feel karte dil ki baat toh bolna kyu? Ab bateen kati ho ya meeti par jab ise bolte hein to uska ek alag hi andaz hota hain.
Ab mera dimag na todha tedha hai, tedha hai par mera hai. Tedhe KurKure Ko toh log pasand karte hai mere tedha brain kai tedhe writing pasand karne ki asha mein tedhe style mein ye tedha index banaye hai jo aapko tedhe banakar mere tedhe writing ko tedhe se pada kar tedha pasand karke tedha comment deekar mujhe aur tedha banakar is tedhe index ko aur tedhe writings se barne ke tedha help karna chaho toh aapko in tedhe writings ke tedhe raaste pata hona chahiye.
Isilye pesh karti hu
'DIL KI BAATEIN: EK TEDHI LADKI KA TEDHI WRITINGS KA TEDHI INDEX'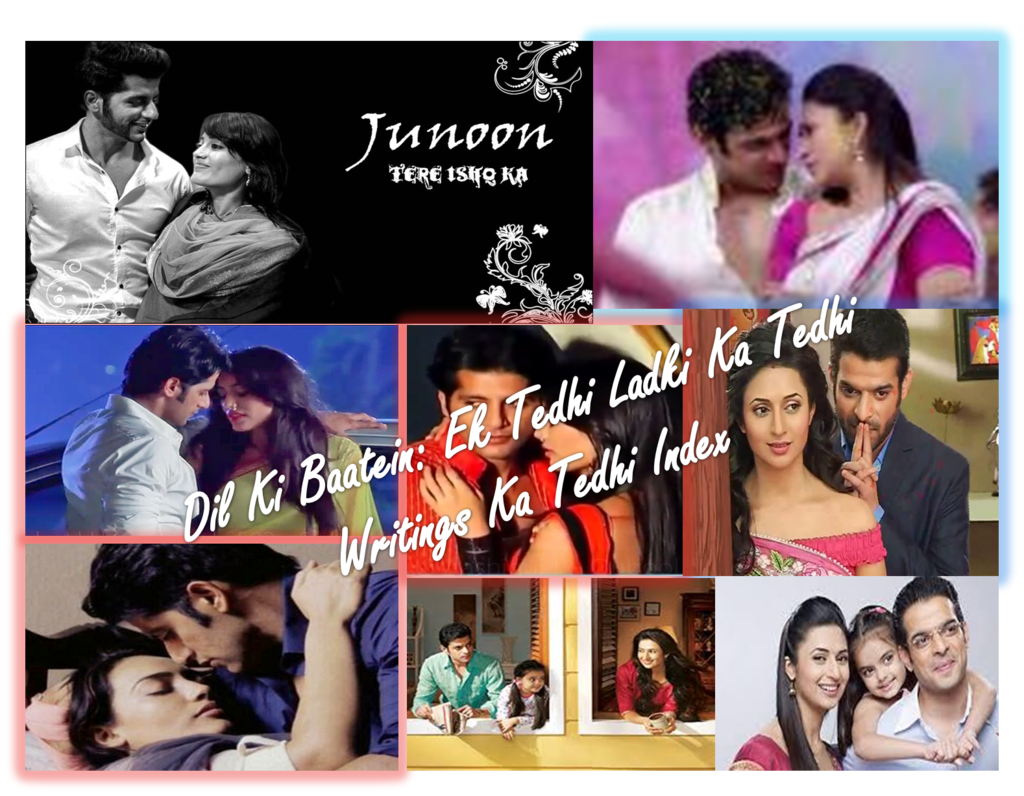 Ishra works:
Now that you know I am tedha wondering why I made Ishra in this colour. Let me tell. Blue is Raman's favourite, red is Ishita's favourite. If i mix both of them I get this colour. That is why this colour.
ONE SHOTS:
I was challenged for this in the PicOsthon. It is about Ishra being best friends and confessing their love and this is very short.
TWO SHOTS:
I was challenged for this in the PicOsthon. It is a non-yhm story regarding Ishra love story. I won't reveal the suspense here, read it, to find out about it.
Teri Aankhon Ke Siva Duniya Mein Rakha Kya Hai
I was challenged for this in the Song-Osthon. It is my take on Ishra anniversary planned in Gulmarg. They have already confessed their love.
Fan Fictions:
This is Ishra love story- a non YHM story. Ishita is dead and the whole story is set in flashback keeping Ishita alive except for in the prologue and in the epilogue.
This is my first ever Ishra work, based on how destiny seperated two people and what will happen when they meet.
It's so hard so hard to forget someone you have loved truly. Well, maybe that's what love is. Love, such a simple word but yet the most complicated thing. It gives you moments of happiness, eternity, worry, concern but the most that hurts pain. This pain it becomes so unbearable that you get habituated to it. For some this love gives a life of happiness while for some all it gives is a life of pain. A life of pain, dried tears, guilt, dryness this is all love gave me. And I know no matter what I'll always love him. It breaks you, shatters you but you just can't stop loving him. Yes, this is me, Dr. Ishita Iyer - a simple, independent girl who has no hopes because I just know I'll never get what I hope for. My life to say in a word is pain. Once upon a time it was love but now its pain- pain of love. I am accustomed to it. My life was going, but now seeing him after 6 long years I couldn't control myself. Why had he come in front of him- now this pain it was just increasing like my love after seeing him. He was just like before- but this time he had light stubble around his perfectly carved face but it just made him more handsome. He was wearing a red shirt with a with a white blazer looking ravishing. Seeing him- Raman Kumar Bhalla after so long all I wanted to do was kiss him senselessly. But I knew I just couldn't.
Why I had to meet him if he wasn't written in my fate, in my destiny? Why was destiny so cruel?
My posts:
Troubled Relationships- A funny post:
Sahil
Again there is a reason for making Sahil in grey colour. These days there is a lot of discussion on black and grey. Seriously, people made me more tedha
. Okay now that both colours are pure for me if they are Sahil. Aahil in black, Sanam in white makes Sahil grey, take it like sometimes mistakes are done but they are completely pure.
Fan Fictions:
Sahil FF- Ye Dil Tumhare Liye Dhadktha Hai Sanam(Ongoing)
This is based on the memory track. What will happen when Aahil will meet Sanam as Jannat, Shaad's wife.
Asya, Sahil, Sehan FF: The Game of Love
This is my first ever work, set after Sulaiman Chacha's meet where asya are alive n as I said I am tedha I discontinued my first ever work after completing first 10 parts.
I started to write this as two parts but never wrote the second part. But, it still is meaningful as with the first part. When sanam finally gets her memory back on the nikaah day?
Sahil FF: Desires: Yeh Kaisi Mulaqqat(Ongoing)
It revolves on QH3 chara's except Shaad. He can't be even here you know. A tale of passion, romance, revealing truths and desires. What will happen when destroyed, ignored, forgotten arousen desires come face to face?
My Polls:
Best Song Sequence of the Week
The first week of Airport scenes and Dharmasala track had a few amazing song sequences. The week of hits and misses. Just made a poll on the best song sequence.
My Posts:
Sahil's track in Dharmasala made me write this.
Qubool Hai's most repeated Dialouge:
Qubool Hai has so many dialogues. Which one do u think is the most repeated?
Kya Sahil Ka Pyar Jeetega Ya Kismat Mein Kuch Aur Likha Hai
sahil has been one of the most beautiful journey ever, never wanting it to end. Will Sahil's love win or does Kismat have something else in store for them.
Asya, Sahil, Sehan: How perfect they are?
Interpreting the names we fans have given them, I made a post to the likeliness of the characters.
Dedicate a song to Sahil, Sehan and Asya
As the title suggests, it is about suggesting a song to the three lovely couples.
Seher's past more dark or Aahil's
A post I made long ago, my first about who had darker past- aahil or seher.
Now that I feel I have finally made you tedha by my tedha talks n writings, don't forget to read these tedha writings n give tedha comments for which I will for sur give tedha replies n fill this index with tedha writings n tedhaness to make you more tedha.
Bye my lovely tedhies, I will be back with more tedha things.
Okay now let me reveal what tedha is for me, tedha in english is tipsy something like imperfection. No person is perfect and I am completely perfectly a human, so that means I am tedha, meaning I am perfectly tedha, once again meaning I am tedha, not normal. But if normal is tedha and if I am not normal that doesn't mean I am not normal, I am perfectly normal but not normal. If u understood what I mean, then u are completely normal but not normal tedha person like me. Hey hi whoever tedha you are. And if my post made you normal but not normal tedha person I am very happy.
Thanks for bearing the torture.
P.S: Everything is in Italics, because I am tedha, not straight meaning not perfect.


Edited by Dil-E-Pagalpan - 07 August 2015 at 7:30pm