Ke Tui BOL.. Ke Tui BOL..
CHAPTER-01
DO YOU SMILE AT SOME STRANGER?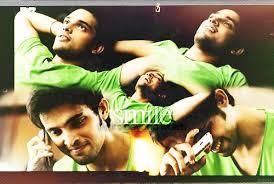 If I have to go in my past I have to go right to the start. Start... the first phase how Parth came alive in my senses.
It was much back before his show Kaisi yeh yaariyaan came on screens. One month back from the moment I spotted Kaisi yeh Yaariyaan's promo.
I opened my eyes just to find an unknown pair of eyes staring at me.
Where the hell am I?
I was gawking at the view in front of me. How much I could catch, I was only aware that I was standing in some highway.
The road in front of me was large, green on both the sides showing the concern of the people towards our environment yet claiming it as only the gift of nature. So neat yet so puzzled!
I picked my eyes and found the whether was not at all friendly rather quite alarming.
Man! Why am I not in my own house? What am I doing standing on an unknown Highway that too in such an unwanted whether?
I panicked in the thought of being in open. I need to find a shelter. Shelter yes! To save myself from the upcoming storm. The lightning in the southern sky was giving me goose bumps.
"Oh my God!" just slipped out of my tongue unknowingly.
What the hell am I doing here?
"Hey..." someone said softly and stroked my left cheek.
I slightly turned towards left to see the owner of the voice when I saw a broad chest. A guy in black vest was looking at me. I pushed my head backwards to see his face straight. He smiled and I felt my world stopped there in that moment. It's all about feelings and emotions when you feel time stops.
Well I am a very practical person and I had never felt that looking at my nearby fresh flesh and blood.
Actually, I don't know this guy at all. I had never seen him before this moment so I avoided him for some time. And now he called me, this stranger do feel someone very near and dear one to me. He felt so own, so right to see him smile. Now I feel it's really very hard to jot it down, the feelings of that moment, the peace when he entangled his fingers with mine and guided the endless path, as my eyes could not find the end line of the road. I can just only sing Justin Bieber's You smile I smile now for that moment.
I smiled at him, my mind shouted you don't know him and my heart shouted whoever let him be for now don't loose the opportunity to smile back at him.
Well I seriously don't know whether my heart or mind but I know there were exactly two voices inside me and they were mine. I listened to the second one.
I looked at him panickingly. The guy was so tall that I had to constantly bend my head backwards to look at him.
He squeezed my left hand assuring me that we will be safe and my heart skipped a beat or my breathing process stopped for some nano seconds, maybe. I was literally with a stranger and yet I was feeling secured.
He smiled again making me gape at him like a fool. And we started walking on a path of which I can see no end just the last which I can see is the horizon joining the sky and breadth of the road.
For every single moment, I felt the same eternal feeling which I never felt any day before this. I felt alive with this unknown guy.
And suddenly the next moment when I blink my eyes, they opened to see a semi-dark ceiling where the ceiling fan was rotating at its own speed and motion. It didn't took me long to realize that I was lying on my bed I checked my cell which was kept near my pillow, it revealed it was approximately four in the morning. And I was dreaming, dreaming an unknown guy almost contradicting my mom's words that we dream what we do the whole day.
I immediately left my bed empty and sat on my study table to pen down my dream and after finishing it I realized that I don't know the guy whom I saw in my dream.
"Who was he?" this question started roaming inside my head and like always my brain started to collect theories on this question along with a supplementary one that is "Why I saw him?"
Mimi