This banner is created by Priya...
Love you
OPP-(Official Picture provider)Valli30
Part 89
Days started to roll and Maan and Geet's sweet and spicy love foe each other too was increasing.. after one week Maan Geet and Ram returned from KC and they all got a sweet surprise.. Geet eyes lit with joy to see the persons there she ran and hugged -Anieee.. You are back.. I missed you
Rahul-Liar.. when did you miss us? If you have missed us you could have called us,, But no.. You did not..and I m angry with you
Geet-Sorry.. par maine socha kabaab ne haddi kyun banu mein..So I did not call and she showed her tongue to him..
Rahul-Hmm... Nice excuse
He came near her and hugged her-How are you Geet?
Geet too hugged him.-Feeling good to see you back
Anie too hugged Maan-Bhaiya.. and Maan kissed on her forehead as he was seeing her after so many days-we are missing you Anie.. How are you?
Anie-I too missed you all Bhaiya..That day we came here..but you and bhabhi had left for shimla..How was your trip?
Maan and Geet's eyes met and a blush appeared on Geet's face. But Rahul was little sharp to notice that and he remembered that it was their first trip after their marriage.. A smile crept on his face too as he could see Geet and Maan very happy after facing so many ups and downs..
Maan -It was a very successful trip..We got all the final payments as well as got a new project too..
Maan touched the feet of his in laws and Geet too hugged her parents..as they too were there to meet them..They all were together after so many days..so they spent a very good time together..They had dinner together and whine taking dinner they discussed about the trip of elders.. Now Rahul and Maan both were back from their trip so elders were now ready to go for their religious trip..
The trip could be covered only by the road only so Maan and Rahul decided to send them by some rented well equipped vehicle.. so that they could not get too tired due to the journey and take rest when and where they wanted.. Elders agreed as they knew that there was no use of opposing those two over concerned children..
After dinner youngsters went in to the garden to take a stroll.. and elders were still in side of the house.. Maan asked Suresh to send coffee for them..
Rahul and Anie were on Europe trip for their Honeymoon.. So Geet was really excited to know about that..
She asked Anie excitedly-Anie How was your Trip.. I hope you enjoyed a lot there..
Anie -Yes Bhahbhi we enjoyed a lot there...
and Rahul took the chance to tease her sister because she never missed any chance to tease him
Rahul- Nothing special about our trip ..we enjoyed there like any other newly married couple would have enjoyed.. You tell .. How was your Honeymoon trip?.. and Geet and Maan's eyes popped out hearing him-How did he know?
Geet-W..what do you mean?..we were on Maan's official trip..not on our honeymoon,.. We are not newly married Rahul..
Maan too was little surprised how Raul came to know.. He too supported Geet-Haan Rahul she is right.. we were on our official trip..
Anie was looking at all as if she did not get anything..As she did not know anything whatever Rahul knew about them so she was confused what they were talking about
Rahul-Don't lie Maan.. I know that you were on your honeymoon trip..
Geet and Maan was shocked to hear Rahul, Geet gulped hard and looked at Maan.. Maan signaled with his eyes that He did not tell him anything..
Rahul observed them for few moment and suddenly he started to laugh..
Maan and Geet looked at him .. Rahul stopped to laugh and said-Don't get confused .. I m right Yaara..Just tell me what is honeymoon? Honeymoon is the trip on which a couple go after their marriage and your shimla trip was the first trip together after your wedding.. To hua na Honeymoon.. Is it necessary that a couple should go on their Honeymoon just after the wedding.. they can go later too .. Hai na Maan?..
And he winked at him andMaan smiled hearing him.. He was no less than geet when it comes to teasing .and Geet hearing him gave two three snaps oh him feeling irritated with him.
Rahul - Ochhh..Geet It's hurting... Baap re kitni zor se maarti hai.. Your bro is back after so many days and you are beating him istead of welcoming him..
Geet- pitne wala kaam karoge to yahi milega.. and she giggled and hi fived with Anie
Rahul-achcha bataao.. How was your trip? I m having so many pics of our honeymoon I will show you later.. But first tell about your trip..
Maan- It was a memorable one.. we will never forget this trip in this life.. This trip gave so much memories to cherish for our whole life..
and he looked at Geet wrapping his hand around her shoulder to which she responded with nodding her head..
Fresh and cool air was blowing and Maan tucked Geet's lode strands behind her ear..
Anie and Rahul looked at Maan and Geet who were lost in each other.. They too held each other's hand seeing them lost in their thoughts.Rahul was so happy seeing them happy with each other.. Anie too put her head on his hubby's shoulder.
All four came back to the reality when they heard the voice of suresh..He was instructing some servant to keep the flowerpots properly... Suresh was coming there with the tray of coffee.. all settled at the lawn chairs and had their coffee chitchatting on their trips..
Soon they spotted their parents who were coming out .. They too stood up and took the leave from each other...
>>>>>>>>>>>>>>
And in next few days parents were ready to leave for their trip..Maan and Rahul had arranged the best services for them so that they would not feel exhausted during their journey..
Elders were actually impressed with the arrangements..
They started their journey.. Their destinations were Badrinaath , Kedarnath and Haridwar.
Allt he places are in Uttaranchal state
First they visited Badrinaath temple ..
After spending their day at Badrinath Temple, their next destination was Kedarnaath Temple.
They hired horses to reach the temple as the temple was situated at the peak of the hill which is fully covered with snow ..It's the famous temple of Lord Shiva
On horses they covered the hills in few hrs and reached at the peak ..
There they prayed for the welfare of their families and friends.. .. after resting for the night there they came down next morning... they enjoyed the weather and the beautiful sceneries of that area...
Next day was Sunday
In Dehli
Maan and Rahul decided to take their respective wives for dinner..as the elders were not home .. Geet was working so it was easy for her to spend her time .. Maan could have near him and she too passed her day with her work.. But Anie was feeling quite lonely as she was at home and alone .. Rahul was busy in work in the absence of his father..Rahul asked Maan to come Handa mansion so that they all could spend their time together and in the evening they could go to out to have dinner together but he asked Maan to keep it surprise for Anie.. Maan smiled hearing him and agreed to come
Rahul gave te leave to the servants for the day as he decided to not have anyone else other than those four.. he had even arranged a romantic movie.. He even had planned the lunch to be cooked by themselves.. But he did not tell anie about Maan and Geet..
The door bell rang and anie opened the door.. Her face lit seeing her bro and bhabahi at the door.. She hugged them one by one-Bhaiya Bhabhi.. what a pleasant surprise? Aap log yahaan..
Rahul- yes ma'am this surprise was only for you.. I though ahy not to spend the day together..
Anie -Thank U Rahul.. really I was missing bhabhi after our marriage..
Geet-Me too missed you and our gossip sessions
Rahul-ek minute .. I have not called you here to do gossip alone.. we all will enjoy together..
Geet and anie laughed hearing Rahul..
Maan-Yaar Rahul how much you crib.. some times I think you are two steps ahead of Geet in this matter.
Geet-Hawww.. Maan . what do you mean by that.. Main crib karti hoon kya..
Maan-arrey nahin Geet I was saying that Rahul cribs like girls..
Geet gave him confused looks..
Maan to avoid the topic-Raul Anie are you going to make us dtand on the door or you have any plan to take us in..
Anie-Sorry bhaiya.. come in na..
Anie asked them for what they would have and Maan preferred coffee.. Anie went in to the kitchen.. few miniutes later rahul left saying that he had to help anie as she is not much familier with the kitchen..
Geet-I will help her
Rahul-how will you know you? have left this house two years ago.. let me help her... and he left..
Geet was gouing too but Maan held her hand and pulled her to stop and Geet landed on him-Maan what are you doing.. koi dekh lega..
Maan-Who is here to watch.,.and where are you going?
Geet-Coffee lane
Maan -wo dono gaye hain na.
Geet giggled-That's why I m going.. I doubt that we will get the coffee soon,.. I m sure they aill get busy in kitchen romance,..
Maan-It's good na.. hum bhi thoda romance kar lete hain phir..and he looked at her face and then at those delicate petals.. he brought his face near her .
as was just to touch her lips for a kiss,Geet said-Anie.and Maan swiftly left her and looked at the door but there was no one,,
Geet giggled to see him and ran from there.. Maan took a deep breath and thought-She will never grow..and he too left to follow Geet..Aafter all he too wanted to pull leg of Rahul by catching him on the spot.
Geet reached in to the kitchen and as she expected love birds were lost in their romantic moments..
Geet stepped in to the kitchen with the silent steps.. She looked in to the pan on the gas.. the water was boiling but Anie and Rahul were lost in each other..
Geet suppressed her giggles and said-I did not know that the ingredients for making coffee were not in the drawer but in anie's eyes.. ab mil gayi ho coffee to de do Rahul I will make the coffee...
and Rahul,and Anie got the shock of the life.. and they looked first at each other and than at Geet who was standing with her hands on her waist.. soon they found Maan too on the door of the kitchen.. and they were too embarrassed .Anie's condition was worse as she was caught by her brother..
Maan came near rahul and took him with him- tum chalo mere saath.. I think we need to drink the coffee today only..not some other day
Geet too looked at anie with a smirk and Anie was really so shy.. Bur Geet winked at her and said-Hota hai hota hai..itna bhi sharmaane ki zaroorat nahin hai...
And after that they all enjoyed their lunch which they all cooked together and after the lunch they enjoyed the movie which was a completely romantic flick..
Other side
Elders started their journey and came to Hridwaar.
It's the place where Ganga touched the ground first after coming down from Himalayas..
Har ki Paudhi is the famous place to have a Holy Bath in Ganga.and in the evening Aarti process is worth watching..
So many priests of various temple do aarti of ganga with the huge aarti pots and people gather on the opposite ghat where the arti is being held.. it's a very pleasant view.. The reflections of aarti is seen in the river water and whole area illuminate with that reflection..
And after the arti is done people float illuminated dias with flowers in river and that too give a beautiful view in river..
After watching the aarti they headed towards Hrishikesh-One our journey from Haridwaar. They had decided to stay in Parmarth Niketan Ashram instead of any Hotel..They wanted to take the feel of thei religious journey
They reached Parmarth Niketan and the view took their breath away..
Parmarth Niketan was just amazing.. It was looking like The Heaven had directly descended at the earth from the sky.. They felt if they were actually in heaven..
They had two rooms booked there.. Charges were very minimal.. They settled in their rooms.. Kitchen was attached to the room to give the facility to cook food..
After resting for a while Ram asked Gautam to go to meet the Manager .. They had heard that anyone could donate there anything..It could be utensils or bathroom objects or the furniture to facilitate the pilgrims to come there...
Ram and Gautam had decided to donate what ever was needed there so they wanted to talk to the manager first..
They reached to the office of the manager and talked about their wish.. The manager thanked them and sad that they could give anything because there were thousands of rooms and they needed as many things as anyone can give..
Ram and Gautam discussed with the manager on the things which were being consumed at wide scale so they could donate those things. Suddenly one teenage boy came running to the manager-Maneger sahib wo pagli Taiji thi na usko truck waale ne takkar maar di.. bahut Khoon nikal raha hai mujeh nahin lagta bach paayegi
Manager was shocked-what? what are you saying? What she was doing there at this time of night?
Boy-Pata nahin.. She was running madly there and the truck driver could not see her as she suddenly ran across the road and was hit badly..
Maneger excused himself and went with the boy.. Ram and Gautam were hearing that convo..
Ram felt something moving in his heart he did not know what it was.. The word Taiji made him remember his own Taiji whom he loved like his mother.. He became restless and said to Gautam-Gautam ji let go and check... May be they need some help..
Gautam -You are right Mr. Khurana...Let's go and they too went in to that direction..They reached there people had gathered there .. they too reached near the lady and she was lying on the road soaked in blood.. they tried to see the face of the lady but could not see..
Ram said-I think we should take her to the hospital
Manager-Yes we are doing that only..Hospital is inside of the ashram itself,. And he is the doctor... he pointed on a person who was checking her.He asked few people to help in putting her on the stature.. Ram and Gautam too came to help and as Ram held the lady on her shoulder , His eyes fell on her face and his eyes widened seeing her .. and he shouted loudly-Taijiii.. Gautam ji ye Taiji hain..Ye yahaan kya kar rahi hain
Manager-Aap jaante hain inhen..
Ram's eyes started to pour-Haan ye meri Taiji hain..par ye yahaan kaise?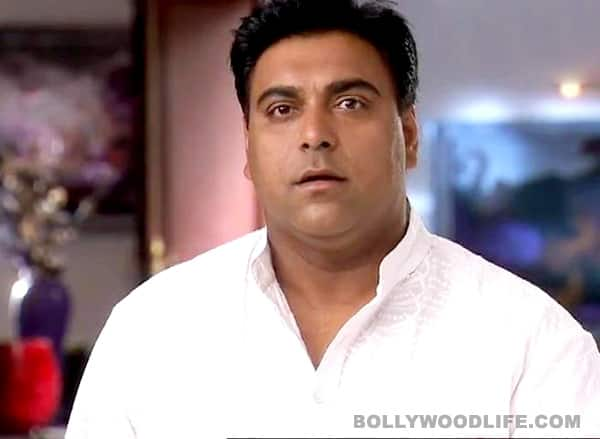 Gautam held his shoulder-Mr. Khurana we should take her to the hospital first.. baad me poochhte hain.. He too was very shocked to see her there in that state..
And hearing Ram's voice taiji opened her eyes,.. She was trying hard to open her eyes..at last she was successful in opening her eyes She looked at Ram's face who was very near to her.. a faint smile came on her face. She tried to touch his face and a word escaped from her mouth-RAM and next moment her hands fell down on her body being lifeless..
Precap-Irony of the life
Part-88 <<prev/next>>
I hope you enjoyed this update..
I did not want to bring Taiji back but Indu kept asking me to see taiji..she wanted to see her getting some punishments for her deeds..She said if i could show Suman getting punished for her sin then why not Taiji,? She was the mastermind of all that conspiracy against Geet..so I included Taiji's character again here.. I really wish that you will like this twist.. I will not let her trouble anyone more here.. That's my promise to all of you..
DO NOT COPY THIS POST AS THIS IS EXCLUSIVE TO INDIA FORUMS


Edited by Rashmi... - 13 July 2016 at 2:54am