Originally posted by Eyes-Wide-Shut
nazm uljhii hui hai seene mein
misre atke hue hain hothon par
udte-phirte hain titliyon ki tarah
lafz kaagaz pe baith-te hi nahii
kabse baitha hua hoon main jaanam
saade kaagaz pe likhke naam tera
bas tera naam hi mukammal hai
isse behtar bhi nazm kya hogi
-Gulzar
Gulzar saab is saying, that a poem is entangled in his heart, the lines stuck at his lips, the words flying around like butterflies, he is sitting staring a paper for hours with only his beloved's name written on it. The name alone is poem for him and there could be no better poem than this for him. I couldn't think of any better nazam than this for Puttar's 'I love you', the name Ishita uttered from his mouth is enough to portray the immense love he feels for his beloved wife.
I didn't know here to begin so i did what I do best i.e steal from Gulzaar saab to emote my feelings.
I don't know where to begin and where to end, there was so much soul and beauty in yesterday's episode and the best part about the entire episode was that it reflected them and their relationship. Just like it took them ages to find and complete each other similarly it took them ages to profess love verbally, but they did find each other and did finally profess their love, it was nothing short of divine beauty.
Puttar probably said I love you' a million times to his family members, his kids, Mihir, and even Shagun at one point but when those three powerful words mean something it takes a life time to muster up the courage to express those words, because it takes grit, determination, the courage to expose the most vulnerable part of you just to find that quivering voice to profess I LOVE YOU'. I loved how they portrayed puttar's inner struggle to find courage, to finally open himself up to love and giving himself another chance at happiness.
I really really enjoyed the scene more than the I love you' because what puttar said to his wife was far more beautiful than those simple 3 words. There was so much innocence, love, purity and a sense of belonging in those beautiful moments where Raman thanked his Ishita for turning his life around, he told her he became a person again, he learned to breathe again, he became a father to his children, he began to smile again and finally he started to love again. More than the I love you, I gushed over I love you, ISHITA RAMAN BHALLA, it almost felt like he wanted to own her, to keep her just for himself not to share with anyone, she belonged to him and only him. Sigh! Faint! Too much cuteness for me to handle!
I loved the look of endearment and satisfaction on missus' face upon hearing her husband utter those words, she could read the gratitude in his eyes, she could see the immense respect he has for her and their relationship, and she could hear the never-ending love in his voice when he uttered the word Ishita'.
I felt like Ishita for a first time actually believed she had a purpose in this life, she felt like a complete woman, a woman that a man desires, a woman that a man needs to make his, a woman that man wants to serenade.
I am sure the above didn't make any sense because I just finished watching the episode and I am still reeling under it's magic, I got the feel of old YHM, the one where excellent writing took precedence over everything else.
So many songs to choose from, I am utterly confused so I will come back to it, lol
I loved the vulnerability of Raman so much, he exposed his inner self to biwi yesterday, reminding me of my favorite poem by W. B. Yeats.
"Had I the heavens' embroidered cloths,
Enwrought with golden and silver light,
The blue and the dim and the dark cloths
Of night and light and the half light,
I would spread the cloths under your feet:
But I, being poor, have only my dreams;
I have spread my dreams under your feet;
Tread softly because you tread on my dreams."
W.B. Yeats
I CANNOT BELIEVE PUTTAR WROTE SHAYARI! I AM FLABBERGASTED! Yesterday when puttar was serenading missus with Shayari and finally uttered those 3 magical words not only were we shocked so was Mother Nature! Because Michigan was hit by 4.0 magnitude earthquake and we never get earthquakes here.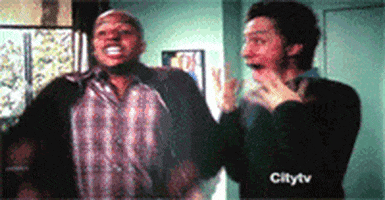 Putting up with weeks of crap and over the top drama only to get a poignant moment like yesterday fills my heart with joy. Gif below is how I feel.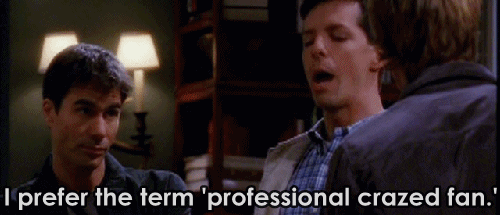 Beautiful !(even though I sound repetitive .. I have no other way to describe your write up)