Originally posted by varshaakulkarni
Okay okayyy ... jokes apart & I am here finalyyy
yeaa!!!!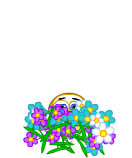 ...
I loved the start ... lets see how it goes further
..it will be nice
. btw shivani is a total dumb fashionista sister of the cool jodha .
..yep! my ever sarcastic jo
hmmm interesting concept aish ... gotta give you full marks for your tiny brain that gets such marvelous ideas out of no where
.You were appreciating me?
.. btw FEELINGS update kar do
... just reminding you incase you forget
hadd hai yrr