Hey Friends
the festive season is here. Yippeee!! And CFC is going to be filled with contests that you are bound to love. Yup, yup, we have a whole package for you!

Everyone dresses up in loads of colors during diwali. But what can we do online to make this festive season colorful? Aakhir hum CFC main rang kaise barenge? and how is this a contest?

Its quite simple actually. You have a couple of things to do to win this contest. Decorate your FC!!!! How do you do that? There are loads of things, let me list a couple of ways you can do that:

Having beautiful festive siggi's. (which most of you already do)

Decorating your posts, by posting a simple diya or a firecracker or some mithai.

Even simple articles that you copy paste for your FC's can be colored (in manyyyyyy colors)

Please remember you are not asked to just fill pages with Diwali/Eid pictures, you are supposed to continue posting/discussing regular stuff but in addition to each post, you make it decorative. For example, each article that you post can be colored.

And of course, keeping your FC clean ie no spamming!

Who can take part in this contest? All FC's!!! At the end of this week we will find couple of judges, either from the CFC Team or anonymous ones who will judge your FC's next weekend (21st/22nd) on how festive they look, and the winner gets a good prize!!! So, get to work!

Are you all ready to enjoy?? If so, stay tuned, many such contests coming up today and tomorrow!!

Sit back, relax, stare at some beautiful rangoli
and have some mithai...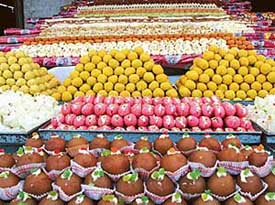 There is enough for everyone...


CFC Dev team
PS-my post is quite colorful and decorative for the festive season, right?



Edited by sweet_kp - 14 October 2006 at 11:21pm