Hello all SRK'ians and welcome to part four of:
THE KINGDOM OF KOMPLETE KHAN-NESS!
The place to express your love, support and respect for King Khan!
All fans are welcome!
TO JOIN: Simply introduce yourself and tell us what you 'most' adore about Shahrukh!
(Note: we will have an "active members list" that will be updated either daily or weekly, if you are a fan, please try to visit and stay "active," otherwise your name will not be added to (and may be removed from) the "active" list, though you will still be considered a member and supporter)!
'ACTIVE' MEMBERS LIST:
srk_preity_kajo (Zaara)
doly_455 (Doly)
amna_malik (Amna)
lilyrose (Ambreen)
teen_indiausa (Pari)
sweet_kp (Khair)
Reema_J (Reema)
Niya
Mink's Pink
diyafan
Tansha
ayeshag
tangina r (Tang)
~rahul ki rani~ (Dayeeta)
vinit_fan
ani11 (Anita)
blue rose (Ayesha)
indiandoll89 (Meera)
coolgirl249
white rose (Uzi)
sus143 (Suzi)
nandipandi15
jenny1000
~Roses_95~
Affi
kyph03
maro.afg
fariha17
laney
Muqualp
jassie_17
coolsonu
sidsk
prajakta567
mehroo123
CURRENT EVENTS:
Guess the Co-Star (Game) - A member writes/posts two or three clues (i.e. character's name, one line from a song, famous dialogue, etc.) and the next member must guess which co-star of SRK's it is!
Details on page 67!
ENJOY!
Contests: - CAPTION CONTEST - VOTE NOW!
Entry no 1
pic 3.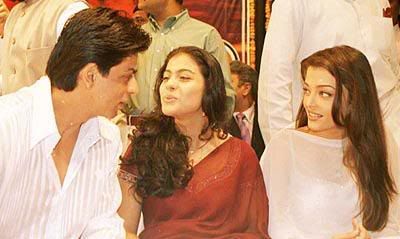 SRK: How r u ladies…
Kajol: Arrey we r fines thanks you
SRK: Hello you should reallie work on ur English..You have not changed since Kabhi Khushi Kabhi Gham… No use flirting with u sweetie!!!
Kajol:Arrey angress ke aulad!!!
Aishwarya:So sweet!!
SRK:(arrgghh)What did u say?
Aishwarya:Kuch nahin!!!
Entry no.2
pic2:
srk:hi aish
aish:hello shahrukh,main tumse baat karne chaati hoon
srk:abhi nahin,agar salman dekh lage to woh phir se mera set par aakar dhoom macheyga
aish:theek hain
srkk:bye aish..have anice day ahead

pic1: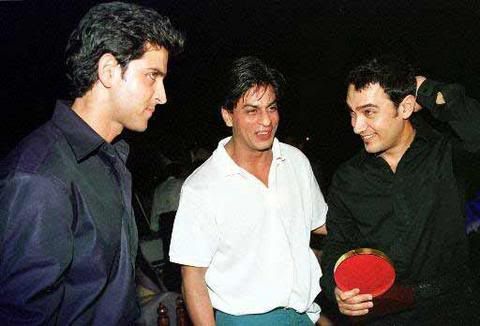 aamir:dont u think salman and aishwariya looking like brother and sister
srk:aamir ur too funny
hritik:hmm let me see it
Entry No. 3
Pic 2.
Aish:Shahrukh do u have a pen?
SRK:chalhat!!! marunga
Aish:
oooooh ooook
PLEASE VOTE FOR YOUR FAVORITE!
* Voting deadline: December 1, 2006! *
New contests are comin' soon!
DOTW (Discussion of the Week) - We will have weekly discussions on different topics and/or issues regarding Shah Rukh Khan. The best answer according to our judge(s) will then be presented!
This week's discussion question:
Before SRK, we all know that Farhan was considering Hrithik Roshan to enact the role of DON! Tell us what you think made Farhan change his mind and 'if' he hadn't, do you think Hrithik would've done a fair job portraying the character?!
* Discussion ends on the evening of: November 25th, 2006! *
MOW (Member of the Week) - We have been selecting MOW's for our club based on participation and activeness in the club!
Currrent MOW: NIYA! (Grill now)!
PARTY - Comin' soon!
*(I apologize for not changing the style for this part of the club... will edit when and if necessary)!
NOTE: If you are posting articles, photographs, etc., please make sure that another member has not already posted the same material! There are sometimes many repeats! It's only natural to not realize or notice, but if and when you do... please kindly edit your post!


Edited by Reema_J - 22 November 2006 at 6:01am