Originally posted by ScorpionGunner
Originally posted by heeheehee
Kejriwal's jansabha at Sangam Vihar, Delhi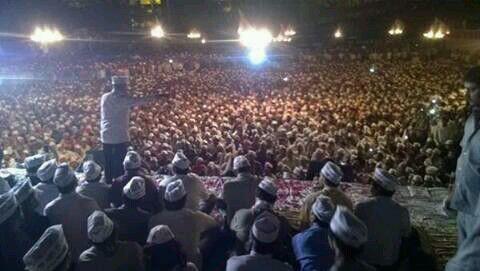 Sangam Vihar is Delhi's answer to Mumbai's Dharabi ... Khujli can't attract middle class now, his last belief is in uneducated lower income groups ...
I told the same thing three days back, today Times Of India carries a story on the same context ...

http://epaper.timesofindia.com/Default/Scripting/ArticleWin.asp?From=Archive&Source=Page&Skin=TOINEW&BaseHref=CAP/2014/04/10&PageLabel=4&EntityId=Ar00403&ViewMode=HTML
AAP, Cong vying for slum & Muslim votes
Middle class is inclined towards Modi
Ambika Pandit TNN

New Delhi: The Modi effect and a strong anti-Congress mood make the going tough even for popular leaders like Ajay Maken who may not find it easy to escape public anger over price rise, corruption and an economy that has slowed down.
No seat, including its strongholds like east Delhi held by Sandeep Dikshit, seems safe for Congress but the party is making a spirited effort to win back the vote in jhuggis and unauthorized colonies that it lost to AAP.
After its worst ever rout in the assembly polls, Congress hopes to regain some lost ground and the rallies of Sonia Gandhi at Ajmal Khan Park and Rahul Gandhi at Dakshinpuri were a relief to the party as against an embarrassing washout during a Rahul rally during the assembly elections.
The BJP line-up has six first time contestants. Threetime Tuglaqabad MLA Ramesh Bidhuri, the party's candidate from South Delhi, is the only one who formerly contested a Lok Sabha poll for the party.
A large section of the middle classes is inclined towards Modi as PM and is disappointed with Kejirwal's penchant for protests and dharnas, and the promise of a stable government holds their attention.
In the low income group, the contest is largely confined to a verdict on AAP, and while most of these voters retain their faith in the party, some are not so sure. Congress hopes to gain from this disappointment.
The Muslim vote is seen as critical in three seats -- Chandni Chowk, North East and East Delhi. Here, this vote is exploring ways to keep Modi out. While Muslims have been traditionally rallying behind Congress, AAP hopes to make inroads.
ambika
.
pandit
@
timesgroup
.
com