Detective Byomkesh Bakshy music review: Sushant Singh Rajput's indie album will leave you awestruck!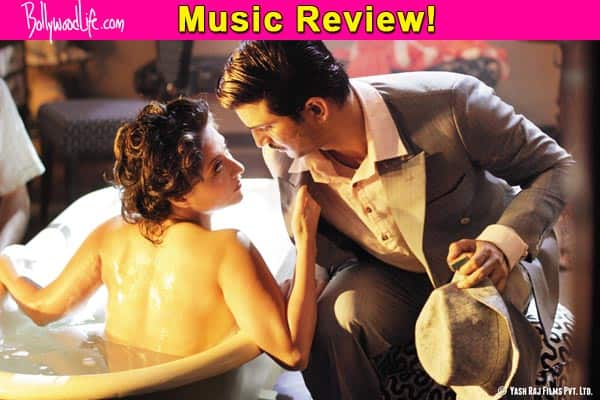 Music: Madboy/Mink, Sneha Khanwalkar, Dibaker Banerjee, Blek, Peter Cat Recording Co., Mode AKA, Joint Family, IJA
Lyrics: Madboy/Mink, Sneha Khanwalkar, Dibaker Banerjee, Rishi Bradoo, Suryakant Sawhney, Sandeep Madhavan, Akshay De, IJA
Singers: Imaad Shah, Saba Azad, Gowri Jayakumar, Big Deal, Thomson Andrews, Trevor, Rap by: Smokey the Ghosht, Craz Professa, Rishi Bradoo, Anil Bradoo, Usri Banerjee, Suryakant Sawhney, Vyshnav Balasubramaniam, Sandeep Madhavan, Manas Ullas, Akshay De, IJA
If you have watched the trailer of Dibakar Banerjee's Detective Byomkesh Bakshy, you never really know what to expect from the film, which comes off as so different from the regular B-town flicks. With that same feeling of uncertainty, I plugged in my earphones to check out what the music is like. Oh Boy! It is an exhilarating experience or what? Composed by 8 different musicans and bands, the album has a distinct indie feel to it, at times reminding me of soundtrack of Bejoy Nambiar's David. So fasten your seat belts, as I take you through the musical world of Sushant Singh Rajput's Byomkesh Bakshy
Fast. Upbeat. Jazzy. That's how the first song from the album is. Sung by Saba Azad and Imaad Shah, the song composed and written by Madboy/Mink will make you put on your dancing shoes. The track kicks off with an impressive piece of drums, followed by saxophone sounds, paving way for Saba Azad to croon this jazzy number with quirky, rhyming lyrics. What I liked the most is the fusion of jazz and dub step beats it has. The soundtrack is mixed well and has a flow of an appealing tune and melody. The song manages to take us to the era of 40's club music. Byomkesh Bakshy album off to a good start.
Bach Ke Bakshy
The drum beats from Calcutta Kiss follow in this track. Composed by Sneha Khanwalkar and Dibakar Banerjee himself, Bach Ke Bakshy boasts an unconventional mix of singers Gowri Jayakumar, Big Deal, Thomson Andrews, Trevor, Smokey the Ghosht, Craz Professa to churn an unconventional song bursting with energy. The song kicks off with drums being played in such a pattern that it reminded me of a machine gun. The song quickly gets into rap mode, which I have to say is brilliant. But what I loved the most is Bach Ke Bakshy' chorus and Gowri Jayakumar's rendition which are haunting yet captivating. The fusion of fast paced rap and haunting melody, makes this track stand out. I bet you wouldn't have heard something like this in ages.
Byomkesh in Love
Next in the album is Byomkesh in Love, which is a fine example of western music and Indian classical singing can go hand in hand. Composed by Blek, the song is sung wonderfully by trio of singers Rishi Bradoo, Anil Bradoo and Usri Banerjee. The song starts of like a pop number from the west and has very band music feel to it. Packed with electric guitar riffs, drums, and a little dub step and techno beat here and there, the song is enjoyable till now. But the song actually transcends to something more deep when Usri Banerjee's slow classical singing manages to play with strings of your heart. When Usri's soulful singing is fused with all the electronic beats and western sounds, what we get is pure bliss.
Jaanam
Next is a waltzy number straight out of a retro Bollywood flick. This romantic track composed by Delhi based band Peter Cat Recording Co., the song will take you back to ballroom dancing era with accordion clearly dominating all the other instruments. The only thing which is little absurd is Suryakant Sawhney's vocals which doesn't seem to be apt for the genre of the song. Having said that the song has a lazy elegance and I consider it one of the underdogs in an brilliantly composed Byomkesh Bakshy album.
Chase In Chinatown
Next is a hardcore rock number, which will make you swing like a coke addict who are found a huge stash of cocaine. Composed by Bangalore based band Mode AKA, Chase in Chinatown boasts elements of heavy metal with electric guitar, drums and dub step, building the mood for some hoarse screaming like singing. So get ready for some head banging with Chase In Chinatown. Having said that this intense song is not everyone's cup of tea and I wont be surprised if an edgy number like this gets lost in plethora of typical Bollywood songs.
Life's A bitch
Ah Catchy song title ain't it? Well the song is every bit catchy as the title. Life's A Bitch composed by Joint family and sung by Akshay De is again a heavy metal number, which has an overpowering angry feel to it. Coupled with some incredible electric guitar riffs and exciting drum beats, the song exudes an aura of frustration which has been beautifully captured by the growling, gruffy voice of Akshay De.
Yang Guang Lives
Get ready to be spooked with Yang Guang Lives. This final number in an eventful album lives up to the edginess of the film. The song composed and sung by IJA, the song has eerie feel to it. Haunting sounds coupled with whispery singing makes the song stand out, creating an atmosphere of mystery.
Verdict: Packed with seven songs composed by a handful of indie bands and composers, the music of Byomkesh Bakshy is everything one doesn't expect from a Bollywood album. High on fusion and western sounds, this is not your conventional music album and you won't fall in love with it on first hearing. But after multiple listening, one would be able to appreciate the efforts put in by the composers to make the album so unconventional. According to me, the album is a winner and I plead to all Bollywood music lovers to give Byomkesh Bakshy brand of music a try. Who knows, you might end up playing these songs on loop over and over again?
Our Pick: Calcutta Kiss, Life's A Bitch, Byomkesh In Love
Rating:3.5 out of 5