Is Sushant Singh Rajput a kameena?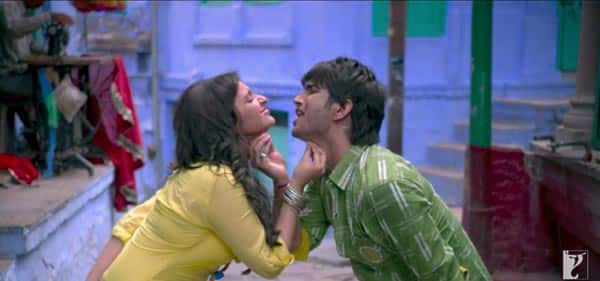 Raghu (Sushant Singh Rajput) and Gayatri (Parineeti Chopra) express their desi love in this wacky number
Sushant Singh Rajput's new name is Kameena. Hold your horses. We are not saying that. That is what everyone is saying in Parineeti Chopra and Sushant Singh Rajput starrer Shuddh Desi Romance's title track.
This song reminds you of the yesteryear songs. Its difficult to not to shake your booty to this number. All thanks to its catchy tune and conversational lyrics.
We think that this wacky number doesn't need any of our tadka. But we couldn't resist and decided to translate this wacky number in English for fun. Read and tell us if you like it!
Hunm.. dhoop mein nahayega toh
Dhoop lag jaayegi
Baatein yoon banayega toh
Baat badh jaayegi
Ladki ghumayega toh
Lat lag jaayegi
Hunm..sun in bath then
Sun will attack
Talks like make you
Talks will increase
With girl you roam
Addicted you will get
Hm.. oho chhori lipstick lagayegi toh
Bhoot ban jaayegi
Scandale chadhayegi toh
Ont ban jaayegi
Failti hai yahan wahan jhund lag jaayegi
Hm..oho girl lipstick you apply if
Ghost you will become
Stilettos your war
Camel you will become
Spread here and there group attack you
Shuddh desi desi desi romance (Kameene aaye re)
Haaye re crazy crazy crazy romance (Sharam na aaye re)
Shuddh desi desi desi romance (Kameene aaye re)
Haye re crazy crazy crazy romance (Sharam na aaye re)
Pure rural rural rural romance (Kameene come re)
Haaye re crazy crazy crazy romance (Shy no feel)
Pure rural rural rural romance (Kameene come re)
Haaye re crazy crazy crazy romance (Shy no feel)