Heena!!!!!!!!! Oh my God!!!!!!!!!
Why dint you say so yesterday???
Heena,
How I wished yesterday
that how nice it would be to have
the Birthday celebrations on and on
For a change, Bhagwan meri sun li
He gave another one!!!!
Have a blasting birthday!!!
(Btw, I got my dress ready and here I come for your party...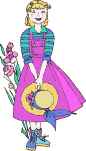 )