:
Welcome to the Terror Gang...
Where the Gangsters' words drip in blood...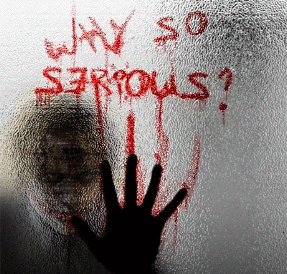 Where numerous bodies are buried in the threads..

Where Creepy Stalkers are Bashed left and right...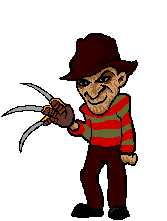 Where Non-members are not given a second chance..
.
Where we extend our "hand" to help (ditch) you...

Wait a minute!! Wait a minute... What the hell are you doing in
"Terror Gang" ,Mr. YOYO???
What the?? I'm the favourite emoticon of the Terror gang and you are asking me why I'm here, Mr.Right??
To be in the Terror Gang you need do be evil, dark,
emo-ish like me!!
Done!! Costume ready!
Yumm!!!!!!!!!!!
YOYO!!! You're spoiling the haunted mood here!!!!
Terror gang?? A haunted evil place???

Are you nuts?? The Terror gang is filled with fun-loving geeky chashmish bubbly ladies...
Yep!! That's right!! Terror gang is a group of lovely ladies who love to bak bak whole day long! Though they are not quite the same age, they sync perfectly. They are quite romantic when it comes to IPKKND...drooling over Arnav or Mr.Daiyyan all time
They met during...
This is not a 5 mark question in you examination, Cici!!
Gasp!!
You continue my darling Cici, no one can say it better
Rabba vey!!!!!!!!

Now, Presenting you the Terror gangsters
Shweta (Sunsetwa)
Megha: (Meghwa or BornThisWay)
Zahra: (ArshiSarunRocks ... Khali Khopri
)
and Baby face
Divya (divvk or TGK
):
Divya (divus or DDD):
Mansi (Mansiwa)
Mini (Minwa)
Rasangi (Lolly)
:
Other members like Shreya, Yashi, Abi and Gayathri are currently very busy and TAPAK only once in a while


And the best part of this gang is that they are spiritually connected and can summon each other in the CC using their powerful TERROR VEY SIGNALS
Many scientists are trying to decode the mystery behind Terror vey signal!!






Now it is celebration time for the 28th Thread!!!
Special dance performance by Tuzki for our Terror Gang members!!!

P.S.

RIP Laymark.com!! We, on behalf of the whole Terror gang convey our deep condolences. We miss you a lot!!
However, we are happy to annouce laymark.com is back as laymarks.com

P.P.S. How can we forget this??

And now there is an announcement. Gayu (Happilyunknown) and Yashi have been promoted from being tapakers to active Terror Gangmates.
Please welcome them guys


Gayu and Yashi, you will be assigned with an AVI each, shortly
Credits: Sunsetwa for this Stupid First Page
... Meghwa for assigning the emotis... and Zahra for the B'day list below...
Tumblr, glitter-graphics, flamingtext, and all emoticon sites for the decos


Edited by -Sunset- - 18 August 2013 at 9:39am