Nandini : daadi geet di ne khana khaya
Daadi : nhi
Wo nhi maan rhi
Nandini : hmm
***************
Maan : geet
Geet : ji
Maan : chlo mere sath
Geet : kaha
Maan : bina jaane nhi jaayongi mere sath
Geet : asa nhi hai
Chliye
She walks but her foot slip due to weakness. Before she touches ground he held her.
Maan : geet aaram se
Geet : hmm
Mein thik hoon
Maan : dikh rha hai mujhe
Tum kitni thik ho
He scoops her into arms and goes towards terrace.
Maan : nakul saari tyaari ho gyi
Nakul : ha
Maan : tum jaayo
Aur khana garam krdo
Hum dono abhi aa rhe hai
He makes stand on her foot.
Her happiness tears flow down from eyes.
Maan : har baat pe rona jaroori hai
She denied.
Maan : fir ye aansu
Geet : wo
She wipes her tears.
Maan : ab mujhe yuhi dekhti rahongi
Ya apna vrat pura karongi
She take pooja thaali and do aarti firstly of moon then give arg to moon...then she do aarti of him.

He takes water glass and feed to her.
This scene also saw by daadi and nandini.
Daadi : nandini hume bhut khushi ho rhi hai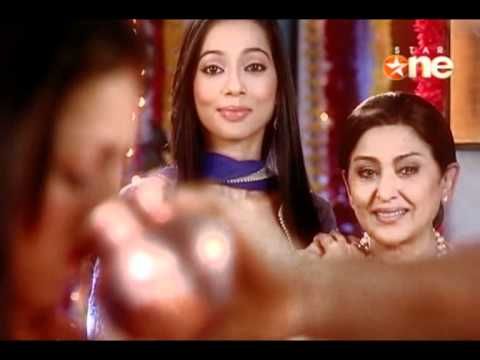 Maan ne apne rishte mein ek kadam aage toh bdaya
Nandini : ji daadi
Daadi : chliye hum chalte hai
Nandini : ji
*************
Maan : ab chale
Geet : hmm
She tries to walk, but he again scooped her into arms.
Geet : mein thik hoon
Maan : ydi tumhe kuch ho gya
She felt happy, he cares her but next second this happiness vanished.
Maan : ho gya toh
Daadimaa toh mujhpe hi gussa karengi
Unhe toh meri hi galati dikhti hai
****************
New day
Ali : madam toh aaj bilkul tyaar hai
Sam : yes
Because today I don't want loose the chance of meeting to my maan.
Ali : oh really
Sam : yes
Ab chl
***********
Maan is busy in discussing the project with sasha & adi.
Maan : sasha blueprints ready hai
Sasha : yes mk
Maan :- ok now you both go
After 15 minutes we all meet in conference room.
Adi : yes sir.
*************
Someone enter into his cabin without knock, he shocked to seeing her, here.
Maan : tum
Sam : maan
She came near to her and hugged him tightly, he also hugged her back.
precap : no precap
,,, guess kro
join blog