Part 8
He : surprise
Mehak : chachu
Vicky bent down and hugged both kids.
**********
Geet stand near window and see outside, slowly-2 water drops fall down on earth.
He slides his hand on her stomach, hugged her from back, she relaxed on his chest.
Maan : tumhe barish bhut pasand hai na
Geet :hmm
He kissed on her cheek and both enjoying the outer view.
.
.
.
He was walking in garden and she is in her arms.
Geet : maan please niche utariye
Maan : kyun ab kya huya
Tum thode der phle kya kh rhi thi
You don't to walk.
So madam aapka hokum sr aankho pr
Geet : maan ase mein barish enjoy nhi kr paa rhi
Maan : meri baho me hote huye bhi
Tum enjoy nhi kr paa rhi
.
Abhi enjoy krwata hu
He made stand on her feet, and encircled her waist, pulled her near to him...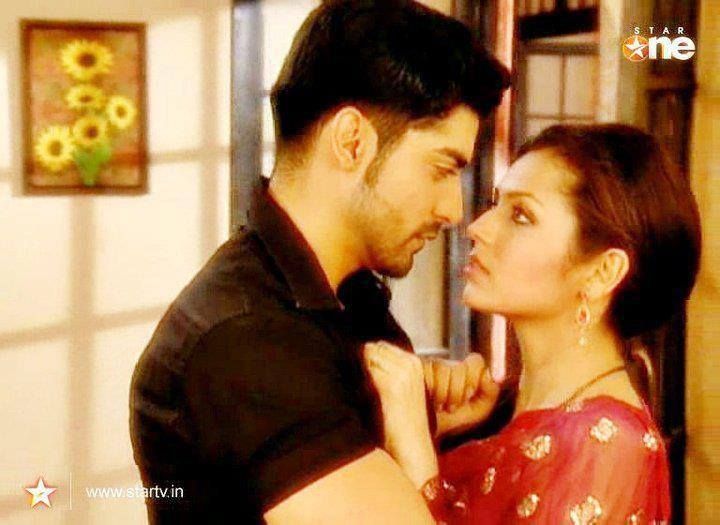 Geet : maan sharart mt kijiye na
He tucked her curls behind her earlobe.
Maan : abhi toh kuch kiya hi nhi
He kissed or sucked on each droplet which falls on her face. He came to her lips and lightly peck on her lip, then he kissed on her neck, slightly remove her pallu for better access & other hand gently kneaded her breast.
Geet : maan
.
Please stop.
He stops and said "sorry" to her.
Maan : geet andher chalo
Geet : maan rukiye na
Maan : geet bimar pdne ka irada hai kya
She not gives answer and not move also from side.
He scooped her into his arms and go inside farmhouse.
Geet (think) : jhalli , ye sayad gussa ho gye
Tujhe kya jaroorat thi rokne ki
.
Pr mein kya krti
Ase bahar ...mujhe sharam aa rhi thi
She hides her face in his chest and kissed on her shoulder.
Maan : geet
Geet : hmm
Maan : ye kya ho rha hai
Geet : jo aap kr rhe the
He placed on her bed and turn to go...
.
.
Loud thundered of clouds broke her past beautiful moments...she live again this moment with open eyes...
Geet : maan ..
.
She realize she live the dream with him...
Geet : asa lag rha tha mein abhi maan ki hi baho mein thi..aur hum dono bahar dekhke beete huye kal ko enjoy kr rhe the...
**************
Maan try her number it's gone not reachable.
Maan : waha geet pareshaan ho rhi hongi
.
.
Kya socha tha aaj maine
Aur kya ho gya
Is baar hum sath hoke bhi sath nhi rh paaye
.
Isse toh shi pichli anniversary thi...jb mein yha nhi tha
Atleast humne ek dusre ko phone pe to wish kr liya tha
.
Pr aaj ka toh saara waqt nikal gya
*********
Geet : ye jgh hum dono ke liye bhut khas hai
Here we both became one in every manner.
.
.
He placed on her bed and turn to go...but she held her wrist and pulls him, he also fall on bed.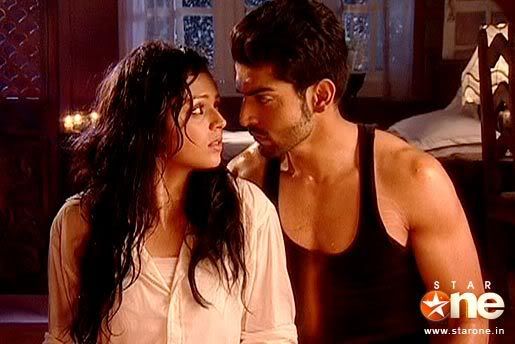 He sit and angry glare to him.
Maan : geet
Geet : gussa ho aap mujhse
.
Maan : geet
Geet : phle mujhe khehne dijiye
.
Mein
Maan : hmm
Geet : wo maine
Maan : geet saaf saaf kaho
Geet : maan wo mein aapko rok nhi rhi thi
.
She looked down not meeting his eyes...
Wo jo bahar maine kiya
.
.
Wo acha nhi lagta na ase bahar
.
She not understand how to say to her, she feel same like him & want him, due to outside, she felt so shy and uncomfortable, so she stop him.
.
Geet : uff ho aap smjhte kyun nhi
Maan : geet mujhe baad mein smjhana phle tum khud smjhlo kya khehna hai tumhe
.
Jaayo phle kpde chmage kr lo
Nhi toh bimaar pd jaayongi
.
.
Geet : hmm
Pr kapde to car mein hi rh gye
Maan : ek minute
He goes into room and take out the clothes for her.
.
Maan : ye lo
Geet : ye kiski saari hai
Maan : mom ki
Hum yaha phle har saal aate the
Holidays ke liye
Geet : hmm
wo
maan : geet yaha se upar jaake last room mera hai
tum change krlo
geet ; hmm
.
He lightened the bonfire...she came out down after changing the clothes.
Geet : maan
Maan : hmm
He stands & came near to her...she placed her hand on his shoulder, came close to him...her curves touched with his wet shirt...
Maan : geet mein abhi aaya
She placed her hand on his heart, stop him from going. She starts opening his shirt button...
He held her both hand and said "geet tumhe ye sb krne ki jaroorat nhi hai "
Geet : maan
He turn to go but her voice make stop him.
Geet : maan
Aap kyun dur dur bhag rhe ho
Maan : geet tumhari problem kya hai
Mein karib aayu toh problem
Dur jaayu toh problem
Geet hugged him from backside.
Geet : maine kb kaha mujhe aapka karib aana acha nhi lagta
She rested her cheek on his back. The corner of her lips brushing with his skin.
I felt same maan like you.
She came in front of him & kissed on his lips...
Now he want to tease her, he innocently said " geet mujhe kuch smjh nhi aa rha...tum kya kh rhi ho...saaf saaf kaho"
Geet : aur kitna clearly khu
She cutely pouted.
He held her hand and start kissing on her bare arm & coming close to her and she moving back.
She take sari and lightly hit on his face, he held her other hand and turn her , her back touched his bare chest. He kissed on her shoulder...
Then Maan lifts her up and made a way to his room. He made relaxed her on bed and landed on her.
He lowered his lips down to her and captured her lips, and then
down to chest kissing and nibbling with love.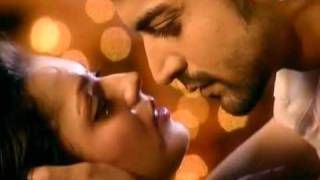 Geet : maan
I hope friends you all liked the update...sorry for mistakes..
Please hit like button and do comment
see this update also
New MG FF- Mohabbat...ki adhuri Kahani-
Kya pyaar karonge mujhse- MG FF - link




Edited by priya_21 - 23 September 2013 at 10:21am