Hey Friends,
So, how did everyone's week go? hehe, i had a blast w/ all my exams.
So, we had a contest...like you all know and it started on 13th may!!!! Sheesh, its been running for a long time, dont you think?
We made you work like crazy with difficult tasks like interviews w/ your celebrity, a "date" w/ your jaan, an add for your fan club and even a lovely poem for them. And seriously, all of you worked hard!!!! We appreciate everyone's efforts and hard work put into this contest. Thank you so much! A special thanks to the last three groups : SRK, Bachchan's and Khushi fan clubs. You guyz are amazingly talented people and I adore your work.
So, time for the results of the last task. We had some great entries and w/ three judges including me, Swati (preity*zinta) and Eisha (Mrs.Eishu.SRK), I think we did a fair job in figuring out the winner. I was surprised by the results, really! I had a fair idea of who was going to win from about task 2...but wow, the results say something else. Have a look.
First here are the entries:
Khushi fan club
Task 1
Shes nice shes cute shes sweet
Shes someone everyone wants to meet
Original, creative and caring
Full of ideas shes always sharing
A Big fan of rani and a great friend
She will listen to your problems to any extend
She is trustworthy and loyal
She sings even better than a koyal
Her best quality is her heart of gold
One thing that she will forever behold
No points for guessing on who this can be
Everyone knows its our one and only KHUSHI!!
Task 2
Khushi Di Compared To a Teddy Bear with a Pencil
I would Compare Khushi Di to a Teddy Bear with a Pencil. A teddy Bear because You can share all your feelings, desires, thoughts and anything you could imagine and still feel comfortable.
Its soft, Comfy and Adorable. It makes you feel you have someone when your actually all alone. Our Khushi Di is Just like that but more. You could share your thoughts, feelings, Desire and still feel the same around her because of her great comfort. Shes soft-hearted, Pretty and Sweet. You could go to her when you feel like you have no-one and she'll make you feel like everyone around you is yours. This Teddy Bear holds a Pencil, which makes it creative, ready to think, write and learn. Which is exactly like our Khushi Di, Creative, Ready to think, write and learn. A teddy bear like that you would want to hold on forever, and to never let go of it. With Khushi Di you feel the same, the friendship, the relationship between you and her makes you feel like never letting go, wanting you to stop time just to be with her more and more.Khushi and a Teddy Bear have only One difference, The teddy bear with a pencil has no senses and isnt alive/ reality but, Our Khushi di is and is always there for us and everyone.The most common thing between teddy bears and khushi dii is dat everyone teddy bears and eveyrone loves khushi dii.Khushi is a well luved person by everyone.


Task 3
A phone conversation between Puja and Urooj
Phone rings at Urooj's house. Urooj Picks up.
U: Hello!
P:: Heyyyy Urooj! Sup?
U:Nothin really. What about you?
P: oo I'm so bored… want to come to the mall with me yaar?
U: No not today… I'm busy.
P: Busy what you doing?
U: I'm online, in the Khushi dii fan club
P: oo.. What you doing there?
U: Just chatting and all.
P: That's all kya?
U: well no, its fun there.. We can look at all the nice creation khushi dii made 4 everyone. I'm sure she made a few for you too rite?
P: yea.. She has…
U: You know what, why dun u come there also? You're already a member of India-forums.com.. Come to the fan club.. Let me give you the link.
P: Nah its ok.. What will I do there?
U: obviously chat with us all. And try to do the TTW..
P: But I cant chat with you all. I don't know anyone there. And what's the TTW?
U: Puja you idiot , the point of the club is to gather all khushi fans and make new friends. And TTW is the task of the week. Khair created it. The owner of the club. You know her rite? Her ID is sweet_kp
P: yea I know her. Well fine. I will come.. Give me the link though
U: Good girl.. Come fast. And here is the link
http://www.india-forums.com/forum_posts.asp?TID=300417
P: oo ok.. I going to come there. Ok?
U:OK!!
*************************************************
SRK Fan Club
The Poem:

Sirf Shahrukh
Jise dekhne ke liye, chaand aur fizaayein dono ho jaati hain ruk
Log baadshah kehte hain usse, lekin pyaar se kehte hain Shahrukh
Uske har andaaz, har ek ada pe duniya saari hai uspe fida
Ho na paayenge jisse kabhi zindagi mein ek pal ke liye bhi judaa
Sab se pyaar ki baatein kar ke, is tarha humse mil jaayenge
Pyaar se humse woh kehta hai, dilwale dulhania le jaayenge
Khuda se dua maangte hain, milein hum usse har ek janam
Dil mein jo hain, zubaan se kaise keh dein, hum tumhare hain sanam
Khushiyaan milein tumhe saari, par gham mein udhaas tum nahin rehna
Tanhaayi mein hume awaaz do, par hume kabhi alvida naa kehna...






Comparison
Shahrukh Khan, the hearthrob of the universe, and his existence doesn't just end there, you can compare SRK to many things like the moon, the stars, the galaxy, but he most represents the ball of fire, the SUN. The Sun is filled with tremendous amounts of energy just like our favourite SRK, who is known for his exuding energy, which he shows on the sets as well as in person, and just like the Sun, King Khan is an essential component of our lives. The way the sun gives light to us, SRK also gives us light and desire in the form of his amazing looks, and active as well as sensuous silent energy that is transferred to us. In giving light there is no other planet like the sun, in the same way, the kind of acting SRK does cant be compared to anyone. SRK's acting is amazing, the amount of energy he brings on the sets is tremendous and there is so much passion in his eyes that you rarely find that in others. While he acts, the atmosphere becomes very energetic and loving as our love burns himself and takes loads of stress for his fans in acting, production, stage shows, photos and personal interviews, as well as the media rumours. As the sun burns itself to give light to us, in the same way SRK also works hard and stresses himself in order to make us happy. The Sun is an essential part of us life, it gives us light after a dark night and shows us the way, and SRK makes his fans happy, he provides the light and happiness in our lives and encourages us to follow our dreams and live life, he is hot and full of energy and brings desire in our eyes. Our jaan Shahrukh Khan has a tremendous impact in our lives, we cannot live without him and we cry and laugh with him. The Sun which is considered as the ball of fire, in the same way, we can consider SRK as the ball of fire who sets the screen on fire with this amazing acting and personality. The Sun, which the most magnificent object in our universe, would best represent our Baadshah Shahrukh Khan.


Advertisement
Do you believe in fate? -Fate brought 'him' into our lives!
Do u believe in miracles? -'He' proved that miracles do occur!
He came in as a 'Fauji' and stayed to rule our hearts as the 'baadshah' of Bollywood, we never knew when he became the 'baazigar' of our hearts... !

He has proved to be the ultimate romance idol and when all thought, he is just another chocolate hero! Well... he proved everyone wrong by giving fabulous performances in movies such as: Darr and Anjaam as an obsesed lover!

*Aashiq bhi hai, qaatil bhi hai
Sab ke dilon mein shaamil bhi hai... *

Through his simplicity and down to earth nature, he made a special place in the hearts of millions! It's hard to find a generation which does not consist of 'SRK' fans!
He has suprised us all by experimenting and mastering in a variety of classy (and classic) roles in which he depicted his flexibility and ability to mend himself into any character!

*Koi hero yahaan, koi zero yahaan
Koi star hai, koi bekaar hai
Woh kaun hai, tumse main kya kahoon
Hai sach to yeh doston...
He's the best, he's the best
He's the best, yes he is the BEST... *


If you believe in fate, dreams, and miracles, if you believe shooting stars exist, if you believe in love and friendship or if you have ever been mesmerized by Shahrukh's presence on screen... be a part of us!


Come join the kingdom where:
Young girls go crazy
Elder women adore
Boys envy...

The kingdom of hot, handsome and humble... KING KHAN!

-The members of the SRK fanclub (doly_455, srk_preity_kajo, lilyrose, tahmina_1994, AnGeLeYeZZ, ~divya~) had lots of fun doing the different tasks and we would also like to thank special friends teenindia_usa, Guess_Gallery, amna malik, Reema_J, Miss.Netherland..

Love,
Shahrukh Fan Club

***************************************************
PART 1-POEM ON YOUR CELEBRITY
Tera jaadu Chal gayaa….
O Bachchans Re…Inke bina bhi kya jeena…
Innhi ki waaja se Bollywood hai
Filmein dekhne ka mazaa aata hai ..
Yeh na ho…toh hum bane Refugeee…O Bachchans re..
Woh to hain albele …Anhone, alag aur khaas…
Bas unke saath kareingyee hum…Shavaa shaava aur Party Tonight!!
Yeh hai Sarkarz…kyonkii…yeh dono machaate hai DHOOOM!!!
Hum aankhein kholte hai…unhe dekhne…aur aankhein bandh karein…toh who nazar aaye….
Kya Taazi hai yeh Jawani
Jab naach sakte hain Amitji 60 ki umer pe!!
Aur kya Aankhein Hai Uski…Jo dus Bahane karke le gayaa dil!
Hum yahiin kaheinge…dhai akshar prem ke
PART 2- COMPARISON OF CELEBRITY
An Ode to the God of Cinema
Who do we look up to when we need help?
Who do we think of when we are in turmoil...we think of GOD...
Well this person is no lesser than GOD... He is none other than Big B...
Yes Big B to us is like GOD.
He has all the power to keep the whole world under control.
He has the charm to keep every one spell bound…
He is as simple & delicate as a Rose
He fragrances Bollywood as a rose do to the garden
He is soft & sweet…at the same time -Strong & Powerful!!!
He makes us wish-"If I could, I would keep him in my house as a rose…
I would love him just like a rose..."
He is the powerpact inquilab-THE REVOLUTION
Who Cheers up all as the azure sister of West Wind does the Earth
He brought with him-The new phase of cinema…the spirit of Change!
He is the strong leader of the Bollywood army
He doesn't hide his thorns and
Shines as the most loved and most humble as ever.
He just doesn't allow you to hate him!
He loves all and all love him!
He is smart and stylish…
He is simple and lovable…
He is dignified and poised…
Indian cinema begins and ends in him…
Similar to how mankind is born from god and ends in the Almighty himself!!!
He lends a helping hand to the budding talents…
He is always there for the miserable and sick lil ones…
When he says "Do boondh Zindagi ki…"
You just can't ignore this man!!!
He can kill you with those killer eyes…
And Charm you up with that deep Baritone voice!
He is India's all time Legend…who can never decease
from our tender hearts…
He has, not just the Bolly-world, also the hearts of millions of trillions
Just like the Almighty has the world, in his muthi!
He is the sutradar…
When he smiles…you smile…
If he says "Jump"…we Jump! Coz…
He is the force…the power…the pride of India…He is the ultimate star of the stars!!!
You just can't compare this magnificent personality with any material attraction…because…to what can you compare the God except to himself???
He is the Controller and Preserver of our entertainment Industry
Whose unparalleled superstardom has spanned over three decades…
Something men seldom can achieve!!!
His magic and personality are so enthralling & mesmerizing that…
He cleaves our even heartbeats into chasms…
By that one look…that one word…
You get obsessed and spoilt to this big master of all times…
He is the final destination of every aspiring actor…
Like how the Messiah is for man…
Because there is no getting bigger than this man!!!
WHO CAN WIN OVER THIS MAN???
WHO CAN WIN OVER GOD???
He is the Lord Almighty who is therein anything & everything…
Anywhere and everywhere!!!
PART 3-AD
Arre Deewano...
Who is the Best in the face of Earth? Amitabh Bachchan!!!
Who is the hottest in the world? Abhishek Bachchan!!!
Who make the best ever duo in town? Papa and Beta Bachchanz!!!

A crazy fan…Huh???
Seeking a place to discuss these rockstarz???

Then what are you waiting for???

COME AND JOIN "The Bachchans Fan Club"-Just the place to be!!!
Want 24*7 News on the Ultimate sitaren of Indian Cinema?

Want a Bolti Band karne wali collection of Picz of this 'Perfect Family' of the country?

Wanna rave and rave about the Ultimate Superstar of the Nation and his Suputr?

Then just go for the Bachchans Fan Club and have a dHaMaAl!
SCOOPZ….PICZ….GOSSIPZ….NEWZ…VIEWS...SIGGYZ….AVIZ…..ARTICLEZ. ....
What more can you possibly think of?
This is just the perfect place to discuss-
The man who is the epitome of talents…looks…performance….
&
The young ,0 handsome and aspiring Bluffmaster!!!
'BFC' is completely the perfect utopia ever!!!

Jo bhi ho raha hain…jahaan bhi ho raha hain…sab kuch on the Sarkarz hota hain…"BFC" par!
We ask for nothing…save your indispensable presence and love to our Club!!!
And…we give all that you can think abt (Even in the wildest of you dreams) on this "BEST DUO OF THE MILLENIUM!!!"


News on them…views on them…gossips on them…AND WHAT NOT!!!
BFC-Where fanz all over the world meet and have DHOOOOOOOM!!!!
Join us and sing "DHOOOM MACHAALE!!!"

AT BFC-EXPRESS YOURSELF!!!
Together-Let's celebrate the Living Legend of the nation and his cute Chotte Sarkar!!!
Enjoy with your full might!!!
THE LONE CONDITION TO GAIN MEMBERSHIP:
~*YOU MUST LOVE THE BACHCHANS!!!*~

Campaign for these Super-Duper-Mega starz and help make BFC the best Fan Club ever in history of India-Forums…
SO…get your name added to our Member's list NOW!!!
DON'T DELAY!!!
DO IT TODAY!!!
Coz...Time and tide waits for none!!!
(But we wait with open arms for all Bachchan craziats!!!)

Bachchans jaisa koi kahaan…Bachchans ke saath saara jahaan!
WARNING: VERY ADDICTIVE CLUB-"Kabhi Alvida na keh paaoge!"
Participants of each group:
Khushi dii fan club:- The ones that really did help in any of the tasks were pyaari_puja, Urooj3k and missspiryaaa. Original participants were: ~LiL*Princez, pyaari_puja,wildchild, Rizi, missspriyaaa, Urooj3k, natasshafan, july12_1995
Shahrukh khan fan club:- ~divya~, tahmina_1994, lilyrose, Angel eyeZz, doly_455,srk_preity_kajo, Reema_J (any others that contributed in any way for the last task are as listed in their entry)
Bachchans fan club:- monika.goel, umi82990, Rani_Abhishek, lucky_lakshmi, sonalkhullar,Adorable_Ankita, Pyaari_Shailee, fire_on_ice
********************************************************

Here are the points given to each group. Something about the judging before you read the points.
Each part of the task is rated on a scale of 30. Each judge rated them on a scale of 10 for each part of the task. I have posted the total for each part and the final score. They were rated based on creativity in writing the advertisement -- which should have been catchy and w/ a good script like all real ads are. There wasn't much emphasis on the creative banners/glitters as I had mentioned when the task was given out. For the comparison we rated on how similar did you make your celebrity appear as the object you compared him/her to. If you simply listed what the qualities in your celebrity were and did not mention what qualities in the object you compared him/her to resembled it, that wasn't good enough. Some of them had a lot of qualities listed for the celebrity but not the object that you compared them to.
And for the poem, the most creative and unique one got the most points. Although for this part all three groups did a great job! :)
Here are the points:
Khushi: 23+23+16=62/90
Srk: 27+25+26=78/90
Bachchan: 23+23.5+25=71.5/90
*********************************************************
So, from the above you must have guessed it. The winner for the first ever Celebrity Muqabula is the
SRK Fan club!!!!!
Congrats!
You guyz did a great job!!! I loved your entries for all the tasks and this one especially showed that you put a lot of effort into it. The ad, the poem, the comparison...all were amazingly unique and well written.
Awesome, awesome job. Here are your prizes (since, your special...you get more siggi's
)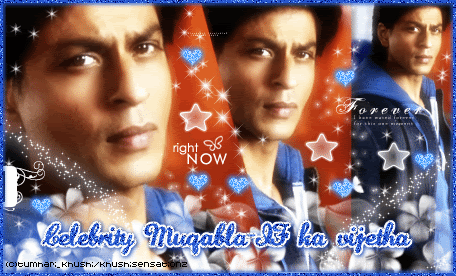 First runner up ...who had points quite near to the winners are the ...

Bachchan's Fan Club!
Congrats! I am really proud of you all. You did a fantastic job in all four tasks! I guess a little more effort was needed for the last task, but never the less, it was awesome! Kudos to you all, great effort, great work!!! I am sure if AB and AB junior were here, they would really love to meet such dedicated fans.
here is your prize: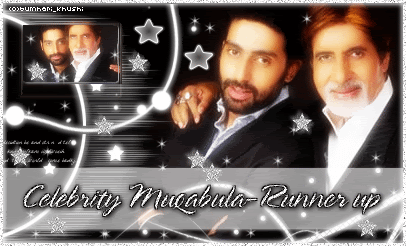 Last but not the least...Second runner up is

Khushi Fan Club
Great effort! A special thanks to Puja who helped in all the tasks and to Urooj and Priya who helped in some of the tasks. You guyz are the real winners for this Club!!
Here is your prize, its a little different, as Khushi didn't know what doll to use for herself
Congrats to all of you! And thanks for being patient w/ us and for being such excellent participants.
Thanks to everyone who was a part of this Muqabula.
Lots of love,
Khair, Mehak, Eisha and Swati


Edited by sweet_kp - 05 August 2006 at 3:47pm