BIRTHDAY TIME !!!


Our ANMOL star
Hamare dil ka ARMAAN
TV ki duniya ka PRATAP



Celebrating his Birthday in a very special way...






























Apurva Agnihotri Started his career as a film actor and was best known for role In Pardes which also starred Shah Rukh Khan. He then moved to the small screen To achieve an iconic status of Jassi's (played by Mona Singh) boss Armaan Suri in the Hit soap Jassi Jaissi Koi Nahin for which he even went on to win the best Actor Award in Indian Television Academy Awards. He is still fondly remembered as Armaan sir !!!
He then went onto play the role of dev pratap singh In the serial 'kaajjal' and shared a memorable,intense,soul touching and sweet chemistry with his co-star Surveen chawla!,He was even Nominated in the best Actor category for his Role in Kaajjal in Indian Television Academy Awards again
He played the role of Shekhar ,the good hearted doctor in the popular NDTV imagine serial 'Radha ki betiyaan kuch kar dikhayengi'
He played Ragini kay Anmol in serial Bidaai and left audience spell bound with his talent as a actor. His chemistry with Parul was beautiful and his stunning performance as a father of 7 year child will be remembered for its absolute purity and love.
Another phenomenal character to his kitty was this years Dev Chopra (DC) a manipulative producer of a reality show.. One of the most intelligently articulated character which kept one spell bound to know how the television industry work through different shades of expressions he carried and why it thrives on the Code "TRP" & how one becomes "the FIXED audience" for the dramas aired'..



Kudos to you Apurva you have proved your versatility with the character of DC which is the apex of the life of a performer who dwells into the stream of acting'This role made me an ardent fan of yours for life and will always adore you for the wonderful performance you gave' My Salute to you for this role


The promos with his voice were amazing'.in ASA( Aasman Se Aage as Dev Chopra (DC))

Roles Big or small make a lot of significance when Apurva is on television and the most recent to add to his kitty is the character of Sujith Menon which he is endorsing for the show Ek Hazaron mai Meri Behna Hai'His presence makes me enjoy television show and get glued to it..


Wishing you all the success in your life'Keep rocking my life with your work'.

All his roles have been mesmerizing, and a treat to watch this actor on television with different shades of passion, anger and romance...Whenever he is on screen we are just moved by his presence and charisma...

I wish you luck, happiness and riches today, tomorrow and beyond.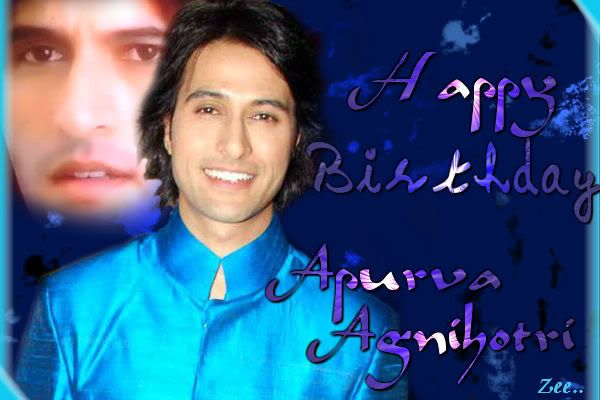 mere dil tu suna koi aisee daastaan ..
jis ko sun kar mile chain mujhe meri jaan
manzil hai anjaaani
thandi hawa yeh chandni suhani

The many faces he portrays and the smiles he conveys , indeed many wishes to you Apurva '.

main zindagi ka saath nibhata chala gaya
har fikar ko dhuyein mein udaata chala gaya
Of all that makes you YOU.
Count a blessing for each candle..
Have your cake and eat it too!
Unwrap this day and savor it and all the love that's there ...
Send a dream-wish straight to Heaven on the wings of prayer ...
Remember what a blessing you are Even after this day is gone.
You're a gem, a priceless treasure Let yourself shine on!
A birthday is a million moments,
Each holding a promise of your dreams,
Accomplishments of some special plan..
Step by step the journey goes on,
Just think about present, you can handle it.

Your birthday is a special time to celebrate the gift of 'you' to the world."
"If there's something that you're dreaming of then may it all come true, because you deserve it all...HAPPY BIRTHDAY."
Hope your Birthday gently breezes into your life all the choicest of things and all that your heart holds dear Have A Fun- Filled Day."

I wish you to celebrate all the wonderful things that make you so special, not just on your special day, but on every day of the year!


May your birthday bring a smile to your face, happiness to your heart and many blessings to your life.


Hope to See you back on television As soon as Possible with another Lead Role'.

ONCE AGAIN DEAR APURVA WISH YOU MANY HAPPY RETURNS OF THE DAY!!
FROM ALL YOUR FANS AND WELL WISHERS @ INDIA-FORUMS.COM



Have a magical birthday with love and hugs.
LOADS OF GIFTS FOR YOU !!!

ENJOY !!!

A BIG THANKYOU to Krithika, Sameera , Zeena to have contributed to this thread for Apurva's Birthday Celebration.


Edited by shanti05 - 01 December 2012 at 10:44am