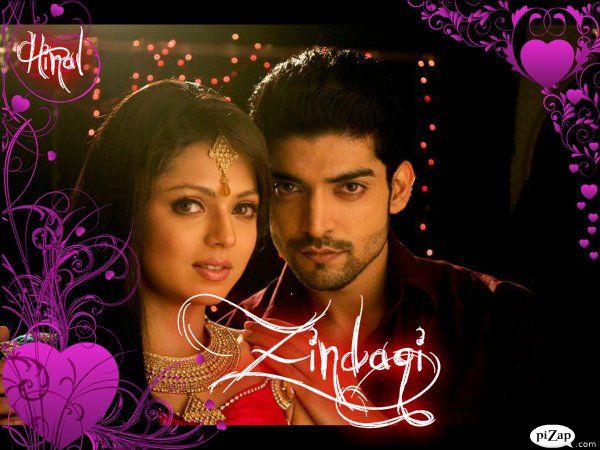 Part 19
Past
As Geet kept the call Mithun started crying. Geet rushed to him n took him in her hands n began to rock him trying to calm him down.
Mithun's fever was making him cranky min by min. Geet was getting worried seeing him cry so much. She then took a blanket n wrapped it around Mithun n then took him near the window n began singing a lullaby. Mithun soon calmed down n slowly his eyes began closing.
Geet carefully placed him on the bed n then closed the window n sat next to Mithun n began patting him while her thoughts went back to her childhood days when she n Meera used to fight so much n Yug would always support Meera n how the three of them would take care of Shilpa. She smiled n then her thoughts went to Prem. How he was so excited for their baby. His every day would never be complete without talking to their baby n whenever he got free time he would take her for shopping to buy things for baby n would keep buying pregnancy magazines every day so that he could take care of every minute detail.
Geet had tears in her eyes when she remembered the accident where she lost all n then the incidents that followed... her moving to delhi... meeting Sameera n being her friend... Mithun's birth n Sameera's death... Taking care of Mithun... Her unexpected wedding to Maan... n now finally her entry into KM as Mithun's mother n Maan's wife.
Mithun's cries brought Geet out of her thoughts n she saw that he had wet his nappy. She then changed his nappy n then saw that he was hungry as well n gave him milk bottle n patted him to sleep. She soon dozed off.
At midnight Mithun's fever increased n he began crying again. Geet woke up with his cries n she began calming him down. As she saw him crying her heart cried to see the poor soul in pain n her eyes were filled with tears but she controlled herself n tried to put him to sleep. After sometime Mithun slept off. Geet made sure he is fine n then went near the window n let down the tears which she had held back.
She prayed to Babaji to give her all Mithun's pains but not let him suffer. As she was in her thoughts she heard a knock n she quickly wiped her tears n went n opened the door to see Maan standing there.
Geet, "Kya huva Maan??? Aapko kuch chaiye tha???" (What happened Maan??? U want something???)
Maan saw her red eyes n realized that she had been crying. He wanted to console her but didn't know how to n so let it away n said, "Haan' who Geet mujhe Mithun ki chinta ho rahi thi aur iss wajhe se mujhe neendh bhi nahi arahi thi toh maine socha main todhi der Mithun ke pass rehta hu. Tum ek kaam karo tum so jao main Mithun ko apne room main le jaata hu" (Yes...actually I was worried for Mithun n bcoz of that I was not able to sleep so I thought to be with Mithun for sometime. U do 1 thing u sleep while I take Mithun with me to my room)
Geet, "Maan who abhi todhi der phele hi soya hai agar usko disturb huva toh who phir se uth jayega aur bukar ke wajhe se who bohut ro raha hai isiliye aap yahi raheye mujhe koi problem nahi hai aur waise bhi todhi der main uske feed ka time hojayega toh aapko pareshaani hogi." (Maan he has slept only sometime back n if he is disturbed he will wake up again n due to fever he is become too cranky so u stay here only I dont have any problem n anyways in sometime it will be Mithun's feed time so u would be troubled)
Maan, "Theek hai. Tum so jao. Main usko feed de dunga jab usko bhook lagegi' waise bhi tum bohut tired lag rahi ho" (Okay. U sleep. I'll feed him when he is hungry... anyways u look too tired)
Geet, "Nahi koi baat nahi main jag rahi hu" (No problem I'll stay awake) n then went n took out a book from her suitcase. She was about to go n lie on the bed but as she saw Maan was patting Mithun she went n sat on the couch so as to not disturb Mithun n Maan.
She soon began reading the novel n never realized when she lied on the couch lost in her novel. Maan had dozed off patting Mithun as finally he was at peace to see him sleeping peacefully. After sometime Mithun woke up n began whimpering a little as he was hungry. Geet who heard Mithun's whimpers got up n saw the time n realized that it was Mithun's feed time n rushed to him n took the bottle from the side table n gave it to him. Mithun began sucking from the bottle as he was very hungry n soon dozed off.
After Geet burped him she placed him on the bed n covered him with blanket n then saw Maan who had dozed off. She covered him with blanket as well n then as she was about to go she felt a tug on her duppata n saw the duppata was held by Mithun's tiny fist. As she tried to remove it Mithun was getting disturbed n so she let him hold it. She lied down next to him n soon she dozed off. It was the first time that Mithun was sleeping with his Mom n Dad n maybe it was destiny that brought them close due to Mithun.
The next morning Maan woke up to see Geet's hand on his which was placed on Mithun. He slowly pulled out his hand n went to his room n freshen up n went to his gym for his workout.
After sometime Geet woke up n checked Mithun's forehead n sighed that he didn't have fever n then prayed to Babaji n went n freshened up. She then came down n went to the pooja room n lit the diya n did aarti n then took the pooja thal to her room n did dhoop to Mithun n then went to Maan's room to give him dhoop but saw that he wasn't there so she kept the pooja thal back in the pooja room. She then went n first prepared Mithun's feed as he may wake up anytime n she didn't want him to wait for his feed n get cranky. She then prepared coffee for herself n Maan n then told Nakul to prepare breakfast as she rushed to her room as Mithun had woken up. She took Mithun to the balcony in her room n sat with him there for sometime in the fresh air. After that she massaged Mithun with oil n prepared water for his bath n bathed him n dressed him n then tied him in white cloth n held the bottle as he drank his feed.
Maan after his workout had freshened up n came to Geet's room to meet Mithun n was surprised to see Geet so lost in Mithun. He admired her dedication as she took care of every small thing of Mithun n the way she would chid herself whenever Mithun would whimper or cry n a sweet smile that would adore her face as Mithun would shake his hands n legs a bit as if he was enjoying the pampering.
After Mithun had his feed Geet burped him n as she was walking around the room to make him sleep she saw Maan staring at them.
Geet, "Arre Maan aap kab aaye??? Sorry maine aapko dekha nahi'" (Maan when did u come??? Sorry I didnt see u...)
Maan, "Koi baat nahi Geet. Tum jab Mithun ko nehla rahi thi tab hi aaya. Do main Mithun ko sambhalta hu tab tak tum fresh hojao." (Its ok Geet. I came when u were bathing Mithun. Give I'll take care of Mithun will u freshen up)
Geet, "Theek hai. Yeh lejiye'" (Okay...) n gave Mithun to him n took her dress n went to freshen up. After she freshened up they went downstairs n had their breakfast.
As Geet was helping Nakul in clearing the dishes she received a call. She excused herself n went n picked it up.
Geet, "Hello di' Good morning' kaisi ho aap???" (Hello di...Good morning... how are u???)
Meera, "Main theek hu Geet. Tu kaisi hai aur Mithun kaisa hai???" (Im fine Geet. How are u n how is Mithun???)
Geet, "Main theek hu di aur Mithun ko bukhar nahi hai abhi." (Im fine di n Mithun isnt having fever now)
Meera, "Chalo acha hai. Acha sun main, Yash aur bache aaj sham ko Delhi arahe hai aur Shilpa dophar ko ayegi direct flight se. Tu Shilpa ko flat ke keys de dena theek hai hum log wahi rahenge." (Oh thats good. Ok listen today I, Yash n kids are coming to Delhi in the evening while Shilpa is coming in afternoon through direct dlight. U give the flat keys to Shilpa we will stay over there only)
Geet, "Arre yeh kya aap logo ne sudden plan kar liya aur yeh kya aap kyu flat main rahenge' Aap mere saath hi rahoge'" (Oh why this sudden plan u guys made n what is this why will u guys stay in flat... U guys are going to stay with me...)
Meera, "Lekin Geet agar Maan ji ko koi pareshaani huvi toh'" (But Geet if Maan ji has any problem then...)
Geet, "Haan yeh bhi hai' Main ek bar unko poochti hu agar unhe koi problem nahi huvi toh aap yaha rahoge ok" (Yes this is also there... I'll ask him once n if doesnt have a problem then u will stay with us ok)
Meera, "Theek hai. Tu pooch le aur bata de. Ab main phone rakhti hu packing karni hai. Dhyan rakhna ok. Bye" (Okay. U ask n let me know. Now I'll keep the call have to do packing yet. Take care. Bye)
Geet, "Theek hai di main pooch ke aapko bata deti hu. Bye. Shaam ko milte hai" (Ok di I'll ask n let u know. Bye. Meet u in the evening)
Geet then went to Maan's study to ask him whether Meera n Shilpa could stay in Khurana Mansion but the scene she saw just awed her.
Maan was holding Mithun close to him n making him sleep while his eyes were moist n they were filled with pain. After making sure that Mithun had slept he placed him on the soft blanket n sat next to him n kept kissing his hands n face trying to sooth his pain.
Geet had seen Hiten shower his love on Meera n Yug n even her Chachu shower love on all of them but what she saw today was totally different from that. The way he was trying to sooth Mithun's pain showed how much he loved n cared for Mithun.
She then knocked n entered. Maan wiped his tears n sat there patting Mithun.
Maan, "Geet tumhe koi kaam tha kya???" (Geet u have some work???)
Geet, "Haan Maan woh aaj Meera di aur Shilpa arahe hai Delhi toh main aapse poochne aayi ke agar who log yaha humare Khurana Mansion main reh sakte hai???" (Yes Maan actually today Meera di n Shilpa are coming to Delhi so I wanted to ask u if they can stay here with us in Khurana Mansion???)
Maan, "Haan Geet isme poochne ki koi baat nahi hai. Yeh ghar ab tumhara bhi uthna hi hai jitna ke mera toh tumhe poochne ki zaroorat nahi hai." (Yes off course Geet. There is no need to ask... This house is as much as urs as it is mine so u dont need to ask me)
Geet, "Ji thank u. Main abhi Meera di ko bata deti hu. Aur aap aaj office nahi ja rahe???" (Ji thank u. I'll let Meera di know. N arent u going to office today???)
Maan, "Nahi who jab tak Mithun theek nahi ho jata main office ke kaam main dhyan nahi rakh paunga isiliye ghar se hi kaam karunga." (No actually till Mithun isnt fine I wont be able to concentrate on my office work so Im working from home only)
Geet was again awed by his love n the way he openly expected while many men are not even able to express their love in the form of words. She nodded n then went n called Meera n told that Maan had agreed n told that she would herself come to receive them but Meera refused as she knew that she had to take care of Mithun as well n said that they would come themselves.
Geet then helped Nakul in cleaning up the guest rooms. In between she would go n check on Mithun n Maan n would make sure that Mithun was not having fever again. In afternoon she fed Mithun again n then gave him the medicines which was a problem as Mithun would keep wriggling. Somehow she managed to give him medicines with Maan's help n then made him sleep.
Maan completed few of his office work while Mithun slept n Geet was busy in cleaning the guest rooms. In afternoon after lunch Shilpa reached Khurana Mansion. Maan had sent driver when he got to know that Shilpa was coming in the afternoon even though Geet tried to protest but he didn't listen.
As Shilpa came Maan took Mithun with him to let both the sisters spend sometime together alone. The evening passed away n soon Meera n Yash with the kids reached Khurana Mansion.
Khurana Mansion was now buzzing with people. Nakul felt happy to see so many people as he had seen Maan stay alone almost all his life.
Precap -
No precaps
Next -


Edited by hinal_maaneet - 10 February 2013 at 10:21am