Hello Guys
Hope Everyone is Fine
And Busy in Examz Preparations
All The Best For Exams Guys
Its Time For Voting of the MLTAK Challenge Siggie Contest..
Due To exams Some Peoples took part In it.And Sended Lovly Entries
For both Animated and Non-Animated Categories
Before I present All Beautiful Entires for voting.Let me tell u Few Rules Of Voting
1. Do Not Vote for Ur Own Entry..
2. Vote For 3 Siggies in Both Categories
Example: Non-Animated 1,2,3
Animated 1,2,3
3. Must mentiond Category before Voting
4. Do Not Advertise Ur entry At all..
5. If any one Vote for More than 3 Siggies,then Only first 3 will be counted
So,without any future Delay here I present All Siggies...
Non Animated Siggies
Entry 1:
Entry 6:
Entry 7: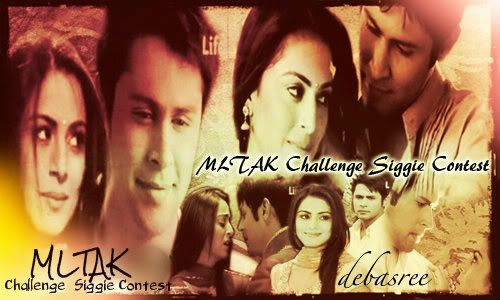 Entry 8:
Entry 9:
Animated Siggies
Entry 1:
Entry 2:
Entry 4:
Entry 5:
Entry 6:
Entry 7:
Entry 8:
All paticipants Must Vote..Normally Participants who Take part
In the Contest Ignores Voting..Don't Do this.Must Vote Guys
LAST DATE FOR VOTING 13 April 2012
Everyone Great Job
GUD LUCK TO ALL
Neeme
on-behalf


Edited by neeme - 08 April 2012 at 7:28am