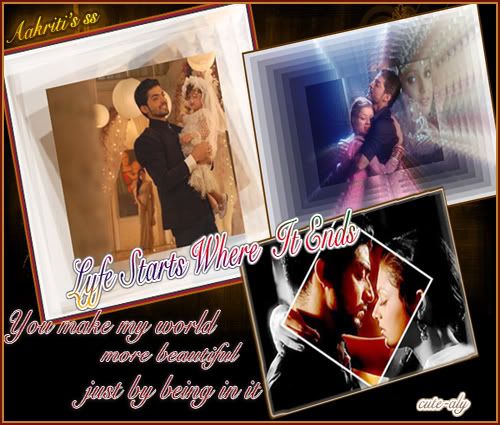 Part 6:
"BTW you guys are going to stay here for some more tym or planned to go home." Maan asked in order to change the topic.
"No We are just planning to go home only." Geet answered as she looks at her watch
"Ok den come I'll drop you both."
"No Maan Sir Dats perfectly fine. We can go." Geet said feeling hesitated.
"Don't be so formal Geet. I was going t that side only so I'll drop you guys also" Maan insisted nd Geet had to give up. She picked Seher's bag nd bottle from the bench nd started heading outside towards the exit.
"Wo Geet I didn't know that……."
"You didn't know that we are here at park too. I know now lets go." Geet completed his sentence as she was tired of listening to same sentence of his while Maan just smacked himself mentally for his foolishness.
He smiled foolishly at her nd den headed towards his car followed by Seher nd Geet. Seher happily hopped to sit in front behind Maan while Geet silently sit at the back side. Maan adjusted his rear view mirror so that he could see Geet clearly nd drove towards Geet's home.
***********************************************************
Whole Drive towards the Geet's house was silent with Seher's continuously talking something or other while Maan just ruffling her hairs in between stealing glances of Geet through rear view mirror while Geet was just looking outside the window with sometimes looking at the direction of Maan nd Seher. But she immediately averts her gaze wenever they met with Maan's through rear view mirror. Oblivious to all this Seher was continuously busy in exploring Maan's car asking him this nd that. Geet was amazed at her Daughter's comfortableness with Maan as according to her she had met Maan for just few tymes only. But least she knows that Maan's nd Seher's had grown more gradually den she knows.
On the other hand Maan was just enjoying his tym with his two angels. This was his best ride ever where the reasons of his happiness are travelling with him. He sometimes looks at Seher who was busy examining the CDs with her pouted face wen she didn't got any CD of her interest nd then at Geet who often looks at his side but den immediately looked away wenever she found him looking at her. No matter how much hard Maan tried to not to look at her he just can't stop looking at her even after being caught by her many tymes.
"Mumma Ice-Cream" Seher's excited voice broke the trail of their thoughts nd Maan instantly stops the car only to find Seher looking at an Ice-cream parlour.
"Seher no Ice-Cream now. We are already getting late for home nd you have to do your homework also Na. nd moreover Maan Sir is also getting late. We'll have Ice-cream later." Geet said softly in order to make her understand but her little angel was not in mood to give up.
"Pleashe Mumma." Seher said while making a cute baby face which can easily melt anyone yet Geet was hesitant. She don't want Maan to get bothered for them more but before she could say something Maan spoke in between.
"Geet if she wants to eat ice-cream den let her eat Na. don't stop her." Maan said nd Seher's face instantly lits up
"But Sir……." Geet tried to protest but Maan cut her in between.
"Geet, no more arguments now. Nd if you are thinking that you nd Seher are bothering me den it's nothing like that. So now just leave your thoughts aside nd lets go nd buy Ice-cream for Seher." Maan said while opening his seat belt nd before Geet could say anything Maan had already got down from the car along with Seher. Geet sighed nd followed them having no other option.
**********************************************************
"Mumma I want Chocolate flavour nd Butterscotch nd Black currant nd Strawberry nd Mango too." Seher's excited voice echoed in the whole parlour nd she became centre of attraction for everyone.
"Seher, first of all speak slowly nd secondly just choose one flavour because you are not going to get everything." Geet said calming down her over excited daughter
"But Mumma there are so many flavors nd I am confused. Please can I have all of them?" Seher said while making a puppy face knowing very well that this trick of hers will work very well on her mother.
"Seher stop giving me that look because it won't work." Geet said sternly to which Seher made a baby face nd looked at Maan who just got restless seeing his princess's sad face.
"Geet let it be Na. she's a kid Afterall. Please let her have all the flavors. Dekho na she has became so sad." Maan said while patting Seher's cheeks to which she just danced in victory mentally
"Maan Sir, you don't get influenced in her antics. She always uses such tactics to make everyone agree on her terms." Geet said while giving a stern look to Seher to which she just pouted as she was complaining about her in front of her own boyfriend.
"C'mon Geet it's not a big deal. Acha spare her this tym. Next tym she won't ask for all the flavors. Right Seher?" Maan said nd winked at Seher making sure Geet won't notice him.
"Ya Mumma, it'll not happen next tym. Plomishe." Seher said while grinning as she got the cue from Maan
"See now she had promised also atleast now let her eat all her fav flavors." Maan said nd Geet sighed having no other option with her at last she agreed while Seher nd Maan gave hi-five to each other while Geet just looked at both of them with her mouth wide open.
"Geet, you both take your seat nd I'll bring the ice-cream for you both. By the way which flavour you would like to have?" Maan asked but before Geet could Answer Seher spoke in between.
"Mumma Loves butterscotch flavour with lots of nuts in it." Seher said while opening her arms nd eyes wide excitedly only to earn an angry glare from Geet to which she just shrugged her shoulders.
"Fine. I'll just be back till den you guys take your seat." Maan said before heading towards the counter while Geet nd Seher took their seats.
After a while Maan came back with all the flavors Seher had asked for along wid his nd Geet's nd took the seat beside Seher. Seher was so excited to see all her fav flavors in front of her nd she instantly starts eating her ice creams forgetting the world around her. Maan nd Geet just smiled nd shaked their heads looking at her antics. Maan was never this much happy nd contended before like he was now. He never liked Butter scotch ice cream before but today he was loving it. May be because today he was with both of his angles or probably because it was Geet's fav flavour. Relishing Ice cream with any of his employee at such a public place was something he never done before. But Geet was much more then his employee nd Seher he don't need to say wat she's to him. It all seems so perfect to him as if they were a perfect happy Family enjoying their sweet time together.
On the other hand Geet don't know why but she was feeling something that she had never felt before. As if that she got something that was missing in her lyf. Today she was feeling an unknown happiness. She had been with Maan before also for dinners nd Lunches but it was all official. This is for the first tym she had been out with him informally nd strangely she's not feeling awkward with it. May be because Maan is comfortable with Seher nd he didn't asked any further questions on her identity. She looked at Maan who was busy enjoying his ice cream with Seher. She had never seen this side of him before. Though she had seen changes in him in this 1 month but still seeing him laughing nd smiling this much something she had never seen before. Unknowingly a smile crept on her face too seeing both of them like this nd she felt more respected towards the person who was showering his love on the girl with whom he had no relation. Something that she thought that Seher's father will do. its ironic isn't it that the person who had his blood relation with Seher didn't even know about their existence nd person who had relation with them, who was just her boss is enjoying with her daughter as if she was his own. Geet immediately shrugged off the thought that crossed her mind. How can she even think of that? Maan was just getting nice to both of them but that doesn't mean that she should keep him on Seher's father's place.
"Mumma, your ice cream is melting" Seher's voice broke the trail of her thoughts nd she looked at her direction only to fond Maan looking at her with confused expressions
"Geet, Are you fine?" Maan asked with his voice laced in concern to which Geet just nodded slightly.
"Seher see how much messy you had made your dress. Let me clean it." Geet said hurriedly in order to change the topic while cleaning Seher's dress with a tissue but soon she found someone else' fingers brushing her hands nd she turned to only to find cleaning Seher's dress with great concentration.
While cleaning Seher's dress Maan accidently placed his hand over Geet's making her shudder with an unknown sensation. Maan looked at Geet still placing his hand on Geet's nd like always gets lost in her deep hazels which always hides so many emotions in it. Geet too couldn't able to look anywhere else except his deep honeyed eyes that seem to held her captive in them. Maan looked from her one eye to another trying to find that feeling which was there in his heart. he know that probably he was searching for something that cant happen yet his traitor heart wanted to see just a glimpse of the reflection of his feelings in her eyes too. Seher looked at both of them nd den shrugged her shoulders nd started eating her ice cream not understanding anything that was happening between the two elders. Maan in trance gently pressed Geet's hands giving her goosebumps. Her heart started beating fast as she felt a shiver down her spine with his gentle yet affectionate touch.
"Hey Maan!" A voice from behind broke their eye lock session nd dey immediately averts their gaze from each other. Maan turned to look at the direction of the voice only to find his college mate in London Edward standing at a behind him.
"Hey Edward! How's you?" Maan said hugging his friend
"I am fine dude. Hws u?" Edward said while pulling out from hug.
"I am fine too. It's been long since I met you."
"Yup 5 years almost. Wat to do wen you are so much busy in your business that you don't have tym for your own friends." Edward teased him to which Maan just rolled his eyes.
"Hey it's nothing like that. You also know that how much big responsibility is their on my shoulders."
"Ya ofcourse. By the way meet my wife Bella. And Bella that's Maan; my college mate nd friend." Edward introduced Maan to the girl standing next to her who just smiled while shaking her hand with him.
"Hey is this your daughter. She's so cute." Bella said as her gaze falls on Seher who had just finished her ice cream. Geet who was smiling till now all of a sudden went numb at her sudden question.
"Now was this a question to ask Bella. Ofcourse a cute girl like her can be Maan's daughter only. Nd cant you see how much she resembles to Maan's wife. But that's not fair yaar you got married nd didn't even care to invite me, forget about invite u didn't even informed me. That's unfair. BTW atleast now introduce us to your wife." Edward chided nd Maan just looked at Geet helplessly not knowing what to do.
"Her name is Geet nd my name is Seher nd he's Mishter Khulana." Seher announced proudly before Maan or Geet could say something.
"Awww she's so cute. Nd Maan even your wife is really very sweet. Good choice must say. Nd anyways MSK choice had to be best right." Edward said while pulling Seher's cheeks nd appreciating Geet's simplicity. Maan nd Geet looked everywhere but at each other not knowing how to escape from this awkward situation.
"Seher, this one is for you." Bella said while extending a chocolate at Seher which she happily took.
"Thank you Aunty." Seher said while placing a kiss on Bella's cheeks to which she just smiled widely nd kissed her back while ruffling her hairs.
"If you guys don't mind den can I take a picture of you guys together. I wanted to keep a remembrance of this Perfect Happy Family." Bella said while adjusting her mobile camera. Maan nd Geet were reluctant at first but seeing Seher's excitement nd Edward nd Bella's happy faces they agreed.
"Hey Maan show us some Love yaar. You both are standing poles apart. Put a hand around ur wife's waist." Edward said as he noticed Maan nd Geet standing a bit away from each other. Maan looked at Geet who just looked other way feeling awkward.
Very reluctantly Maan put his hand around her waist nd pulled her closer making her gasp. She looked at him in surprised while Maan just looked at her lovingly. At that moment he forget every other thing nd all he remembers was that Geet was so close to him no matter for whatsoever reason. All he wanted at that moment that the tym to still den nd dere nd he just spend his whole lyf by being close to his two angels like this only.
"Perfect!!!!!!" Bella's voice broke their reverie nd dey immediately pulled a bit away from each other while smiling weakly at her.
"You guys look so good together. Made for each other types. Isn't it Edward?" Bella asked while showing the pic to Edward
"Ofcourse Sweetheart just like me nd you. Anyways Maan we would like to take your leave now but before we leave I would like to invite you for our 2nd wedding anniversary next week. Nd you have to come along with 'Bhabhi'. That's wat Indians use to call other's wife right." Edward asked while scratching the back of his head to which Maan just nodded slightly.
"Ummm Edward………" Maan tried to protest after seeing Geet's shocked face only to be interrupted by Edward
"No excuses Maan because I am not going to buy it. everyone from our batch is coming so you are no exception. You nd Bhabhi have to come nd ya bring this cute little princess too." Edward said while pulling Seher's cheeks nd Maan with no other option nodded in approval.
"Great so see all 3 of you next week. I'll text you the address of the venue Maan. Till den Bye. Namaste Bhabhi." Edward said last two words in his English accent making Geet smile widely but she just nodded her head
A strange silence prevailed between Maan nd Geet after Edward nd Bella left. Seher got busy in eating her Chocolate that Bella gave her but Maan nd Geet were just not able to concentrate on anything. The situation in which they both got stuck up is something which is unavoidable yet they need to find a solution for it. Maan cant able to meet Geet's gaze as he don't know what she must be thinking of him right now. He literally cursed Edward's timing nd more then that he was cursing the situation in which they got stuck up in. but this is not the tym to curse the destiny nd the situation. He had to clear Edward's misunderstanding soon because he don't want Geet to feel uncomfortable becoz of him. He took a deep breath before deciding wat he had to do now
On the other hand Geet was feeling uncomfortable with the sudden turn of events. She knows that she can't blame Maan for that because he too was stuck up in this situation like her only due to Edward's misunderstanding but that doesn't change the fact that they need to do something in order to clear their misunderstanding. But on the second thought will it be right to tell Maan's friends that they are not couple, she thought. Edward nd Bella think of them as a couple nd now wen will they come to know that she's just an employee in Maan's office den wat will they think of him. The person who was so nice to her nd her daughter can face embarrassment in front of his friends. He will be answerable to his friends nd this is the last thing she wants. Not just because he was her boss but because he's a very nice person. She took a deep breath as she decided what she has to do.
"Wo I………" Both Maan nd Geet turned to say at the same tym but seeing that other wanted to say something.
"You say." Maan said as he notices Geet wanted to say something.
"No you say first." Geet said smiling faintly
"Its ok Geet you can say first."
"No Maan sir you say first wat you wanted to say."
"Offoo kitna confusion karte ho aap log. Inky Pinky kar lo Na. Me nd Abby use to do the same only wenever we both are confused on any thing." Seher said nd Maan nd Geet burst out in laughter listening to her innocent suggestion.
[offoo u guys create lots of confusion. Y don't you guys do Inky Pinky. Me nd Abby use to do the same only wenever we both are confused on any thing]
"Ok I'll say first." Maan said in between his laughter trying to control his laugh
"Geet, I just wanted to say that you don't have to worry for the party next week. I mean I'll tell Edward nd Bella the truth that we……. That we both are not couple." Maan said the last sentence softly almost to himself
"You don't have to do anything of this sort Maan Sir. We'll go in the party next week." Geet said making Maan both shocked nd surprised.
"But Geet……"
"Maan Sir they are your friends. Nd wen they'll come to know that I am not your wife but your employee with whom you had been spotted at Ice cream parlor then they'll ask thousand questions to you which you have to answer to them. Nd I don't want you to feel embarrass in front of your friends because of me. Therefore we are going in the party." Geet explained each nd every thing to Maan calmly while Maan was just speechless. He still didn't understand from wat this girl is made up of that she always use to think about others first before herself. But that doesn't mean that he'll become selfish enough to take advantage of this quality of hers.
"Geet you don't have to worry about that. They are my friends nd I am sure they'll understand me. You don't worry I'll handle everything. I don't want you to feel uncomfortable because of me." Maan said nd now it was tym for Geet to be speechless. She just looked at him in awe seeing how much he cares about her feelings wen she was just his mere employee. If he wants then he could take her with him to his friends' party much to her denial but he didn't infact he was ready to answer all his friends' questions just because he don't want her to feel uncomfortable. But she can't let him face all this alone. If they both are stuck up in this situation together then they both will face it together.
"I am fine Maan sir. I don't have any problem. We both are stuck up in this situation together so we both will face it together only. Nd wen I say that I'll go with you in the party den I mean it. So now I won't back off from this." Geet said determiningly nd Maan don't have anything else to say now seeing her determination
"Are you sure Geet?" Maan asked yet again hoping that she would change her answer.
"Yes Sir. I am sure." Geet said nd Maan sighed in defeat.
"Fine if you are insisting this much den we'll go. But there is whole 1 week in that so let's not think about it much now. Ok." Maan said while smiling warmly to which Geet just smiled in return
"Maan Sir its really getting late now. I think we should leave now." Geet said after a while nd Maan looked at his watch only to realize that Geet is right.
Though Seher don't want to go now as she still have to explore many other flavors of Ice cream but seeing Geet's stern glare she just made a pout nd reluctantly gets up from her seat. Maan saw his princess's sad face nd slowly whispered in her ears that they'll come again making Seher smile brightly. Maan paid the bill much to Geet's reluctance as she don't want to take advantage of Maan's kindness but Maan was no where to listen so finally Geet stopped protesting. After paying the bill all 3 of them gets seated in the car nd started their journey towards Geet's home.
**************************************************************
After whole 25 mins of driving they reached Geet's home nd by the tym they reached Geet's home nd by the tym thy reach the weather had already started changing nd it seems that it'll rain today. Luckily they had reached to Geet's home by then so there's nothing to worry for that now. Geet immediately got down the car as soon as they reached home but wen she turned to shut the door she saw that Seher was still sitting inside with a grumpy face. She just rolled over her eyes at her daughter antics while Maan just chuckled. He gestured Geet to be calm while he'll deal with her.
"Hey Princess. Your home is here. Don't you wanna go home?" Maan asked in a hush voice to which Seher just twisted her lips
"No I don't want to go home. I want to eat more ice creams nd mumma didn't let me have that also. Nd you also haven't said anything to Mumma. Isiliye main aap dono se Kattii hoon." Seher said with a pouted face while Maan just looked helplessly at Geet.
"Hey Princess. Don't get angry Na. See you nd your mumma were getting late Na nd you had to complete your homework also thatsy we came back from there. Nd Don't you believe your boyfriend? Someday we both will go nd eat ice creams alone. Nd then there will be no one to stop you. Promise." Maan said last sentence in a hush voice nd Seher instantly smiled brightly
"Pakka Plomishe?" Seher asked while knotting her brows
"Pakka Promise. Babaji ki Kasam." Maan said while pinching his throat in order to make Seher believe on his words nd it did work as Seher instantly leaned towards him nd kissed him on his cheeks affectionally.
"I Love you Mishter Khulana." Seher said while kissing his cheeks nd Maan just returned the favour by kissing her back.
Geet was watching all this from outside the car. Though she didn't understand wat they were talking about as the glass of the window was up but seeing their gestured she realized that Maan nd Seher are very much comfortable with each other. Though she still didn't understand how but whatever was happening she felt like was happening for good. A smile crept on her lips nd a lone tear escaped from her eyes seeing her daughter this much happy. This is what she want from her lyf that her daughter always remains happy nd keep smiling unlike her just like she's today. She silently thanked Maan from her heart for making her daughter this much happy nd prayed to god to bless this Man with all the happiness of this world. Her trance has been broken wen she heard the opening of the door nd Seher coming put from the car. Geet picked her up in her arms nd leaned towards the window to talk to Maan.
"Thank you for dropping us nd thank you for the ice creams too. But now I think you should also head for your home as it may rain anytime." Geet said while looking at the sky which had already started changing its color
"You don't have to thank me for that Geet. I just did what I felt right. I'll take your leave now. See you in the office tomorrow. Bye Seher." Maan said as he start his car nd Seher waved him bye excitedly before getting down from Geet's arms nd running towards her house. Maan just smiled at her childishness nd drove off waving bye to Geet.
Geet just stood dere for a while looking at his retreating figure nd then turned to go towards the direction where Seher has ran away. But before she could reach the door small droplets of water had started dropping from the sky nd soon it started raining. She literally ran away towards the door to get inside before it rained heavily but it seems that her daughter had some other plans as she ran outside in the garden playing in the rain.
"Seher, Seher come inside. U'll fall ill." Geet called her put from door but Seher was in no mood to listen.
"Mumma let me play in the water for sometym. You also come Na. it'll be fun." Seher said still playing in the rain. Geet just shaked her head nd rush towards her daughter to take her inside but as soon as the water hits her body she too forgets every other thing.
"Mumma lets dance Na please." Seher said while leaning his head to one side nd Geet just can't refuse it.
And soon she found herself enjoying with Seher dancing nd playing in the rain with her. Sometimes Seher runs nd Geet use to catch her nd sometimes Geet twirled around holding Seher in her arms, tickling her. This was the best tym that they were having with each other with Seher nd Geet laughing nd giggling. But unknown to both of them a pair of eyes were watching them from far. It was Maan who had returned back to get a glimpse of Geet nd Seher before going home but sight that he saw was not less then a treat to his eyes.
First he saw Seher playing nd den soon he saw Geet joining too nd they both were having good tym. Maan smiled seeing both of them this much happy nd he literally wanted to run nd join them in their happiness but to his luck he cant do that except looking them from far. So he just stood dere looking both of his angels enjoying in the rain. He didn't care that he himself was getting drenched in the rain which was something that he never done before but at that moment he just wanted to capture this moment in his heart nd soul as it was the best moment of his lyf.
His gaze falls on Geet who was laughing nd giggling with Seher while getting drenched in rain. And this is wen he realized that Geet was never this much happy before until nd unless she was with Seher. Her musical Laughter mingled with Seher was just adding more beauty in the serene environment while he just stood over dere mesmerized at her simplicity. After whole 30 mins he finally made his way towards his car wen he saw Seher nd Geet getting inside. He looked toward the door until they both get disappeared from his eyes nd moves towards his car. But instead of getting inside he just stood over dere getting drenched in rain.
Maan spread his arms nd tilted his face upwards while closing his eyes towards the sky letting the water drops falling on his face drenching his body. He never felt in this much peace as he was feeling now. all the flashes of Geet nd Seher started playing in front of his eyes. he remembers the day wen he saw Geet for the first tym, how they use to work together, how she use to change his every wrong decision nd Den he remembered wen he met Seher nd how his lyf started changing for good. He remembers all the events of today's evening nd a smile crept on his face wen he realized how Edward misunderstand them as a couple
"I Love You Geet! I Love you." Maan whispered slowly after a while nd a sense of satisfaction nd contentment made his place in his heart as the realization drawn upon him. The feeling which he was trying to figure out from all this while was nothing but Love nd as the realization dawn upon him he felt whole world more beautiful nd perfect.
Maan opened his eyes nd smiled feeling contended. The realization itself was soothing to his heart nd it felt so perfect to him. He felt like that he finally got what was missing from his lyf nd his lyf is now perfect. He looked towards Geet's house in hope to get a glimpse of Geet nd Seher but to his luck they were already inside the house. He smiled shaking his head nd gets in his car nd headed towards his home feeling like the happiest person of this earth.
Precap:
Most awaited... Geet's past

Phew! So dis is it guys... hope you all are going to like this part... sorry for the delay... hope i make it up with this part... Hit the like button button if you all like this part nd do leave ur Comment/criticism... its necessary
Will update "Destined To be" nd others Ff too... hopefully this week itself... pls bear with my delay...
See you all Page 130
... Till den Keep commenting...
Luv Aakriti