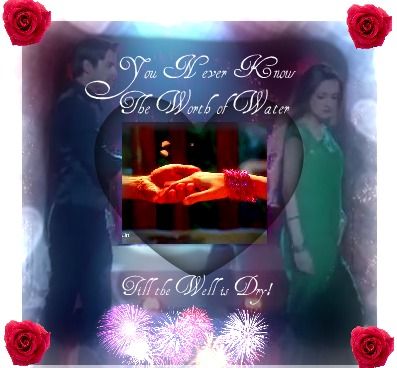 Chapter 13:
"Khushi, I need you to check and make sure these designs are exactly how you want them!"
"Sure sir!"
A beautiful woman knocked on the glass cabin door.
"No way! After so many years! Alisha Mehta!"
"Arnav Singh Raizada! You're the owner of AR?"
"Yes I am! But what are you doing here?"
"I'm in desperate need of a dress for my best friends' wedding!"
"I can totally help, and might I say, you have really maintained yourself in the last 15 years!"
'Maintained herself? She's so ugly! I look better than her and he's never complemented me even when I was Khushi!'
"You don't look bad yourself!"
'What the! How dare she try and hit on my husband and Arnav, just look at him, he's getting over friendly!'
"I remember our first date!"
'Date? That means ex-girlfriend! How come I never heard of this Alisha Mehta!'
"What a disaster right?"
"Completely! I almost forgot!" 'Finally, he is going to introduce me!' "Let me get to designing or we will be here all night discussing our past!"
"Thanks!"
"Khushi, can you please get some coffee?" 'Ab meri yaad aye!?' (Now he remembered me?)
"Sure sir! Would you like something ma'am?"
"Black coffee no sugar!"
"Two black coffees no sugar, anything else."
"No, Khushi that'll be enough."
"Two black coffees no sugar, anything else."
'How did Harshita know I like black coffee with no sugar? Maybe, she's remembering her life as Khushi! So maybe she really is my Khushi! Khushi, I miss you! I love you and I just want to tell you once how much you mean to me! Please, Harshita if your my Khushi I want you to get your memory back!'
*****
Harshita began having flashbacks of the time she left Arnav.
'Khushi, tomorrow is August 14 but I want to tell you how I feel about you before you leave because I don't want you to leave!'
'Arnav, I will leave tomorrow, but before I do, I want to tell you I love you.'
*****
6:30 a.m.
"Arnavji, aaj ke baad yeh Khushi aap ki khushi ke raste mein nahi aayege." (Arnavji, after today this Khushi won't get in the way of your khushi (happiness)) Khushi whispered as she sat on her side of the bed looking at Arnav lovingly. As she was talking, tears were falling from her eyes.
"I want you to be happy and if your happy being away from me then I promise after today you won't see Khushi Kumari Gupta Si- -, nahi sirf Khushi Kumari Gupta (no only Khushi Kumari Gupta) ever again. Arnav, before I leave I must confess that I fell in love with you the day I looked into those beautiful chocolate brown eyes. I love you and I can do anything for your happiness, I can even die if I have to. I hope that you marry someone who loves you for who you are, not for your money! Maybe, I might comeback one day just to check on you, to see if you're happy, just to see if you have moved on. Oh, and don't worry about our baby," Khushi put a hand on her stomach. "I will give it the best upbringing ever. I will make you proud to have a child like it. It's time for me to go, but if you ever loved me even a little bit, forgive me for the unknown mistake I made!
*****
"Aaj ki taza khabar Delhi se Lucknow jane wali flight AI154 has crashed aur hum apko dika rahe hai apko viman ki halat." (Today's fresh news, flight AI154 from Delhi to Lucknow has crashed and we are showing the state of the flight.) All passengers are either severely wounded or dead. We have gathered that 56 passengers have died and 23 are wounded. As you can see the flight has completely burned, the landing wheels have broken and the worst part is it has crashed at its destination. Right on the runway!"
"Harshu, isn't this the flight you told Anjali you took?"
"It is. That means they think I'm dead. Oh God! Arnav must be crying so much!"
"Why would he cry?"
"Sarita, I know he hated me, but I don't think he wanted me to die!"
"You're probably right. Do you want me to call them?"
"Really! Tell them I'm safe and alive?"
"No we can't risk them finding you! We'll just make blank call so you know how Arnav is."
"It's better than nothing."
*****
"Sir, you're coffee anything else?"
"No, but Khushi can you leave us alone for a little bit." 'Alone with this witch? No way!'
"Sure sir."
"Thanks."
*****
'Arnav Singh Raizada! Do you really think I'm going to leave you alone with that . . . that . . . ugh! No way! I may have changed a lot, but I'm still as possessive as Khushi once was!'
Harshita/Khushi began eavesdropping on Alisha and Arnav conversation.
"Must say you're PA makes good coffee."
"Alisha, she's not my PA."
"Well I don't care who she is. I was thinking that you and I hit the clubs tonight, for old time's sake?"
"I don't know I have a lot of workload."
"Arnav, don't tell me you've become a complete workaholic!" Alisha made her way over to Arnav and traced his jawline.
'Uss kutti ki itni himat!' (That dog's courage!) 'Alisha, now it's personal!'
She was just about to take a step but a voice in her mind stopped her. 'No Harshita! You're not KKGSR anymore. You're Harshita Malik!'
*****
"Alisha, look I'm married and that girl, Khushi, is my wife."
"Oh, I'm sorry I had no clue."
"It's okay!"
"She's beautiful! Just your type too! Modern, educated, and mature."
*****
"AR to here is only 25 rupees! How can you ask for 30? I won't give you a paisa more than 25! Bloody thieves! I used travel this road 10 years ago and it was 25 then. Even this morning on my way to work was 25!"
"Madam aap 5 rupee ki liye jig-jig kar rahe hai?" (Madam, you're arguing for 5 rupees?)
"Kitna khoon pasina behta hai 5 rupee kamane mein!" (We work so hard to earn 5 rupees!)
"Theek hai (okay) madam here are your five rupees!"
*****
"Arnav, I need to know how long this is going to last!"
"Miss.Malik this recovery requires patience."
"It's Mrs.Malik! The guy that's staying here is my husband!"
"Okay whatever."
"I'm going to take a shower."
"Speaking of her father, you've never really told me about your husband or boyfriend or whatever he was to you."
"My husband. . ." "He works out of country; he's also a fashion tycoon."
"Oh, well I don't know any fashion tycoon with the last name of Malik."
"Like I said he works out of country." A tear fell down her eyes as she ran into the bathroom. "And we are divorced!"
'Why does Harshita constantly want me to call her Mrs.Malik if she's divorced? And why is that guy here? I have to reach the roots of this! Arnav start planning a way to get to the roots of this. What if I continue this effort to make her jealous?'
*****
"Khushi, I am going clubbing with Alisha!"
'Clubbing with that dog?' "Can I come?"
"I guess, but no alcohol!"
"Fine! I'll just change."
"Hurry up and wear something decent!"
Khushi changed into: http://www.simplydresses.com/shop/viewitem-PD921205
Buddy for PMs! Please comment and like! Also, there isn't really a jealousy track coming. I have a huge twist in the upcoming parts that will tie up the story! Since CVs like leaving loopholes open, the loopholes in this FF may also have loopholes that are left open from Arnav and Khushi and maybe the other Raizada members including Arshi!


Edited by Mahi1219 - 23 October 2012 at 5:32pm