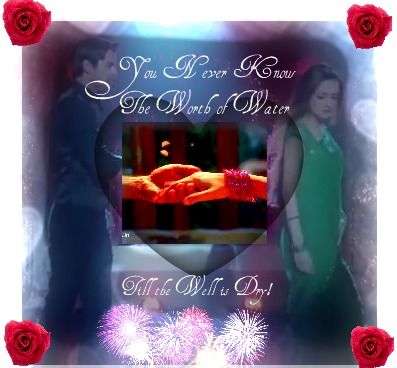 Chapter 11:
"What the!"
"What? What happened?" she began looking around to see what caused his shocked expression.
"What are you wearing?"
"Oh this? It's a dress by Bee Darlin!"
http://www.simplydresses.com/shop/viewitem-PD938619
"Khushi, I own a fashion house! I'm one of the biggest names in fashion! I know exactly who the dress is by, just by looking at it, I want to know why you are wearing it?"
"I'm going to work!" She responded casually, "Wait. . . you don't expect me to wear those stupid saris or Anarkali dresses to work right?" She looked at him tensed.
'Khushi, can someone really change so much in ten years? Especially someone like you, who was rooted in principles?'
"Look, just wrap a sari around to cover you because if the family sees you like that, then they will think I forced you to wear these dresses."
"Iss mein kya naye baat hai? You tried forcing me into wearing the blue dress 10 years ago." (What's new about that? You tried forcing me into wearing the blue dress 10 years ago.) 'Khushi apni zaban sambhal kar!' "I mean that's what Di told me!"
She made a quick escape!
*****
At the poolside:
"Khushiji, Can I please talk to you for a minute?" asked Shyam.
"Look Shyamji, it may have been 10 years but I still have no feelings for you! I have never loved you and never will!" She pointed her finger at him yelling at him.
"I know Khushiji, I want to ask you to forgive me. I had a crazy obsession with you but I swear to DM I have changed! I have become a loving husband and father for Ranishahiba and Adi. They are my world and I just let the past be buried with time."
"Shyamji, I am seriously very happy to know you have changed! I can't ask for anything else! That's just great." She took her hand up as if to hug him but instead gave him a handshake.
*****
"Hi, My name's Har- - Khushi Singh Raizada. This is my daughter Arshi, Arshi Singh Raizada."
"Welcome! Are you here for the enrollment interview?"
"Yes."
"Well we need to know a few personal things about your child, such as the father's name, you occupations, your household income etcetera etcetera."
"Well, my husband, her father's name is Arnav Singh Raizada- -"
"THE Arnav Singh Raizada?"
"Yes, and as I was saying our occupations involves the fashion industry, our income is varied, anything else?"
"Her birthdate?"
"April 15."
"Age?"
"10!"
"Any medical conditions?"
"Type 1 diabetes."
"Any medications?"
"Insulin. She has a fixed time for taking it."
"Any sports or talents?"
"She plays soccer and tennis. She can sing, dance, act, draw and design, and she is amazing writer."
"I must say, your daughter is very talented."
"She is but she gets angry very fast, she has an attitude, she is stubborn, and she must win at all costs!"
"Seems you daughter is much like her father."
"How do you know my husband?"
" I know his Nani; my sister is her caretaker."
"Oh. ."
"Well, we would like to know about your daughter and her grade level. She will have to take an online test, which she can do here, and we will compare her grade to her grade level grade."
"Okay."
"Can you bring your daughter in here?"
"One second." Harshita walked out the waiting room where Arshi was waiting.
"Arshi, they want you to take an online test."
They walked back into the principal's office.
"The test will take about 2 hours so if you want you can wait or if you have to do something you can leave."
"Arshi, sweetie, I actually have to go to work. Do you think you can take care of yourself?"
"Yes Mom. I'll be fine and I have my cellphone so I will call you if something goes wrong."
"Good! Don't forget to call me when the test is over so I can come pick you up!"
"Alright mom, see you later!"
"Bye." She walked out of the school and took the car to AR.
*****
"Aman, I need you to cancel my meetings for today."
"But sir, you have a meeting with the Smith's from America."
"I know, but I have to take Khushi to meet her parents."
"Sir, you know that she isn't Khushi! Khushi ma'am would never wear the clothes she wears, or do the things she does. Not to mention, she's a FASHION DESIGNER from Mumbai!"
"Are you insulting your boss's wife?"
"No, but sir it does seem a bit off to me!"
"She could've gone to college! It's been ten years for god's sake!"
"She has a daughter and you know Khushi ma'am wasn't pregnant when she left you!"
"Arnavji, do you know what tomorrow is?"
"The 14th?" his face buried in a file.
"Well yes, but do you know what's significant about tomorrow?"
"Dammit! I almost forgot! Thanks for reminding me! I have a meeting and then Di's appointment is tomorrow too!"
"That's it? Aren't you forgetting something realated to. . ." She spoke so softly and sadly Arnav couldn't hear her and he stormed out!
"She wasn't but maybe she was? I mean she always felt sick, after the fifth month of the contract at the lodge when we. . ."
"Well sir, she might have been pregnant."
"But my Khushi would tell me if she was ever pregnant!"
"She wasn't your Khushi sir, you lost her the day you accused her of such a disgusting act!"
"I KNOW!" He burst out. "JUST GO AWAY! I NEED SOME SPACE TO THINK!"
"Yes sir."
*****
"Miss.Malik! You're late!"
"First of all, it's Mrs.Malik and secondly, I have a half day!"
"Whatever, just show me some of your designs for the next season!"
"Yes sir."
*****
"Sarita, I need to tell you something." Khushi had called her to tell Sarita where she was.
"Are you okay? How is Dubai?"
"Um about that, I'm not in Dubai. I'm in Delhi, with Arnav."
"WHAT! Wait, Are you happy?"
"Yeah!"
"Good, Khushi as long as you're happy, Dhruv and I are happy!"
"Thanks Sarita, you're so sweet but I'm only here till Nani is better." Khushi told Sarita everything.
"Alright, but what do you need help with?"
"I need to convince Arnav I'm married and my husband is someone else."
"How?"
"Do you remember Abhimanyu?"
"The guy that was madly in love with you when you went to college?"
"Yeah! He said he owed me a favor."
"For what?"
"Long story. Anyway, I want you to ask him to pretend to be my husband for a little while but only infront of Arnav."
"It might take some time to find him though."
"It's okay. Take your time! Just find him and tell him if he wants I'll pay him!"
"Alright but Khushi I have to go. I'm going to the hospital to surprise Dhruv!"
"Oh, I forgot it's his birthday! Sarita did you guys do something special?"
"Well we. . ."
"Never mind, I don't want to get in between husband and wife so I'll just leave you alone. I bet you're blushing red right now!"
"Khushi! ASR has really influenced you huh?"
"Sarita, tum jante ho ki mujhe un cheezeon ki baari mein baat karna acha nahi lagta!" (Sarita you know I don't like talking about those things!)
"I'm sorry Harshu!"
"It's okay, anyway see you later!"
"Bye."
Buddy for PMs! I will be wrapping this up soon unless I get 250 likes! I PM about 335 people! It shouldn't be that hard! PLEASE! I'M BEGGING!


Edited by Mahi1219 - 08 October 2012 at 5:28pm