Movie Reviews : Rajapattai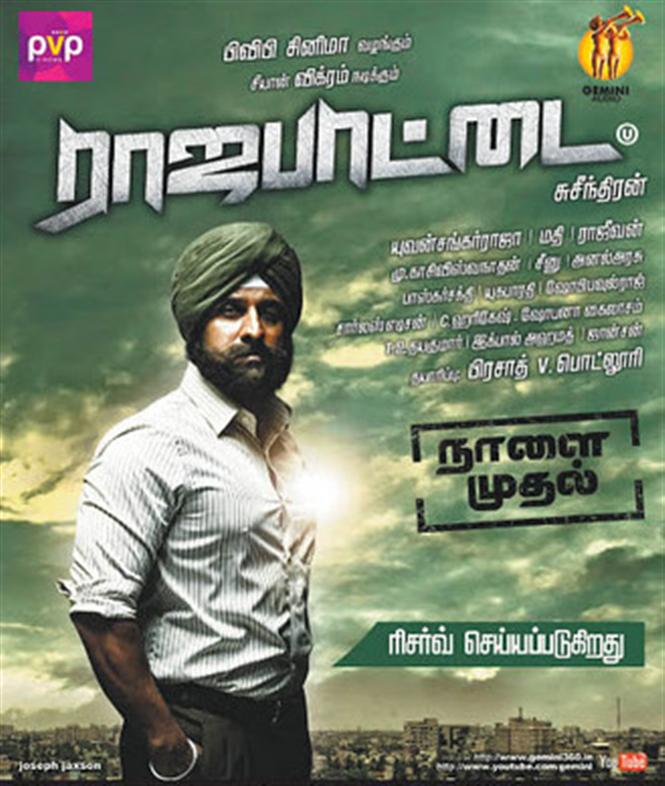 The versatile star, after doing tough and varied roles is back as an action hero that is in line with 'Saamy', 'Dhil' and 'Dhool'! And, 'Rajapattai' is a super-action film that again proves Vikram is one of those few inimitable stars in Indian cinema. 'Rajapattai' tells the story of a Gym instructor & Stunt man, who aspire to become a big villain in films. But, destiny has something else for him Tamil movie review - Rajapattai
Story
Anal Murugan (Vikram) takes on the 'Dadas' who grab lands from innocent people. Pradeep Rawat is the baddie. Vikram also has a beautiful relationship with K Viswanath. Deeksha Seth, an IT girl plays the love interest of Anal Murugan.
Vikram, is one of the most anticipated Tamil films of the year. Vikram has come out with yet another powerful performance, this time as a super-action hero. Deeksha Seth, the leading lady is cute and attractive and also a performer. 'Rajapattai' has given a nice opening for her in Kollywood. She will definitely make a big round here. K Viswanath's performance is worth mentioning.
Performance
Pradeep Rawat, who played a stunning role in A R Murugadoss' 'Ghajini' has again showed the same hard core villain face here in 'Rajapattai'. Mithra Kurien, who played a vital role in Vijay's 'Kavalan' has delivered a neat performance. Thambi Ramaiah and Mayilsami have done other prominent roles proving their acting talents. This is yet another action-family drama of Suseendran.The director has taken the support of Seenu Vasan in writing the story and Bhaskar Sakthi for doing the dialogues. The script has enough action, comedy, sentiments and romance, and fulfills a wholesome 'Mass Masala' entertainment! Suseendran has included many novel features in the film including Vikram's 10 different getups that we never have seen in any of the films.
Technicalities
Yuvan Shankar Raja is scoring the music. Songs and the visuals are heart-warming. The song 'Laddu Laddu Rendu Laddu'' featuring top heroines Shriya Saran and Reema Sen is one of the highlights of the film. The locations (Italy) capture our eyes. Thanks to the camera work of R. Madhi. Mu. Kasi Viswanathan has taken care of the editing department. SP Creations Ramesh actually started the production but due to financial constraints he handed over the production and the film to PVP Cinemas of Prasad V Potluri.
Verdict : Rajapattai sure can be declared a pure 'action-drama' entertainer that can be watched with the whole family!

Mark 3/5

Source : Super Good Movies





Edited by Ravi. - 25 December 2011 at 11:16pm