Thanks to all of u for making it a success,, if u guys were not there I couldn't complete till now also' love u all'.. muaahhhzzz
Kagaz ki Kashti Luv that Sacrifices Life
Part 13
Arjun: its true maan,, she is dying every moment'. She doesn't have much time only 1yr'. but that is not guaranteed,, if mental trauma is bigger then she can,,,,
Maan hold his collar: nothing will happen to her'. Maan apni Geet ko kuch nahi hone dega,, I won't let anyone even God to touch her'. she can't leave me'. She can't''
Some truth is hard to bear, it good when u didn't have to see them for ur love ones,, I wish it doesn't happen with anyone'.
Maan: is there any way to,,,, ajrun understood his meaning so he poke immediately,,
Arjun: we have to operate her,,, as her blood is rare kind of its not easy to find a donor, and if we find that, its not guaranteed that geet's body will accept that' maan closed his eyes and sat on the bed, few tears dropped on his knees,, arjun was having the feeling that its not geet only who is falling its maan also who is falling for her'. he placed his hand on maan's shoulder'
Arjun: I said her before also if she had started her treatment we atleast get the chance to do anything with surgery'. When she was with dadima, then dadima also tried to convince her,,, maan looked at arjun in confusion..
Maan: dadima? Did she knew it?
Arjun: yeah,, why?? Don't u know that?? Maan anger was boiling then,,, look maan geet was having the problem from her childhood but like in some cases they didn't get to know that,,, geet have been in dark about her health for some 22yrs'. She just came 2 n a half month before and I meet her again,, I had return from US after completing my medical,, and then I saw her report in that hospital'. She was so happy then,, like a full of life,, I knew her from childhood,, she only knows how to spreads love' and that day I saw the broken geet' she have been facing some problem in her health but she didn't give any importance to herself' its then I saw her report that she have done under my friend's advise' and he gave me the report to special check' when I found that, I was shatter myself' then don't know what happen she become numb,,, I said we can have a transplant but she knew it has only few chance'
Maan: when u met dadima with her?
Arjun: she came to my hospital for her health and then accidently we met,, then geet too came there and in this hustle bustle they met,, I saw that they knew each other from before,, dadima enjoyed her company,, when she came to know the truth she has cried her heart out but geet took care of her,, she tried to sooth her.. I saw a new strong geet, like she has accepted her fate, and no cry will make any effort.. I din't knew what had happen next,, geet just detach herself after her last talk with me'
Maan looked at him curiously'
Arjun: the surgery is very high, but it doesn't have an assurance that she will be alive,,, arjun voice choked a little,,, and then this is really very costly operation,, so we need lots of money, she came from a middle class background,, and she doesn't wanted to put burden on her father's shoulder'.. I said I can manage the amount,, but she is a self respected and self made person,, how can she agreed for this help,, though I m her closet frnd but she didn't take any kind of help,, she always said, she can die one death rather than seeing her self-respect dying thousands death'.
Maan remembered his each accusation,, offering money umpteenth time,, he dipped his head in low' very deep heartedly he asked: what chances she have,,, he mumbled but couldn't complete the sentence,,,
Arjun sighed: as a doctor I shouldn't hide anything,,, she have only 10%of chances,, and that too if we quicken the transplant' maan hide his face in his palm,, arjun patted his back, but atleast we have hope' maan nodded his head,, but maan doesn't u know this before? Then why this baby? Maan looked at him painfully
Maan: I didn't knew it arjun,,, mujhse kuch nahi pata tha'.
Arjun: but dadima,,, why she didn't tell this?
Maan was furious,,, he have to talk to her, why she have lied to him, why she gets ready for this marriage,, and moreover why geet was ready for this? arjun stood up to leave but before that he gave his last few words'
Arjun: maan come to my clinic tomorrow,, we have to discuss a lot of thing about this baby,,, and her health,, if u want her alive,, maan instantly look forward'
Maan: I'll,,, I can never imagine my life without her,, arjun was satisfied to see the same love in his eyes,, now he is not so worried for her as he knew maan can protect her' he took his leave'..
**********************************
Maan walked straightly to dadima's room'. Where she was selecting some jewelry for geet,,
Maan: aapko sab pata tha? He asked sternly'
Dadima: what r u talking about maan'..
Maan: dadima,, geet has a hole in her heart,a nd u knew it before'. He said and its look like a statement rather than a question'.
Dadima become worried to see her grandson's fury eyes,, she sighed and sat on the bed'
Dadima: I m sorry maan,, I , I knew it' maan paced in the room,, doesn't wanted to believe this,, his dadima can never do this'
Maan: why???? Kyun kiya apne aisa? Why did u brought her in my life?
Dadima: maan, she whimper,,,, maan when I get to know about her disease, I tried to convince her for her treatment but she doesn't agreed me,, she had became a part of my life, I knew her,, she was an angel who can make a hell to a living heaven' I I was being self fish,, but trust I wanted best for her' that time I talked to samaira's father and he doesn't agreed for ur marriage with her, as ur kundali is powerful that the 1st wife will die in 1yr,, I can't see ur sorrow,,, I wanted to give u every happiness' then I thought if I get u to married to geet,, ur kundali problem will be solve and that was I can have geet always in front of me,, I can convince her to start her therapy,, trust me I always loved geet like my own child, she is a part of my heart, secretly I wanted her to be get better and always be with u, I knew no girl can love u more than her, she is a very sensible girl'. I asked her to marry u but she refused, she knew u love someone else,, and she doesn't wanted to hurt anyone, but then sam get to know everything,, she tried her crocodile tears to save her life,, and eventually geet has agreed for this marriage'. Believe me maan I always knew nothing will happen to geet, if I brought her here I can take care of her and give her everything,,, she can treat her disease, I could convince her' but
Maan: why dadima,, why u did this?? He said sinking down in tears,, I destroyed her life only cause of my misconception about her,, why didn't u tell me all this? why?
Dadima: I knew u would never approve this marriage,, that's why,,,
Maan: I have no rights to accuse u dadima when I myself at in fault,, I took her minimal chances of survival,, this baby will harm her life,,, I don't know what should I do,,,his self was so high that at this stage he can't imagine to blame anyone or anything,, as he is at fault with the utmost share.. he sat on his knees blanky,, tears seems to stop at her eyes in hatred..
Dadima: I m sorry maan,, I was being selfish,,,, i never thought th ethings can go this way,,, after ur marriage I took her to the doctors but he gave her option of the transplant,
Maan: why she didn't treat herself in these months?
Dadima: as doctors said if we arranged the operation right then she can be alive or can dead in operation theater,, this kind of operation can't give her surety,, I remember her face was blank,, it was some days after ur trip to London,,, and then when she came home she saw a heated argument of abhinash and dev,,, she became petrified to see that as she never get to see such kind of things,, abhi and dev instantly shut their arguments to see geet,, she knew only she can hold this family and she need time for us'. And then she refused to operate right then and after we get to know she is pregnant she stopped to visit arjun'
Maan: it was my fault,, this child wil take her life,, main kya karu dadima ,,, both side lost will be mine,, I can't lose them,, one side my unborn baby whom I love with my life and one side geet without whom I can't live a sec,,, dadima looked at him teary and cupped his face..
Dadima: do u love her?? maan looked at her blankly,,, bolo maan do u love geet?
Maan: yes whisper only came out form his mouth,,, I love her dadima,,, realization sank in him'. dadima smiled through her tears,, she always wanted to hear this,,, but reality sank in him,, but I snatches he happiness dadima,, her everything,, she hates me,,, only hate that I deserves,,, she hugged him to sooth his pain, but nothing can rectify now,, only remorse can erase the guilt from him,,, or maybe geet'and she knew his grandson wil anything to protect his love from everyone, even for god..
**********************************
Man enter his room and saw geet was sitting in front of the big glass window,, she was staring the sky,, the view is quite beautiful and peaceful from their room'. He saw her engrossed in thoughts,, without any words he sat beside her' geet felt someone and turn to see maan's piercing gaze,, she can only see sorrow and deep guilt' she knew he is sad.. she looked at him to find the reason for the distress but only some tears she witness,, she became worried for him but he turn his gaze to the window'.
Geet: what happen? They talked now a days but that was never initiate by geet,, this is the 1st time she wanted to talk to him'. he shook his head as nothing' but she knew something is bothering him,,
They sat there like several mins,, and then geet asked him again'
Geet: maan,,, he closed his eyes,, this name that sounds so perfect only on her lips, he wanted to hear it for so many time but she had never called him this way'. I can see u r in deep thought,, anything bothering u?
Maan felt he can choked in emotion' he just hugged her in a fraction of second,, geet became stiff,,, but she didn't understand what had happen to him suddenly,, his tears were flooded but that can't reach her as he wiped the before,, he was feeling her in his arms, that's felt so complete, where geet was not sure how to react,,, his touch reminds her his brutal act but now he needs her,, she can't deny that,, she place her hand on his back,,, patting and caressing slowly'. To get her touch he can't take it anymore,, his tears touched her shoulder wetting that,,, she realize that easily and brought him to face her'
Geet: maan,, what happen she was in panic,,, he saw the concern she holds for him' she cupped his face,,,and ask with her eyes'
Maan: I m sorry'.She knew he is saying sorry for any other reason,, there is something new that is paining him a lot'. I m sorry geet,, can u forgive me ever?? Geet felt her cheeks got wet'..
Geet: maan why,,
Maan: sshhh geet,,, I know u can never forgive me,, I don't deserves u' but please,,, don't leave me'' don't leave me alone'..
Geet felt her heart will stop right then,,, she hugged him tight'. They stayed like that for long,,, geet was not sure why he is talking something like this but she knew she have to remove his pain,, she can't see her maan like this,, she wanted him to be happy when she will go away from them.. no words can sooth the unsaid unbearable pain' and they don't even need words to shape their emotion, guilt, remorse..
Maan broke the hugged and cupped her face: u will never leave me na? geet don't know what to say, she can't lie, she have to leave him and this world' but to see a little hope in his eyes she can't deny him' she smiled and shook her head in no'.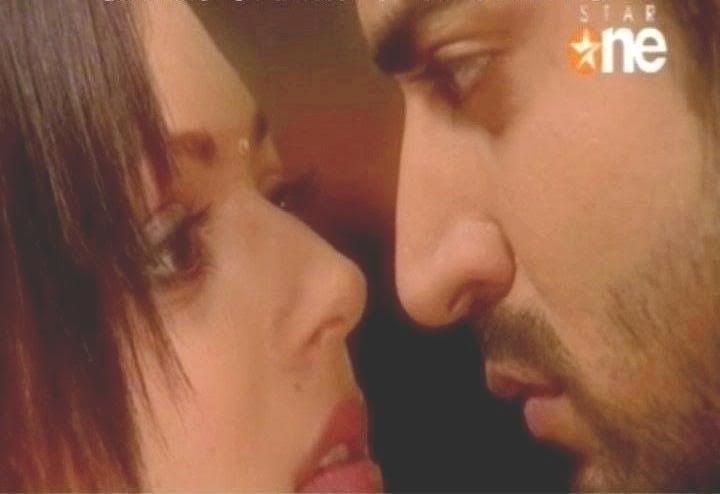 Maan kissed her forehead,, and then her tears away,,, geet closed her eyes, and feels the sweet breath on her face, taking her all pain away with it' he was so much in emotional turmoil that he forgot everything around them,, he just wanted of feel her present' he kissed her eyes and then nose,, her rosy pinky cheeks invited him,, he can resist to touch them with his lips'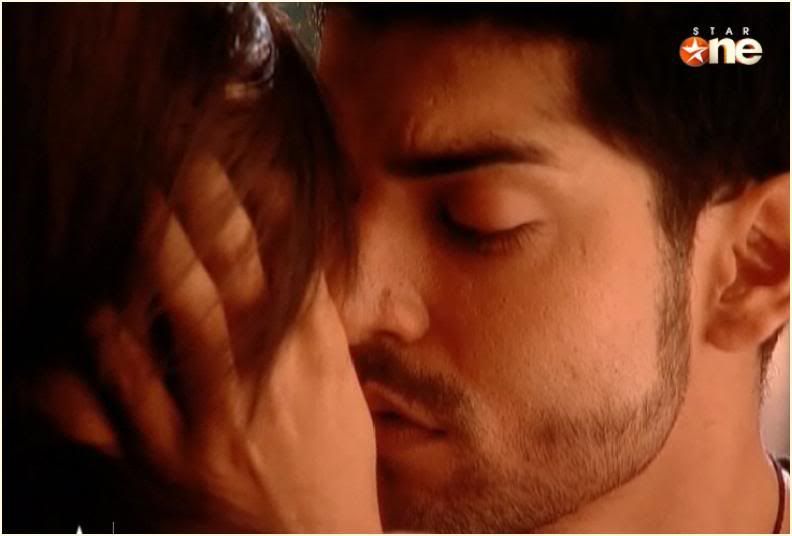 he kisses there one by one, licking the rolling tear,,, she breath heavily, when he came to her lips,, she clutches his shirt'. His wet lips was giving her chill to her spine'. He looked at her face and eyes but that was tightly close and she was breathing heavy,, he caresses her lips with his thumbs and that replace by his soft M shape lips,,, he gave a peak on her lips,, just touching it with his,,, slowly licking it,, he sucks her both lips ever so gently''
Precap: her denial or fear?
Maan making plans to feels her happy''
Okk finished this is quite long I guess so I can take another day off???
Please tell me how its going on?? Sorry for all the mistakes,, there are many, I m mistake queen'.
New reader and who want to get pm please add me in ur buddy list,, u don't have to ask me, just add me,, I'll accept that in no time'.
Part 14
new readers if u want to get pm please add me in ur buddy list...thank u so much for ur love guys,,, never thought i could write this kind of story but u guys gave the strength ,,,,,
here is my another ff's link, but warning it entirely base on hindi diolouges and i can't translate it now... as i have writing that on fb for quite a long...
SIRF MERE LIYE
here is my FB page,, u can it to get update news,, and my other works,,
Tich's Maaneet Fictions
i m in FB also
Tich mg


Edited by tich.1990mg - 22 January 2012 at 4:40am