Kagaz ki Kashti Luv that Sacrifices Life
Part 12
Doc: don't worry both are safe now,, mother and babyboth are healthy so I m hoping there will be no difficulty'. All the member was over joyed with the news' but maan sat at the corner silently' no one notice his blank face'. Nt annie straightly goes to meet her,, dadima get a seat beside maan and patted her shoulder,, maan without thinking hugged her'. dadima was shocked to see maan like this'.
Dadima: kya huya maan bte? Why u r looking so upset?
Maan: dadi wo main' sorry' dadima looked at him confused'
Dadima: why sorry maan,, isn't it a good news, maan couldn't see meet her eyes, he felt more guilty to see her sparkling eyes'.
Abhinash: are maan maa, I heard geet is in hostipal, what happen?
Dadima: abhinash u r becoming grandfather' she smiled delightfully,, but the happiness of abhinash has no bound'
Abhinash: what? sach ma,, ohh maan I m so happy beta' thank u so much for this wonderful happiness,, he said while hugging maan tightly' nikita was not there so she missed the good news but nevertheless abhinash called her and she said she will be waiting for them in the house' ok chalo then, let us see geet'
Annie nt hugged geet who was sitting on the bed in half lying position with a blank face'
Annie: congrats bhabi,,, we are becoming aunts,, m so happy for u'.
Nt: geet how r u feeling,, geet looked at them suppressing her grief.. she nodded her head signaling she is good' dadima abhinash dev and maan enters the room.. her eyes instantly caught his' there was some hidden pan in it'. She break the eyes contact' one by one everyone gathered around her and gave the heartful wishes,, love, and blessing'. But she looks at maan intently,,, trying to read something and same goes to maan,,, dadima observed them for quite a time.. but she couldn't initiate as there are lots of member of the family presents'
They are on the way to back,, doctor has discharged geet,, but she was weak, so now maan is lifting her in his arms while dadima was doing her arti session for the past 15 mins'. But maan didn't utter a single word (bechara kya halat horahi hogi,,) maan led them enter the mansion,, but didn't sit there, he took geet in their room' of-course annie nt and rest of the family accompany them,, the time he place her at the bed everyone just pounce at her'. everyone started their list of advise where geet's eyes were only on maan,, but maan didn't dare to meet her eyes'. Dadima took the pleasure to discard everyone from the room, saying that maaneet need some rest, it was a hectic day for both of them,, its nearly 8 in the night' they have benn in the hospital since morning'. Dadima kissed geet's head and went from the room with others'. There was awkward silence extend the room'. Till the morning geet haven't said anything, neither maan approach, but now, they are alone'. The only sound in the room is their heartbeat and the sorrow-guilt that has no voice'.. geet tried to get up as she wanted to use the washroom and she need to change.. but due to her weakness she stumble on her feet,, maan immediately held her,, she looked at him with confusion written on her face,,, why he is so concern about me, I m seeing this for the past few days,, nothing was making sense to her,, she knew he hate her, though she saw guilt but its not guilt that she is seeing in his eyes nowadays' that fatal day tarnished her trust herself esteemed,, and that only cause of this man' how he tried to erase that moment he just can't,, she has lost her every inch trust' he may be concern for the baby but how can he when he didn't even tried to repents his deed' not even a sorry, least she knew him, that he doesn't need words to imply his true affection,, he was never a man for words,, he is a man for work and showing that with his small attention' but geet can't understand him, neither him, how could they when they never shared any words,, it was always in silence'.
Maan without saying anything help her to go the washroom,, he handle her a pair of her night dress that he have took out from the cupboard and was going to give her but then he saw her stumbling'.
Maan: I m here, u can go,, change,, u'll feel good' she nodded and goes the washroom' and same goes to the return..
Dadima was sleeping peacefully when she felt some water drop on her feet,, she sits right away and switches on the lamp'. And saw the unexpected'.
Dadima: maan ? what r u doing here beta, wo bhi is time pe? But he just broke down and hugged dadima tight,, she got worried, what happen maan.. tell me first'
Maan: I m sorry dadima, I m really sorry'. It was my fault, I m at fault'. It was my mistake' she cupped his face..
Dadima: bte u can't be wrong, please tell me what is bothering u? I have observe something is eating u inside,, what is the matter?
Maan: dadima I ruined her life' I destroyed her happiness.. she lost her smile because of me'. I can't forgive myself and now'
Dadima understood he is talking about geet: sach bataiye maan,, aapne kya kiya? Why u behaving like u have done a great mistake' he felt choked in emotion'
Maan: dadima wo, main'. He couldn't find any word to give the lines,, how can he find that, when this is the most disgusted feeling for a woman, and his dadima is a woman, will she forgive him? he closed his eyes,, dadima the wedding night, the 1st night, I ' I forced her.. dadima's head was spinning, she doesn't know why she was having the feeling from long before..
Dadima: what 'what do u mean, she asked in a shaking voice'.
Maan: sorry dadima,maan was sobbing I was drunk and the anger took the over me, I didn't knew what I was doing, I know right now u must be feeling disgusted but trust me dadima I never wanted to harm her that way' dadima became numb.. his eyes was blurred' sam left me that day,, she said she will never come I was furious on geet'. I thought she snatches my love my happiness,, but I never intended to hurt her that way,, it was just,,
Dadima: ur MALE EGO'. He looked at her with pleading eys but he knew he can never get that' he dipped his head in shame' it was ego that turnished a girl's life'. Kahiye maan,,
Maan: dadima,, but she slapped him hard,, and then another, followed by another, and then she sank down holding his collar.. crying bitterly'
Dadima: kyun kiya apne aisa man, kya kami reh gayi thi hamari parvarish me'. He sat with her in the ground..
Maan: I m sorry'.
Dadima: sorry? Do u think that word is enough for ur act'
Maan: I know dadima.. I can never repent my action, but I want to dadima,, I can't redo that but want to give her what she deserves'. But I lost her..
Dadima: maan, but what made u think that u should give her the rights now? Is that for the baby?
Maan lowered his head: No'.. there was a silence for some second then he said,, I went to London,, not for work, just to meet samaira'. Dadima closed her eyes as she knew what is coming next'. Sorry dadima, I never knew that'. I went to her apartment straightly,, I thought she will beangry on me, for my surprise she was not' she was not angry at all.. she smiled at me, hugged me, console me,, that everthing will be alright,, I was amazed to see her attitude' then I heard her'
Flashback'.
Sam: ohh jaan don't tell me u don't know anything?
Maan: what r u talking about sam?
Sam: maan, look it was not geet's fault that u have to marry her' it was my plan' maan was shocked to hell'.. he jerk her hand that was entangling with him'. maan baby please don't get angry,, I did whatever in my hand, I want our future secure.. that's why I have to do this'.
Maan: why u r playing riddles sam'.
Sam sighed and get up,, maan u don't know one thing about u'. that u are Mangalik' my parents and ur family knew this'. Dadima knew we are in love, so she went to my parent for our marriage, but'..
Maan : BUT WHAT?
Sam: my parents didn't agreed for this alliance as u r mangalik and ur 1st wife have to face danger in her life,, ur family pandit said ur 1st wife would definitely die,,, my parents didn't want that,, how much they believe in modern culture still they believes in traditional matter,, at 1st also I was saved from various accident so it fuel their mind'. Ur kundali is very strong and the pandit u know him may be,, ur dadaji knows him very well,, he never said anything wrong'.. so my father decline this marriage' sam stop for a min to gain some response from maan but when she didn't get any response she continue'. And then dadima said what they can if ur kundali is so powerful, u loves me a lot' then pandit said do whatever but ur 1st wife will die for sure'. I have walked according my parents man, u know I love dad very much'
After a very long pause'
Maan: u loved me also' he was shattered to hear all this'
Sam cupped his face: I do love u maan,, and that's why I did all this only for us'. Dekho if this kundali is really so powerful then whatever will happen will happen to geet.. according to the pandit ji she will die in 1 yr, and then we can marry maan' and if this become false then u can divorce her'.. both the side we will win'. And give some money to that girl if she will alive,, sam smiled cunning but receive a tight slap from maan''
Maan: I doubt are u a girl? what do u think of myself? Do I look like a fashionable dress that u can any time changed it according to ur taste'. I loved u sam'.
Sam: me too' she was holding her cheek and shocked with his behavour'..
Maan: NOOO,,, IF U EVER HAVE LOVED ME U CAN NEVER DONE THIS'' he shout enough to gave shiver to her,, sam knew his temper too well,, he can murder anyone in 2 min and he will never regret that'. She gave fake tears'. But maan shows his finger' DON'T,,, don't show me ur crocodile tears'. U said u love me, if u truly loved me u had come to me with my faults,, and what faults,, u never believed God then why now? This Kundali and Mangalik u know I hate this,,, this rubbish is made by only some hypocrites,, and u choose to believe them over ur love? And u called this ur LOVE??? U don't even know the meaning sam'. He left with that,, sam tried to call him but he didn't listen'..
After that day he learned that his dadima was right'. And for this girl he hurt geet,, who was innocent, actually he should say thanks to her for recognizing sam's true color'..
Flashback ends'.
Maan: and from that day I was repenting my deeds, I never told sorry to geet because I know sorry is nothing compare to my brutal action,, I have to suffer in my own hell,, self hatred, I have to feel the self hatred that I saw in her eyes'. I can't saw her pain dadi,, and now I gave her one more pain,, this baby'. She will never forgive me dadima, I destroyed her all dreams all happiness,, I m a devil dadi,, I m evil, he said while completely breaking down'. Dadima hugged him, how can she leave her favorite child in this remorse'. He cuddles in her like a baby'.. they seated there the whole night like that,, maan placed his head on her lap and slept there where dadima caresses his head whole night, to ease his pain'.
After 3 days'.
Morning'.
Maaneet came down to have their breakfast,, maan help geet to walk properly'. When they came to hall,, both of them are surprised to see the arrangements,,, dadima came to them'
Dadima to geet: bte this pooja is specially for the baby and u,, to both of ur safety'. Geet just bow down to take her blessing but her was not holding any happiness'. Nikita came there, holding one box in her hand' she smiled at geet who was shocked to see that..
Nikita: geet I know our relation is not so strong but what u gave me today I can't repay u because this is the most beautiful give any mother want, nikita was holding her tears back,,, but its slips from there' she looked at maan, I know u never saw me crying or showing my love towards u, that doesn't mean I don't love u'. I love u beta'. And geet.. I never liked u not because u came from middle class background, I din't like the attention my son was giving u, not my son my whole family, u know the woman complex , nikita smiled through her tears,,, where geet's eyes were flooding' na geet don't cry beta,, this time is only for happiness'.. I m sorry,, but I want to start a fresh with u'. geet just hugged her tight crying'. Only one word escaped from her lips..
Geet: Maa''. Nikita patted her head..
Nikita: yes I m ur maa,, I will always love u like ur maa'.. promise'..
They broke the hug and maan hugged his mom' he got his mother atlast'. He thanked geet within, she gave him everything'..
After some more hugs and crying everyone gathered towards the pooja, and havan that was arranged in the middle of the hall, with only their family, no out-sider'
The pooja went well and everyone gathered around geet telling her what to do what not,,, geet was feeling really nostalgic.. her eyes got tears to see the love,, maan noticed that'..
No I can't let this happen,, this family will shatter if they came to know the truth,, I can't destroy their happiness' but what can I do,, its not in my hand'. thought geet' but she gather all courage ,, she have to tell them'. I don't want this baby,, came like a whisper but enough audible,, the hall went numb' everyone saw her in confusion,,,
Geet: I can't,, I don't want this child.. she said little loud, dadima was in tears,, she knew how she is feeling and so was maan,, but to hear this he felt a sharp pain inside his heart'.
Nt: ye kya keh rahi ho geet?
Annie: how can u say this bhabhi' other member were too shock to react,,, geet can't stand there anymore she ran to her room' nikita wanted to talk to her but dadima stopped her,, then she notice maan was going to his room'. She was staring at the sky when maan enters the room'. She knew he is there but didn't turn to see'
he stands beside her'. facing the blue sky'. They stood there for quite a long,, geet couldn't take that and turn to walked away but he held her hand, this is the first time he have done something like this'.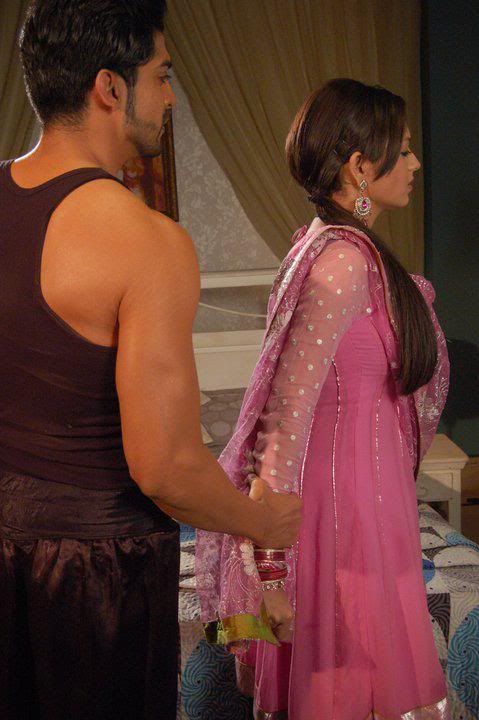 She didn't turn but stop at her track,, he comes close to her and then turn her to see her teary face'.
Maan: geet,,, she looked at his eyes, the pain was visible in that,, I don't know what to say,,, how to tell u my inner feeling, I didn't find any words for it'. But today I m ready to except any wrath of urs'. She looks at him..
Geet: it was never me, it was always u to show ur anger' her tears were making him weak,,, this is the first time when both of them talking face to face'.
Maan: I know what I did I can never ask forgiveness for that,, it was my shameful act that can never redo but geet what this child has done? She looked at him with amazed and shocking expression,, what u thought geet? I'll not accept it,, geet i repenting my every action,, but I don't want to lose my child,, its not his fault that his/her father was a monster,, geet closed her eyes,,, hot tears started flowing,,, he wiped that tears but she move back'I know I don't have the right to touch ur shadow also, but why this baby is suffering in it? Trust me geet I'll love my child, i really love this little life' I want o give him/her all the happiness,, I want to be a good father'.
Geet: u can't love anyone maan, u only know how to hurt.. her inner frustration was coming out,, maan knew it,, and he was pressuring her as he knew she should flood her anger on him,, that is safest way for her health and the baby's also'. She was pouring her heart'. Maan u just came here for the baby, as its hold ur blood,, now u want to became a father huh'but let me remind u by landing ur blody sperm doesn't made u father'. U forgot this is the seed of ur act, ur brutal action that snatches my everything' now what u will him huh? Hatred? I m sure u will make him like u, a monster,, a self centered person who only knew how to use people'. No Mr Maan singh Khurana,, I can't let this happen,, tumahare jaisa insane bane se accha hain, ye iss duniya me hi na aaye'. Her tears seems not to stop at all,,, she clutches her throat in her palm, and then at her mouth to slow down her hiccups' then turn to leave the room when she felt a tug in her saree,, she stops and looked at maan, who was on her knees,, his eyes are moisten..
Maan: I M SORRY'.. mujhe maaf kardo geet.. please'.. she was feeling pain but not for herself but seeing him like this,, she doesn't know why but she didn't like this broken maan' he cried holding her hand, I m sorry, mujhe jo saza dena chaho dedo but please don't kill the baby,,, I'll not bother u with it, I'll take care of her,,, I'll do everything for her, u don't even have to look at her' her heart missed a beat.
Geet: now u want to snatch my baby? She asked in horror written on her face, he can't believe this, some time ago she was saying she doesn't want this child and now'. She touches her flat tummy in a protective manner' I won't let u have this little life'.
Maan: geet I don't want to snatch this little life, I just wanted u to feel that I want it as much as u want'. I know I m not a perfect husband but I want to be a good father,, we can give him or her a better life together,, please give me one chance,, please'. His tears began to flow freely'. Don't punish me with ur silence geet,, i m sorry,, he whisper numerous time' she felt her heart was melting his each drop of ters'.
(Sometime tears are more painful to see than Blood)
Geet stood there mum and maan sat on his knees like that' both their tears were meeting at a point' she rest her hand on his shoulder and he hugged her waist'. Murmuring sorry'..
**************************************
Its being one month from that day,,, geet didn't abort the child infact she started trusting maan slowly, still somewhere the hole was deep and that need time and love to heal,, and that exactly maan was doing,, he was giving his all time and care to her.. he have been with her till every aspect of life,, he wanted to accept whatever he have done but geet didn't let him... she is trying but still the night haunt her,, maan has shifted in his room with geet as he wanted to take care of her, if she needs anything she have to have someone to be on her side'. Maan often admires geet from far, he doesn't except it but he is falling for her' everyone in the family forgot about that day,, when she doesn't wanted the child, they thought it was her nervousness' maan took care of that matter'.
Maan open his eyes to see her angelic face,, she was sleeping peacefully,, a small smile was on her lips, she looks so beautiful'. Yeah they are sharing the same bed but have great distance'. He never crossed his limit'. Never touch her by mistake also,, that need a lot of self controlled to see the beauty of epitome every morning beside him'.
Maaneet always came together in the hall' and geet took the charge of kitchen with nt,, learing everything slowly,, nt doesn't wanted to involve her in the house hold work and in this state,, but this is geet..s he said she felt bore'..
The family felt complete in the presence of geet, only happiness flown from everywhere BUT,, fate has something new store for them,, and that day come'. To give another scare''..
Someone merged inside the masion,,,, maan was shocked to see him but happy also' so was rest of them'.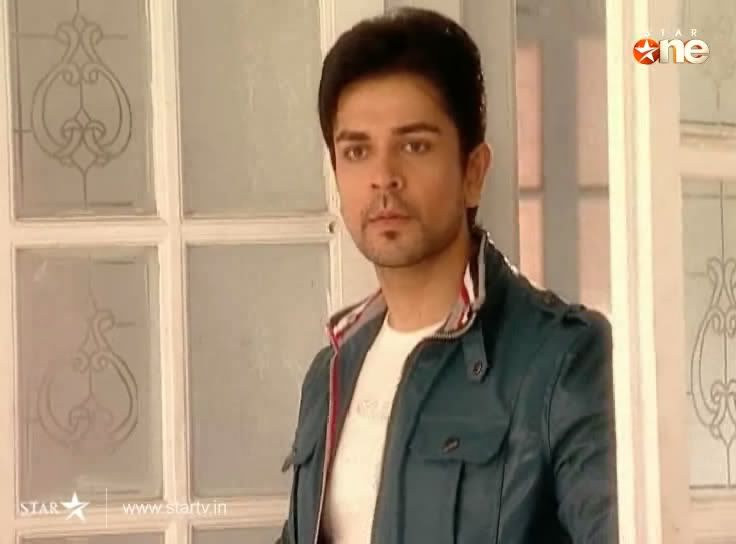 Maan: Arjun? What a present surprise'. Arjun looked at him with furious eyes,, dev came there sense some problem'.
Dev: arjun,, when u came from US? But arjun didn't have any answer to anyone,, he was looking at geet who was frightened in her path' maan looks at the way he was looking and saw geet's fearful eyes'
Maan: kya huya arjun?
Arjun: kya huya? U r asking me this? Why don't u ask this to ur wife? Maan looked at him confused'. Geet don't u tell him, why I m shouting like a maniac?
Maan is confused as how he knew geet' arjun was dev and annie's friend in US and naintara's brother'.
Get: arjun please,,,
Arjun: I won't listen today geet.. I was calling u mailing u since like ages but u don't even care for that' this is ur frndship geet?
Dev: u two know each other,, geet plead arjun through her eyes that only maan understood'. Arjun closed his eyes to reduce his frustrating state'.
Arjun in a calm voice: we are friends from grade 2,,, we both were the same boarding school in panchgini, we live there for 10the grade and then parted away,, I went to US and she continue her study in delhi'
Nt: she is the same geet u always talk about' ohh world is so small'
Arjun: I wanted to talk to u ALONE'. He was making it obvious to everyone and geet looked here n there' maan understood her plight'.
Maan: I think two frnd need to sorted there difference' I think arjun is really angry on his friend' arjun looks at maan only with furious eyes'..
****************************
Geet: what was that? She shouted'. Tum yaha kyun aaye arjun? What if everyone gets to know the truth' the way u were behaving,, u were making everything obvious,, he held her hand and make her turn'
Arjun: u know what I don't care about that.. to hell with this family,, I don't believe them anymore and moreover I don't believe u now'.
Geet: ur sister is here arjun'
Arjun: I know dammit but now I only want ur answer'. Maan's anger was boiling to see arjun's grip on her hand,, it was making him burning inside,, he was listening their talk standing outside the room.. the door was not closed properly ,,, his rage was going higher ,, he wanted to punch him for touching his geet' and he was going to held him when he heard her talk'
Geet: arjun please calm down'I couldn't make to come' I was busy'.
Arjun: busy? Where making plans for baby's room color? Why u r looking so shocked geet, u thought I'll never come to know? Geet's eyes has tears in it,,, arjun let her hand go away' and closed his eyes,, kyun kar rahi ho aisa geet?why u r playing with ur life?
Geet: I can't arjun'. I don't want to lose it,,, she touched her tummy'.
Arjun: I hate him,, I hate him for making more complication'. I just hate him' geet u have to abort this child'. Maan's world was crushing down, he wanted barge in the room but he have find out the indifference of geet's behavior'.
Geet: nooo,, she almost shout'. No arjun I can't'.. please'. He is my life'..
Arjun: god dammit u r putting ur life in danger for this unborn life'. U r heading towards DEATH geet,,, u r dying every moment and this child will take the chances of ur surviving' maan looked at them in shocked,, what he is talking about'. No he can't lose her'. geet do u understands what complication u r in' at first also I said u to start ur treatment but no u will never listen to me'
Geet: u know I don't have time arjun,,, she said in a choked voice' my chance of surviving is very less, almost none.. Then..
Arjun: u will survive geet trust me'.
Geet: I don't have time arjun,, and in that time I want only happiness for this family and MAAN'.. arjun became furious'. And maan looked at her with tears'.
Arjun: he is the reason for all this'. I will never leave him'
Geet: what is his fault in my fate'
Arjun: u love him? he asked suddenly'..
Geet doesn't know what to tell him,, she doesn't know what she feels for him'.
Geet: I don't know'
Arjun: geet'. He held her arm'. Please geet, listen to me once' pls give ur fate one chance'
Geet: rather I want to give my chance to my child'. Arjun dipped his head low'.
Arjun: I just want to see u safe and happy..
Geet: I can only leave in peace when I see my family is happy'
Arjun: I'll wait for u in my clinic'.
*************************************
Maan held arjun hand: I want to know the truth'
Arjun: what do u want to know? U have did the damage maan,, now she will never be agree for her treatment as it will be dangerous for her baby'.ur baby'..
Maan: I want to know everything he said in a pleading voice,,, they are in maan's study'.
Arjun: she is suffering from Cardiovascular disease,, maan she a hole in her heart' maan tried to stand properly but he felt his ground just slipped away'.. she in her 3rd stage where medicine won't work,, she have to had a surgery,, a heart transplant'.
Maan: it can't be true' he whisper..
Arjun: its true maan,, she is dying every moment'. She doesn't have much time only 1yr'. but that is not guaranteed,, if mental trauma is bigger then she can,,,,
Maan hold his collar: nothing will happen to her'. Maan apni Geet ko kuch nahi hone dega,, I won't let anyone even God to touch her'. she can't leave me'. She can't''
Some truth is hard to bear, it good when u didn't have to see them for ur love ones,, I wish it doesn't happen with anyone'.
Precap:
Maan: dadima aap ye sab jati thi???
Ok finished'''.yeah I know a little shock is waiting for the next update, but that is little only I m sure u can guess that' my ahand is paining and my eyes also' yaar some of u have gues it that geet has some disease,, yaar tum logo pata kaise chalta hain? but I m sure not all the thing have guessed by u'. so kaisa laga maha update???????
This is the longest part I have ever wrote nearly 5000 words,,,, now I want long comment warna mummyyy tich will cry'
.
New reader please add me in ur buddy list'
sorry for the mistakes,, i know there are many


Edited by tich.1990mg - 20 January 2012 at 1:10am