Kagaz ki kashti love that sacrifices life
Part 10
All the ladies were present in the hall'. Nt and annie took geet with them and make her sit in the center' one by one everyone came and saw her face only to praise her beauty,, the function went well,, but the one person that was missing all the while is maan'. dadima was hell angry with him,, she called him in the office but he didn't picked that,, geet's cousins rajji, and brij were there,, they couldn't came for her wedding but as the ritual of phagfera is taking place they didn't want to miss the chance to meet their jijaji' maan enter the mansion only to see the fuming eyes of dadima'..
Dadima: maan aap the kaha? Everyone is waiting for u since the function but u were not there,, where have u been?
Maan: wo dadima,,, some urgent work was lining up so I was in the office,,, u guys seems so busy and I was getting so that's why just went away,,, he looks at geet who's eyes were glued with the ground'.
Dadima: ok but now u have to go with geet at her parent's house,,, her cousins are here only to celebrate ur marriage, so try to spend some time with geet and her family as well'.
Maan: jii dadima'.
Abhinash: ok, I have some meeting and nikita has her appointment with a designer,, shall we take ur leave,,,
Everyone noded and dadima also went from there saying they can start their drive,, and as annie nt were too excited they accompanied geet'.
Maan: why u two want to go?
Annie: are bhai we want to see all the rituals there, dadima said some puja has held by uncle aunty,,, and if I m not mistaken aap ki shadi kal hi huyi hain aur abhi se bhabi k pass rehne ka mouka dhund rahe hain,,, think about bhabi also na,, she too want us to come with her..
Nt: waise bhi geet is really a sweet girl and didn't know what is good for her,,, she said in a little taunt looking at maan,, clearly indicating the protectiveness towards geet,, so we want to just guide her'
Annie: ha bhai,, u seems so careless about bhabi,,, u should take care of her wish na,, she looks at him with teasing smile,, geet and maan looked at her with confused face then annie signal the love bite(rather the cruel mark) on her neck that was by mistake showing clear as her scarf slip a little'. Maan looked at geet and she understood annie's meaning, her eyes were burning and breath became rapid as the night flash once again,, tears were threatening to fall,, nt was seeing her uncomfortable face,,, she was looking here and there to controlled the hot water in her eyes'. She looked at maan unbelievingly,, did he done something? He mind ask' maan looks away not wanting to meet the accusing eyes'.
Annie; ok ok don't get embarrassed'. Lets go now'.
Maan led them in his car,, geet was walking slowly,, behind everyone,, lost in her thought when nt patted her back, she turn and smiled at her..
Nt: what happen?
Geet: don't u think I should ask u this?
Nt: don't play riddle geet,,, what happen last night? Did he?
Geet breath caught in the throat,,, she looked at her painfully and then thought something,,, nt couldn't saw the pain on her face,, she hold her hand'.
Nt: geet please tell me the truth' u said I m like ur sister, so tell me'
Geet: dii trust me,, I m fine' nothing happen,, he is , umm a very nice person'. Nt was seeing something other than that she wanted to show,, geet can't lie and that is written on her face,, but if she doesn't wanted to share her problem now,, I have to find out on my own nt thought'.. but her tance of thought broke by geet'. Dii chale, we are getting late,,
Nt: hmm, chalo'. But geet stopped her once again,, nt looked at her confused but she just hugged her..nt was shocked to see that..
Geet: thank u'. she just went away leaving a baffle nt'. And then she too joined her'.
Maan came out from the piller,, he was coming towards them to call them but when he heard nt's question he just hide behind the piller and then hear their discussion'. And he was amazed to hear geet' HE IS, UMM A VERY NICE PERSON'.. he started feeling guilty but one portion of his mind begin to think of her threat and then he thought,,, if she want she has said all the things to nt,, but she didn't open her mouth, instead she said I m a nice person' why she is doing this,, what kind a person she is? Is she a enigma that I can't solve any day? Soon annie called him and he headed towards the car'..
The car stoped at geet's house,,, her parents welcomed them with a warm smile and did their arti'. After that,, a small puja has held there,, so maan went to take place,, geet joined him in that,, during the puja both of them steals glances of each other,,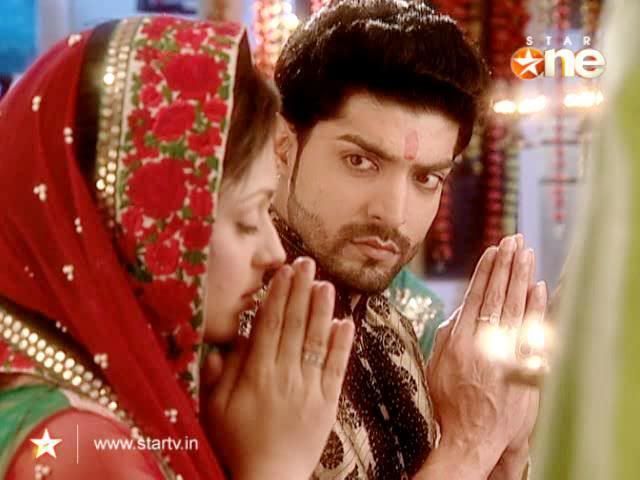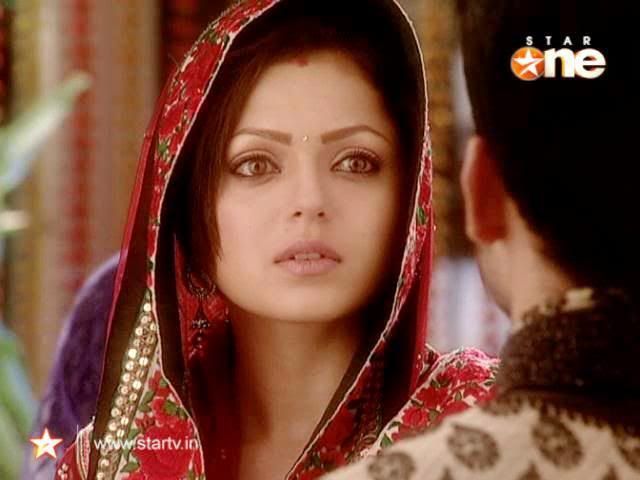 don't know why maan was feeling a tint of pain to see her tearful eyes,, her staring at the holly fire, and she wiped the tear without anyone noticing'. She was in pain and then saw his face'. He was looking at her intently, and she just lowered her lashes'.Pooja went well,, pandit gave them blessing for live together forever and ever'.
After the pooja all the youngster gather around in the small field,, brij is a nice person,, he loves his sisters more than anything,, though his real sister is rajji but he loves geet more than her,, he always felt protectiveness for her'. he was observing geet for a long time,, they are really very close to each other thought he lives in mumbai but they are always in touch,, no one can say she is his cousin,, he always takes her like own sister'. Brij wanted to ask her if she is happy with this marriage but didn't get the chance' atlast he got the chance to talk to her'. everyone was busy with maan and they wanted to play something,,, maan didn't like all this but he have to do this for dadima as annie and nt is here' secretly he didn't like nt as she always tell dadma rubbish about sam,, he thought she is a backstabber and selfish mean person who always want everything for herself,, yeah he is not wrong also if she has potrayed like that image to everyone its not his fault,,, but reality is she always love them who loved her and she can do anything for them if the question is murdering someone she can do that also'. Maan is astonished to see nt's affection towards geet,, what this girl has in her her that everyone is attracting towards her he wonder,, he saw brij going close to geet who was silenty watching the view of sunset'.
Brij patted her shoulder,, at 1st geet jump at the touch,,
Brij: geet, main hu, brij'. She smiled nervously'
Geet: ohh veerji sorry,, I was drown in my own thought'. He smiled..

brij: u always like the view from here, and I remember u always drag me to the hill just to see the sun when we were in mountabu' she smiled' geet if u don't mind can I ask u something,, geet felt some pain in her heart' her veer who never ask anything before doing it for her,, today he is asking her permission'. Her eyes got tears and brij got tensed to see that,, he cupped her face'
Brij: what happen baccha?
Geet: u never ask like this before,, u always shows ur right and do whatever u want so what happen today,, why u asking my permission?
Brij: because today I m not seeing my cute little princess,, she has grown up and started taking her decision for herself,,, but u know what, strangely I have a feeling that she is in pain,, don't know the reason, but my heart is feeling the same pain which I m seeing in her eyes' u knew my heart always one step ahead to feel her grief'.
Geet's tears started began to flow freely,, instantly he embrace her ,, she knew she have to take care of herself,, brij is enough to caught her,, he knew her inside out'. She composed
Geet: veerji,, aisa kuch nahi hain,, bas aap sab se dur ja rahi hu to thoda takleef ho rahi hain
Brij: but tu ja kaha rahi hain,, u r in the same town,, u can meet uncle aunty any moment u want,, yeah I'll be not there but u know we can catch up in email or facebook so what to worry,, she smiled'
Geet: when u will get married I will ask this question to ur wife,, he smiled..
Brij: tu sach me badhi hogayi hain'. (u have really grown up) accha chal,, all are waiting for u'
In the mean time maan got a call and he wanted some privacy,, so he goes out and all the youngster started their giggling laughing and enjoyment,, geet was slowly forgetting her pain for some mins,, she knew she got some last happiness with her siblings so she doesn't wanted to ruin their happy moment.. don't know when they will meet again'. Its nearly 8 when maan came and saw her smiling with rajji,, her smile is really beautiful and has the power to encircle joy around everyone' but her smile faded away she saw maan in front of her, she became conscious'. They take their meal for the night together and its time for geet to go back her sasural'. He eyes were watery, she hugged everyone,, brij was not sure what to do,, he was not feeling her leaving away but he have atleast for now'.. maaneet took blessing from her parents and headed toward KM''.
Maaneet room'
Geet was feeling uncomfortable in that room with him,, it was reminding her the act of previous night,,, on the other hand maan's condition was not a good one'. Geet was staring at the sky where cold breeze have been touching her for long,, her brown hair was flowing in ease' maan wanted to talk to her but he couldn't find any suitable word,, atlast geet turn to see him'. she silently walked to the bed and with a shaking hand took the pillow' and then goes near the sofa'. The couch was not a big one so it was quite difficult for her to have comfy in it,, but she manages,,
Maan: geet,, u can sleep here,, but she didn't responed,, he walked up to her and found her sleeping'. He sighed and went to his bed,, but sleep was far away from him,, whenever he closed his eyes her sad and frightened face flash in front of his eyes' he kept looking at geet,,, her face that lost all the color'.
*************************
Morning ray hit her eyes,,, get slowly open her eyes when she find a soft touch beneath her hand,, it was his palm,, she was holding it,, geet jerk and sits,, but found herself in his bed, her jerk made him awake, he saw her frighten eyes'. She looked at him with fear.. and backed out from the bed holding the spread'.
Maan: geet
Geet: maine kaha tha mujhe chuna mat,, why did u do that,, why u brought me here,, do u want repeat ur,, but she left her words there'. Maan knew she didn't believe him'.
Maan: geet, u were uncomfortable there so I brought u here'
Geet: why??? Why u did that,, he didn't knew what she wanted to know,, just stay away from me,, I'll not allow u to harm me next time'. she ran to the washroom leaving a flabbergasted maan'. he was realizing the wound is really deep that's why she can't trust him or his words'. Her words started haunting him'. he left the room right away'.
Geet comes down to the dining area,,, and heard dadima's words that shook her
Dadima: abhi to aapki shaadi hui hain and u are going London for office work'
Maan:is urgent dadima'
Dadima: then u can take geet with u.. it will be ur honeymoon also'
Maan: dadima I'll be busy with my work, what will she do there? And more over the visa is not ready for her,,, it will take time but I can't wait till then'..
Abhinash: ok maan,, u go with ur office staff,, next time take geet with u'.
Maan: sure dad'. Dadima was not happy but geet took a sigh relief thanking her fate'. Maan saw her relief face,, he wanted some space from all this that's why he have planned this trip and that too out of india'. There was a small eyes lock between them before he parted away from her'.
Geet was standing there where he left her,,, its being 5 days maan has gone to London and has talked to dadima only in these days,,, she has asked him to call geet also,, both maaneet would lie in a time that they have talked' geet has started enjoying her time with this family,, prem has brought her lost smile on her face,,, he is really a very cute boy who loves his badi maa a lot,, yeah that's he called her when they met 1st time,, now he has become her life,,, he always got her busy in his mischievousness' days flew away like in some moments,,, slowly everyone started loving geet for her lovable behavior,, and for geet,,, maan's absence made her only comfortable in this family'.
Once nikita has brought her frnds in the mansion for her social party,, more like a kity party' and then every other woman who was interested to get married her daughter to maan started bad mouthing about geet' they were insulting geet in their own way'.
One woman: nikita ur mansion is so beautiful and royal but why u started collecting garbage in the house?
Nikita: what r u talking about? Then she saw her indication towards geet,,, who was engrossed in the arrangement for the party' mind ur tongue disha,, I know she is not the choice I made for my son but now she is daughter in law of our house'.
Hetal: ohhoo don't get mad nikita,, actually ur so called daughter in law is really looking down market yaar,, look at ur saree,, its so costly and see her dress that can never compare to ur shoe also'. Nikita knew they will continue their talk about geet and frankly she didn't mind it at all but being in the mansion she is worried about dadima only'
One of the girl to geet: don't u feel shame with ur presence like this in the huge mansion and this party? Geet looked at her piercing eyes,,, she is a girl at a age of nearly 22 or 23,,, clad in mini skirt and top,,
Geet : and who are u to tell me this? She said in pure confidence'..
Sasha,,, nikita aunty's best frnd's daughter sasha '.
Geet: ohh so miss sasha don't u feel ashamed wearing this cloths, coming to the party when u knew it there will be more older woman like that she said pointing to some women who were eyes sasha's cloth' and I don't think I should give u any explanation of my dressing,,, I m happy the way I m'
Sasha: hey girl this is modern age dear, and this is in fashion,, may be they are eyeing u as u r looking not more than a house maid'. And that time dadima came there
Dadima: I think guest should be in their limit,,
Sasha: dadima aap iske liye mujhe ye bol rahi hain
Dadima: i never knew u have tied rakhi on maan and dev's hand,,, geet giggle softly,, but suppress her laughter,, so was nt and annie who just came with dadima'. Hmm u are talking like some bichri hui behna of maan' Sasha just can't stand the sight and left the place instantly'..
Nikita came there: u shouldn't have spoken to her like that'.
Dadima: now u wil choose my word nikita?
Nikita: no maa I was saying,,,
Dadima: geet ko itne der se sab insult kar rahe hain aur aap sirf dekh hi rahi hain,,,
Nikita: that's not true maa,,, I also don't like unkind remarks about my son,, and this marriage has only ruined his image'. Geet's eyes got some tears in it but she excused herself from there'.
**********************
It was 10th day maan didn't come yet,,, geet started gelled up with everyone except nikita,,, she doesn't like her at all,, as her thinking maan has destroyed name and reputation marrying her'. geet tried to gain her love but failed miserably,,,, it was then when geet was playing with prem and he was running ahead,,, geet has a glass of milk in her hand and running behind prem to drink that,, but as usual he was busy with his mischievousness'.
Geet: prem stop na,, u'll fall baby,, please'.
Prem: I don't want to drink that,, he was really small and was running fast,, it was difficult for geet to run behind him in a saree'. Suddenly she bumped with someone,,, she was going to fall and therefore closed her eyes in fear,, but she never reach the ground as two strong arm wrapped around her waist and gripped her tight to prevent her fall,,, there was a brief moment and then she opens her eyes,,, her heart beat started rising unknowingly'. And fear engulf her,, he felt her shiver under his touch'.. he just let go off her making her stand on the ground''.
Precap: accident and guilt
This was enough long,, don't know when I can update next,, love u all for ur support,, from next part u'll see only maaneet and yeah sujal will make entry soon, but please be with me in every face,, there will be some rona dhona but some passion is on the way''
Sorry for all the mistakes I know many are there'..

new readers please if u want PM,,,, add me in ur buddy list please,,, it will be easy for me...



Edited by tich.1990mg - 17 January 2012 at 4:05am