Kagaz ki kashthi-Luv that Sacrifices Life'.
Part 2
Meera and jay comes there and rest of the day,,, they enjoyed their last stay together' least they knew it will be the last happiness of the togetherness of them'.
It's being 2 weeks now sujal has gone to Mumbai,, he is living in a apartment gave by the company he is in working,,, day by day geet has became depress' meera n jay tried their level best to cheer her,, they caught her busy in job interviews and their mini outing,, she understood their motion,, an tried to show she is ok,, but within she can't control her heart to stop being upset'. This has another reason though' till now sujal has called her only for 3 times' 1st when he reached there and 2nd 3rd in these 13days,,and whenever she tried to call him he kept it on voice mail, or his phn will be not available' , so its quite miserable for her,, they have been together for so many years and now suddenly they have depart'
Geet is in her own world when sujal called her,, at 1st she didn't responed it but after few ring she takes it reluctantly'. She answered it in absent Mind''
Geet: helloo..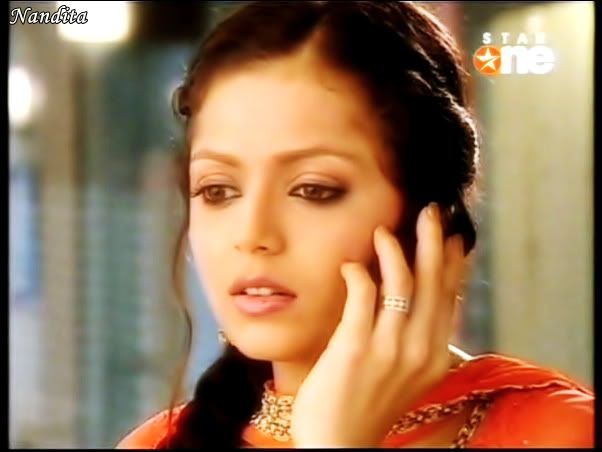 Sujal: geet'
Geet: sujal, she asked in excitement'.n then remember he has not called her in past days,,, she cutely pouted,,, ohh yaad agayi meri?
Sujal knew will will be hell angry,, I m sorry jaan,, work was overloaded and this new place has lots to fix up, that's why couldn't get the time to call u' I m really sorry'
Geet: it's being 14 day u have gone,, and in the mean while u have called me just for 3 times,, yehi agar main karti to bhi tum aisa hi react karte? She said sadly'. Sujal knew its his mistake but he is telling the truth,, he was congested with work,, and till now he didn't get the time to call his family as well''
After some ruthna manana, geet finaly fogave him and they chit chat for sometime,, making sure both are fine at their respected places'..
Sujal: geet did u gone for ur check up?geet bite her tongue, and the silence is enough for him to understood her'. Nahi gayi na,, janta tha,, u are so careless geet,,, u didn't have any respect for me'.maine dusre din bhi kaha tha ajne ko but tum to tum ho,,, She cutely pouted at his accusation'
Babaji ye sab kya keh raha hain ye, itne din baad phn kiya wo bhi ye sab kehne k liye, can't he be romantic for once?
Sujal: r u listening what I m telling u?
Geet: ha,, ha suna na' main ja rahi hu na,,
Sujal: ja rahi HU? Kab?
Geet: wo wo..
Sujal: talk to the doctor today and make an appointment of tomorrow,, I'll cross check with the doctor and jay n meera tume lejayenge'
she made a face,, main baachi hu kya
Sujal: ha bacchi hi ho,,
Geet: I hate u'
Sujal: but I love u,, she smiled at him, his care that always feels her special'
Geet: I love u too'
Sujal: ok now I have to go,, will call u later'
Geet: tum call karoge na?
Sujal: ha jaan,, jarur karunga'.bye'.
Next day
Khurana Mansion'''''
Khuranas are the richest business man in India and in top 10 in the world'. The view of KM itself says the royalty' and the personality of the men in the house is magnificent'. But one thing is there also,,, emptiness,,, love' they dodn't have time for each other' MR Abhinash khurana always busy in his world,, travelling and expanding his business in whole world,, and MRS Nikita khurana always busy in her social work'. They didn't have any time for their children,, that is one of the reason of maan's rude behavior'. He didn't get the love from his parents' from his childhood he has only seen his father on business trip and his mom in in some social works, kity party etc etc.. they both wanted the best for their kids,, they wanted to give the best and a luxurious life but they forgot to give the most precious things to him, their LOVE'. He has been craving for love, and only one person has gave all her love to the kids,, savitri devi' daadima loves them equally but as maan is alone one, who always keep himself away from everyone, get the extra love from his daadima,, and thats why he love her the most,, in the world'. She is his world,, and he can anything to give happiness to her'' and the second one he loves the most is annie and apart from them his sweetheart Samaira'. She is 2yrs younger from him, but they are best buddy from childhood, she cares for him, loved him, and support him in all their life'. Though he didn't like her modeling but still he convince him successfully'.
It's a usual morning, for them'''.
Mr n mrs khurana doesn't have the time to wait for their son,,, so they have started their breakfast' later maan join them giving angry look to everyone'. He kiised hid daadi on the forehead and took the seat beside her'..
Dad: maan u r late'
Maan: aap log jaldi agaye dad,, he said rudely,,,
mom: kaam kaisa chal raha hain maan?
Maan: as usual good'
Mom: u have to keep it as good as ur dad has build
Maan: u didn't ask me how I am,, she looked at him,, hum 4 din baad mil rahe hain, and all u want to know about work,,,
Dad: she doesn't want to,,
Maan:no dad its ok, work is more important than children'. But one thing I have to clear, I m not the kid anymore,,, he stood up and gave a side hug to daadi and just walked away arrogantly'.
Dad: he has become very arrogant'.
Daadima: good for u,, it will give benefit to ur business' she walk away with a sad face,,,
Dev and nt always surrounded by their own earth,, its more than 2 days they have gone to a special trip but never feel the importance to tell anyone, or take their kid,, prem, and alone child,, maan loves him very much but didn't show it infront of anyone, he is scared,, if he proved to be a uncle or father like his father then he(prem) will hate him like he does to his father'..
Daadi has decided to go to the temple but here she go again,, no one has the time to go with her or spent some time together,,, so she take the car with her'..
Geet has done her check up and was returning home, when she saw the temple'.
Geet: jay gadi rokkk'. He stop its with a halt' meera waked his hand
Meera: marwayega kya? Aise koi gadi rokta hain..
Jay looked at them with a baby face; maine kya kiya ye geet ne hi to bola gadi rokne ko, aur wo bhi aise,, jaise uski zindegi yehi atak gayi hain'..
Geet: uff meera leave him,, look the temple, its so beautiful, meera looked at her direstion and saw that..
Meera: what is new about it, ye to har temple jaisa hi lag raha hain,,, geet gives a deadly look to her' what? Yaar tujhe har temple accha lagata hain and I feel all of them same,,,
Geet: lets go na'
Meera n jay: no way'.
Geet: go to hell,, main to ja rahi hu..
Jay: tu hi hell me na pouch jaye,, but she has gone'.
She enter the temple and bow down to touch the floor and covered her head with her dupatta'. After her praying she turn to leave and saw some crowd gathered in one place in a circle,, she dodge them and saw an old woman lying on the floor, everyone was staring at her and some were patting her face to wake her up, she instantly took the old woman in her lap' and ask for water and a doctor, till then the priest has already called the doctor ,,, geet started rubbing her hand and after sometime she was rubbing her feet,,, slowly the lady open her eyes and at that time doctor just arrived'. He checked her and confirm it was weakness and her blood preasure problem'.
Geet: ye kya daadima,, aap apna kheyal bilkul nahi rakhti kya,, doctor keh rahe the apne sayad BP ki medicine nahi liya tha,, savitri devi looked at her amused,, the way she was talking to her it was like she is her own daughter or grand daughter' aapko apna dhyana rakhna chahiye,, apke gharwale apke liye pareshan ho rahe honge na,, daadima smiled sadly'.
Daadima: yehi baat k ato dukh hain k hamare ghar walo k pass itna time hi nahi hain k hamare liye fiqar kare... lekin ek hain, jinhe hamari chinta apne aap se bhi jayada hain, hamare pote Maan'.
Geet: give me his number,, I'll call him about ur health, agar unhe itni fiqar hain to apnke medicine ka dhyan bhi to rakhna chahiye ,,,, aise careless kaise ho sakte hain'
Daadima: nahi bte,, he will be really tensed'. Geet took her mobile and tried to reach him but his phn was switched off'
Geet: daadi inka phn nahi lag raha hain, chaliye main apko ghar chod deti hu'.
Daadi tells her that she can manage as she has her car but geet insist to go with her' after convincing like thousands of time jay and meera agreed to leave her with daadima, as they were getting late so headed off to their home'.
They entered the big lawn of Khurana Mansion''''.. geet was dumfounded to see the big mansion, it was like a dream,,, daadima let her to the mansion and introduce with everyone except maan,,annie click with her instantly, but the other member just gave a intro and walked away so geet can understand the reason of daadima's sadnessbut can't do anything, she feels so helpless but yet a bond'. it was quite late,,, and she have to go now, daadima didn't wanted to leave her but she have to,, so she have to promise her to meet her every day'. And that goes really long'.
Its being 2 month geet is meeting with daadi but yet not with maan,, they have never met as their timing has never met'. But one thing has changes in this time,, geet is not the same geet she used to be,, she didn't call sujal or take his call,, at 1st sujal missed her call but when he settle down and tried to reach her, she started avoiding him, no one knew the reason,, even she had stop to meet meera and jay,, she has kept herself in a shell that no one can break,, but everyone fail to get the reason'. She regularly met daadi, daadima loved her like her own child,,, she just got her whole life in her''.
Daadima: geet,, aap hasna vul gayi hain'.
Geet: daadima,, I m smiling see, she gave a full teeth showing smile, to which daadi just patted her cheek'..
Geet: daadima se jhoot bolengi?
Geet rest her head on her lap,, nahi daadi,, hasi mujhse ruth gayi hain''
Daadima: aaj hum apse kuch mangna chahte hain,, dengi? She looked at her..
Geet: main apko kya de sakti hu? Jab mere pass,,,
Daadima: geet,, sirf aap hi de sakti hain'. hamare pote maan se shaadi kar lijiye'.
Geet looked at her shocked, tears were threatening to fall'..
Daadima: geet mana mat kijiye,, ye hamari akhri khwaish hain,,
Geet: lekin wo,
Daadima: hum unhe sab samjha denge, please aap raji ho jaiye,,, geet nodded and hugged her tight''''..
Next morning'''.
Breakfast table,,,
Daadima: hum aap sab se kuch baat karna chate hain,, everyone loked at her with questioning look' humne maan k liye ek ladki dekhi hain,, I wanted to get married him to her'' now the ground slipped away from everyone'. Maan looked at her shocked'.
Maan: what? One part of her heart is happy to hear it as if daadi finally agree to get him married to samaira,,, but to his bad luck the next set of word broke his chain og thought and happiness'..
Daadima: unka naam Geet handa hain,, hum unhe papa se baat karne jana hain, jinhe hamare sath chalna hain chalo,,
Maan: daadima aap ye sab kya bol rahi hain? geeet? Who is this GEET HANDA? U know I dodn't even know her,,,
Daadima: u'll get to know her,,,
Maan: u know I'll not love her'.
Daadima: u'll love her after getting married'their argument continue for sometime,,, and that is the 1st time maan and daadi has some argument,,,
Maan: I'll not marry her,, its my life and the decision will taken by me only,,, he said all this giving his back to daadi'. And when he turn to see her,,, he was shocked to see her'
Daadi was clutching her heart, and slowly sinking in the ground'.
Maan: DAADIII,,, he rushed to catch her before she land on the ground,,, he lift her in his arm and and rushes to the hospital''
The doctors checked her and confirm its only a minor aatack and she can go home by the evening but,,, but she needs lots of care and a slight tension can harm her,, maan got petrified to even thinking about losing her'. He sits beside her holding her hand,, daadima opens her eyes and caresses his face'
Daadima: I m sorry maan,, I shouldn't have force u'..
Maan: nahi daadima, I m sorry, mujhe waise baat nahi karni chahiye thi'
Daadim: its ur life maan, and u have the right to lead it in ur own way..
Maan: no daadima,, u have the equal right to decide anything'
Daaima: lekin apko hamari decision pasand kaha aati hain'
Maan: aap jo decision legi jaisi legi mujhe manjoor hain'.
Daadi tried to get up but maan didn't let her move,,, he goes near her, and she kissed his forehead' mera baccha'.
Precap: maaneet meeting'..
To apne daadi se mana kar dijiye'..
He grabbed her hand and pinned her to the wall'.agar wo kar sakta to pehle hi kar leta,,, I m not asking ur help, I m telling u truth,, if u don't want to see hell just stay away from me and this relationship''..
Sorry for the same precap,, but it was needed for the plot,,
part 3
http://www.india-forums.com/forum_posts.asp?TID=2500073&PID=50987118&#50987118


Edited by tich.1990mg - 29 September 2012 at 8:25am