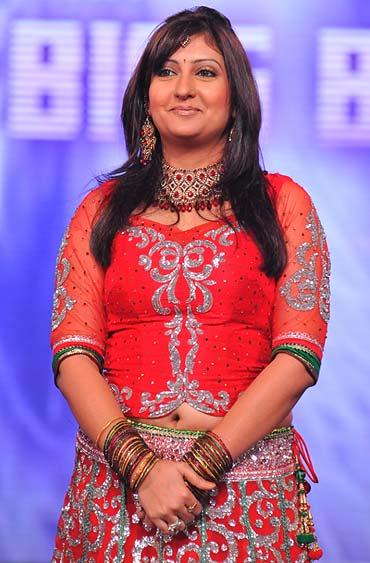 of



Juhi Parmar ( born 14 December 1980 in
Ujjain
), daughter of Devendra and Hemlata Parmar, brought up in
Jaipur
in
Rajasthan
is a well known TV personality and a versatile anchor, actress, Television Presenter, singer and dancer. In 2011, Juhi featured in the reality television show Bigg Boss (Season 5) as one of the contestant.



:Personal Life:
Juhi Parmar is married to Television personality and businessman Sachin Shroff.
She has won The Miss Rajasthan title in 1999.
She won the Best Actress critic (Female) at the Indian Telly Awards in 2005 for her character "Kumkum" of STAR Plus's Kumkum (TV series).
She was nominated in various Television Awards for her character "Kumkum" of STAR Plus's Kumkum (TV series).
She won many awards for Favorite Bahu, Patni and Bhabhi "Kumkum" character for Kumkum (TV series) in STAR Plus's Star Parivaar Awards.
She is most notable as she essayed lead roles in Shaheen, Kumkum, Devi, Pehchan (Pakistan serial), and Tere Ishq Mein (Pakistan serial).
Her Social Commitments include sponsoring a baby girl under "Project Crayons" and she is with Rotary, year 2004 in their quest to eradicate Polio finally out of India.



:Television Career:
Juhi Parmar has worked in the following television series:



:Other Work:

::Special Appearance::
Juhi Parmar has made her "Special Appearance" in the following television programs:
Tere Liye: danced as a Ma durga's avter in 2010
Khullja Sim Sim

Jodi Kamal Ki: with her sister Heena in 2006

Kismey Kitnaa Hai Dam

Kucch Kar Dikhana Hai
She has also worked in the following advertisements: Noga Juice, Argil Tiles, Tanishq, United Cookers, Seylon Tea, Supreme Detergent, Tata Sky, Kutchina products, Diya online, etc.
Pehchaan: The Face of Truth (2005) (Television Premiere) produced by Raveena Tandon
Padduram (for release in 2011)



Juhi's Fans come n Join This Page to Support Her ...n said her
4 BB5