Part -5
All are standing in the bank of river cavery. They are ready for funeral. already they made two pyre. all are ready for anthim bidhai . One is for dev and another one is for darji. Brij holding fire torch in his hand another side maan holding fire torch. His eyes were crimson red..like burning charcoals . the orange fire reflecting in his eyes. He tighten his jaw and waiting for priest instructions. Opposite to maan geet standing like she lost everything in her life. yesterday she is pasting due to durga pooja again for marriage sake even today she is pasting due to her marriage but at end everything vanished. Her faith played again with her…maan staring her from past some minutes. What is in his eyes only hate and anger where she couldn't accept it. Her innocence eyes were again and again trying to convince that she is not a victim..but even his eyes were assuring that she is the victim.
Finally brij walked three times around darji pyre and alight the pyre with a torch of flame. Now maan walked around dev pyre three times he ignited the pyre with torch of flame. His heart is squeezed when he saw last time his only one loving brother. He sobbed loudly. First time in life he cried…still dev smiling face appearing in front of his eyes.
"bro…I don't want to attend meeting..pls bro I want to attend friend party.."
"maan bro pls don't tell dadima night I have taken hot drinks…pls manage it." ..
"bro I need geet pls…pls…"
" bro I want to wear your shirt today…"
"bro how is my angel…"
"bro …bless me that I should happy with geet till my last breath …"
not one or two they are many….once with burning eyes he saw geet..she is looking too pale and she drowning down as if she is not having any strength in her body. jugunuu mama holding her tightly.
Maan turn his face…dadima is in hospital still she is in shock. why i agreed this marriage with geet…oh I didn't expected it will take such a serious turn…how soon everything is happened. He came here for marriage …there are plenty wishes in his mind….he want welcome new bride and groom to his KM. he want to play with dev children…he had big ambition that to establish KC business entire whole world . Finally what happened .now dev turning to charcoal in another few minuets…there is a bad burning smell started to spread around them. Priest ask every one to leave from the funeral place…all came back.
While going priest instructed every one not to turn back. Jugunu mama move forward almost dragging geet . she is not willing to come from there. her one and only darji is left her. how much he wished her to take part in her marriage finally everything is vanished…oh noo…I can't live alone without her darji. They are already moved. Suddenly she turned back. She felt like her darji calling her opening his arms in between fire flame …yes I don't want to live here..without darji how can I will be here…no I should go with my darji… jugunu mama holding her tightly..but really don't where was the strength…she pushed him at one jerk with devil strength and ran to pyre. All are turned back and stood like dumbfounded…"geet…" brij screamed loudly….all are gazing at geet their mind were totally blanked…their eyes were widened in horror…why she is running towards pyre…again the devil showing its strength …all villagers were feared and again turned back.
In what speed maan reached geet really he don't know….geet about to fall on burning pyre…maan holed her tightly from her back….no she is become mad…she tried to escape from his grip…but maan tightened his grip…don't know where was the strength she pushed him and again she moved to pyre. maan slapped tightly on her cheek….she felt some stars falling in front of her eyes…next movement she slipped into dark world. Maan lifted her from his arms and walked towards villagers. All are staring them crazily. They are not believing their eyes. maan came to near brij and handover geet body to him…and went out without speaking one word.
After three days maan gathered dev mortal in a pot .tears were rolling on his cheeks….how much dream he had and came to here finally he turned to ash…he taken some ash with mortals and return to delhi. While returning to delhi once he saw geet room its closed. All these three days he didn't found at least once the room was open…dadima discharge from hospital and went to delhi directly from hospital not willing to visit hosaipur again…next flight even maan went to delhi.
At hosaipur,
Geet is In her room hugging her knees by her weak arms.. almost one week..she is not even in this world…now no one are bothering about her. brij want to spend some time with her but pummy prohibited. Only jugunu mama is giving her little food . she is refusing to have food but some how jugnumama making her to eat. She stop to speak with her dumb friends like gouri. ganga and lakshmi. She didn't seen sun light from past one week. Her self she shifted from havely to out side which she is staying before near cow shed.
Now she is scaring to face people….she is not willing to be cause for another death..she hided her self in the room. Jugunumama try to convince her but geet is already shattered.
After twelve days darjis karmas completely completed. Brij got a message from surpanch to attend the meeting next day morning. Brij knotted his eye brows…lost time already they declared to send geet forest some how darji and brij stopped them but this time nothing will work.
Next day morning all are gathered near durga mandhir…all the elders sat under the big banyan tree….when giving justice all the villagers were gather under this tree according to their village policy. Geet standing with jugunu mama…and other side pummy and brij standing dipping their head down like victims. Pummy is fuming in anger…she is hating geet like any thing. this is second time she is standing here without her fault. now don't know what these people decide. They warned very seriously at last time itself….
The elder sarpanch discussed with everyone and declared in front of everybody that they prohibiting geet family from this village. Sarpanch told very clearly with brij…"brij we are given many warns to your family still you are not respected us. Even we are given plenty of chances to you but again bcoz of geet a innocent guy met death in this younger age. Your darji also surrender to death bcoz of geet. now we decided to send out your whole family from this village. We are not ready to see another death in this village. So pls co-operate with us."
Pummy shocked…she went and hugged sarpanch feet.. "pls don't send us out… we are not ready to go from this village. Our house ,our field , our form everything is connected in this village .our children were two younger. pls don't send us out…I agree geet is a cause for all this…we are agree to send her out from this village…pls sarpanji help us.."
Brij rushed to pummy" pummy what are you doing…"
"chup bill kul chup…till today I am hearing all your words but from today I am not going to hear you…if you want you go with her…we are going to hang our self. just think once….even I am having two kids..i should take care for those children. Sarpanch ji pls help us…"brij closed his mouth..she is right. I am not only geet brother even pummy and my children were my responsibility. He stood helplessly.
Finally sarpanch declared to send only geet to forest. No one are not aware about geet feelings. Tears rolled on her cheeks…why my mother given me birth…why I should be here…that day if maan saab not saved me I am happy with darji. Now I am scaring to attempt even suicide. How can I go alone in forest. How can I live there without anybody…no one are worrying about me…why this world is so cruel. What was the mistake I have done…
Two days passed ….at evening its 5'o clock….today geet is ready to leave handa havely….and going to forest. She is trying to control her sobs but its impossible. Its turn to hiccups …brij sat in his room. He don't have the courage to face geet. she is one and only his sister ..he is not able to save her … help her…why faith is punishing both of them.
All the villagers gathered in front of handa havely. Sarpanch ji send a message to geet. geet came out holding one small bag in her hand with jugunu mama. Jugunu mama carrying one gunny bag which is filled very little quantity of food grains. Looking her face even sarpanch ji felt bad…he knew how soft she is, how good hearted she is…once she saved his own daughter from accident…but situations made him to take tuff decision on her.
First ladies make her to bath in turmeric water. then they dressed her beautifully…they brought her to temple. Geet for last time she joined her hands to her mathaji. All the villagers stood there itself. Geet understood …this is the end of her village boundary. now she should move alone into forest. Suddenly she scared…she ran to brij…she hugged him tightly "veerji..pls save me…I don't want to go forest..pls save me…muhje bahuth dar lagtha hain.."she cried bitterly….slowly she is becoming insane. Brij stood like a statue. After few minutes geet realized no …no one help me…I should go to forest this is my faith….no one can change my faith.
"geet beta….pls go soon or else it will be late for…."
Geet busted her laugh….all are looking shockingly….they scared…they stepped back little…her laugh is not controllable….
"what will be the difference between if its going to dark or not….i will be alone in forest…"at end again she cried. Villagers noticed that she is becoming panic.
Again geet assured" don't worry …Ill go…" she picked her bag and about move jugnu mama hold her wrist.
"geet beti ..ill come with you …"geet smiled at him…some how one person ready to come with me…no…I don't want anybody….all are selfish…no I am selfish bcoz of me many of them dead…may be I am the responsible for those deaths. After departing my self from this village may be all the problems will be solve.
"no…jugnu mama…I can manage…."in another hand she picked gunny bag. Actually its too weight..but still geet hold it started to move in forest…. But she stopped her self.
Suddenly black bench car stopped in front of geet. first they found a pair of black sharp tip shoes. Then they found maan getting down from his car. Like a male lion he stood in front of everybody. he is wearing black formal and black gaugles to his eyes. in this dress his muscles more visible. He is looking like a stone statue. He standing in front of geet. he removed his gaugles. Geet scared to see his eyes. his eyes were red like they dipped in blood few minutes back.
He extended his left hand and holed her wrist furiously and dragged to in front of temple. He removed his shoes once entering inside the temple using his toes. Geet shivering…she is sweating…she is not understanding what he is going to do….all the villagers followed them like they are in under magic.
Maan pulled mangal suthra which is placed in mathaji neck. he replaced to geet neck. he taken handful sindhur which is placed in front of mathaji. Just he filled her mang furiously. Geet closed her eyes…trying to understand what is happening with her…..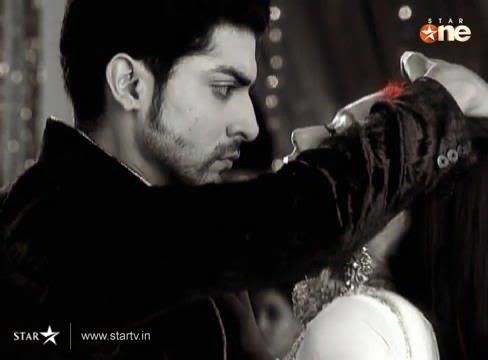 Pre cap: " yes she is my wife geet khurana…."
AGAIN THANKS TO SHRUTHI FOR PICTURE.
Hi buddies,
Sorry for late update…I am suffering from back pain from last few days. Its realy painfull to sit at one place more then half on hour. I think my buddies forgive me for late update. I expected no of likes like pavithra vivah…pls comment and press like buttons. Sorry without editing I am posting pls forgive my mistakes.
Varsha.