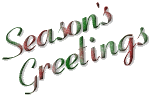 In this X-mas,
In the daytime if sun shine so shall Ur expectations come true,
At night when moon comes out so shall U receive blesses,
then if rain fall so shall it going to carry all your problem away from U!
Happy Merry Christmas
From Home to home,
and heart to heart,
from one place to another.
The warmth and
joy of Christmas
,
brings us closer to each other.
Somehow, not only for Christmas,
But all the long year through,
The joy that you give to others,
Is the joy that comes back to you.
And the more you spend in blessing,
The poor and lonely and sad,
The more of your heart's possessing,
Returns to you glad.
Christmas gift ideas / suggestions:
To your enemy, forgiveness.
To an opponent, tolerance.
To a friend, your heart.
To a customer, service.
To all, charity.
To every child, a good example.
To yourself, respect.
Bells are ringing
the wishes of christmas day
the flying snowflakes
send my most sincere blessings
to you merry christmas.
This Is The Month Of Candies,
Cakes,
Coolness,
Snows,
X 'Mas Songs,
X'Mas Sandals,
Etc...
So Enjoy The Every Moment
With Peace & Happiness.
May this Christmas end the present year
on a cheerful note and make way
for a fresh and bright new year.
Here's wishing you a
Merry Christmas and a Happy New Year!


Edited by roopalgupta - 24 December 2011 at 12:41pm