Sunny Deol gets going!
Mumbai: Actor Sunny Deol is busy travelling these days. But it isn't for shooting, nor is the actor holidaying.
Instead, Sunny is working on his next project Ghayal Returns, a sequel to his 1990's blockbuster Ghayal.
With this, the actor is also actively involved in resurrecting their film banner, which had launched him, his brother Bobby and cousin Abhay Deol in Bollywood. And according to sources that's the exact reason for his constant travelling.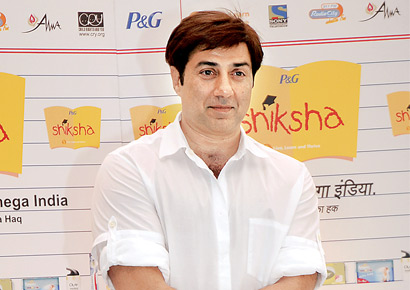 A source says, "Sunny is currently in London to scout for a location for a scene in Ghayal 2. Since the rest of the film will be shot in India, Sunny doesn't want to go wrong, even if it's a small scene in the film that will shot abroad. The actor had just returned from Manali, before heading to their farmhouse in Lonavla, where he was working on finalising the script. Sunny is leaving no stone unturned for making sure that his sequel is as big a success as the original was. Meanwhile, filmmaker Rajat Rawail is also busy auditioning new faces for the female lead."
Sunny, who was last seen in Yamla Pagla Deewana, will also be seen in a new avtar in his upcoming films, I Love NY and Mohalla Assi. In the latter, the actor plays the role of a Sanskrit teacher and had earlier said, "Learning Sanskrit is tough, but I am working hard on it. I play a Sanskrit teacher, so it was important for me to learn the language."
But in Ghayal 2, Sunny will be once again seen doing something that he is best-known for – action. The source adds, "Ghayal was one of the biggest hits of Sunny's career. He was known for his action and angry man avtar, and now after portraying varied roles in his upcoming films, it will be a refreshing change to see him do something he is popular for in the industry again."