hiii guys!!!!!!!!!!
so this is my first romantic os , so please be leanient
MODERATORS PLEASE BEAR WITH ME...
ADULT STUFF DOWN THERE SO BE CAREFUL ABOVE 18 PLEASE...
DO ENJOY!!!!!!!!!!!!!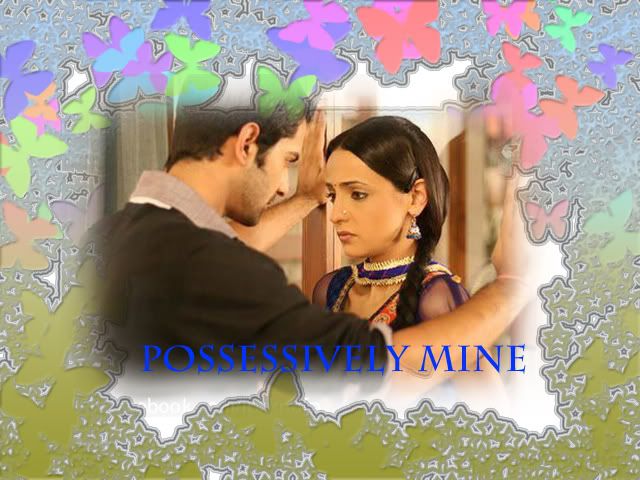 Khushi stood in front of arnav's room, practising her speech when suddenly the door opened.
Seeing khushi with diffrent look arnav was bowled over.the hot curls looked damn hot with her pink anarkali suit.he stood there speechless.They both just looked at each other.
On its own accord arnav pulled khushi's hands so it resulted in khushi falling forcefully on his chest & arnav locking the door of his room.they looked intensly in each others eyes, falling hopelessly in love with each all over again & trying to ignore it all over again.
None of them knew that today it was inevitable.
Khushi - arnavji, kya kar rahe hai aap hamara haath chodiye.
it resulted in arnav holding both of her hands at her back more tightly with his left hands & his right hand to wonder on her whole body.
Khushi was losing control with this acts of arnav.she desperately needed to distract him & remove herself from his arms or she would lose herself in his arms.
khushi - arnavji 30 mins mein apki sagai hai, aap ye kya kar rahe hai?
Insted of leaving her as she expected , he walked her to the nearest wall & pushed her hands above her head on the wall behind her.he didn't know what he was doing but he couldn't stop himself.
Arnav - maine aur lavanya ne sagai tod di.
Khushi - par kyun? Kuch hua kya? Bataye na hame , hum baat karte hai lavanya ji se...
Arnav - uski koi jarurat nahi hai, main uske liye kuch feel nahi karta aur nahi wo mere liye , isliye hamne ye sagai tod di.
He bends & nuzzles his nose in khushi's hollow neck.khushi trembles.
Arnav -khushi sab ko chod ke tum mujhe kyun effect karti ho , kya hai ye hamare beech...haan?
khushi - kuch nahi hai hamare beech...
arnav - kaho main tumhe chuta hoon to tumhe kuch mehsoos nahi hota, kaho ki jab main tumhare pass aata hoon to tumhare dil zor se nahi dhadakne lagta ...
khushi - arnav aap kya kar rahe hai, ye sahi nahi hai...
while intertwining his his fingers with hers he feels that she does not have her engagement ring on her finger
arnav - khushi tumhari engagement ring kahan hai...
khushi - aapse matlab...ye hamara neeji mamla hai...
arnav - agar mujhe tumhari life se koi matlab nahi hai to kisi ko bhi nahi hona chahiye...ab batao mujhe...
khushi - hamne apni sagai tod di
he just feels a inward happiness after hearing that...
arnav - tum iska matlab janti ho khushi?
He starts to kiss her on her face , feather like kisses , then goes on kises her collar bone & he bites her neck leaving a mark & then soothing it with his tongue while khushi moans loudly.he lifts his hands from her hands on the wall & let them take their course. His left hand wonders down her kurta as he touches her navel lightly making her moan helplessly.
khushi - arnav...ah...ah
arnav - you make me crazy khushi...
He pulls her hair from back with his hands not sharply but not too softly either making her groan , he kisses her neck & then goes on and kisses her lips roughtly but it gets tender slowly.
Khushi's hand comes down slowly one hand goes & tugs his hair while the other goes on the button of his blue coat tugging it due to her unrestrained passion caused by arnav's kisses & nuzzles.
They finally end the kiss due to the loss of oxygen, while khushi pants , arnav goes on doing his old ministration of her neck.
The possessive feeling of seeing the mark made by him on her neck makes him go animalistic. He feels a kind of possession on her, like she is rightfully his.his to take, his to love & his to conquer.
Arnav - mine ...mine...
Tell me khushi whom do you belong to? Tell me...
Arnav asks forcefully while still kissing & nuzzling on her neck...
Khushi - ah...ah...
Khushi can barely remember wat arnav is talking about due to his sinful kisses , but after lots of trying tells him wat he wants to hear...
Tells him wat would give him the right over her life forever...
Khushi - yours' am yours:...ahhaaahhh!!!
Finally he asks her the inevitable question, the question Which will really make her righfully & really his, the question for which she had waited all her life:...
Arnav - i love you khushi, ...cut that am crazy about you khushi .
Marry me & make it beautiful with your laughter , marry me or i'll go insane without you...
Khushi - yes yes , oh yes & i love you too . You make me forget ever damn thing.i love you so much it hurts.
Arnav - it won't anymore sweetheart & i'll certainly make sure of it...
DO COMMENT!!!!!!!!!!!!
ENJOY
LOVE YA...
VISHRUTA