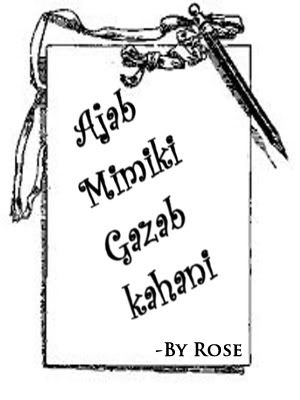 You know Rose, I don't know what Ajab Prem ki Gazab Kahani or whatever it's called was about...but after reading this very ajab kahani I think An Early-winter Night's Dream (or more aptly nightmare
) would have also been a good title.
Mimi is alone in her home working on the computer completing her new assignment. Her family has gone out of the city to attend a marriage and she couldn't accompany them because of her new job that she has taken up.
Yeah, new job...how did I ever get out of bed to get one in the first place? *sigh*
Tomorrow is her birthday and here she is busy tapping her fingers on the computer keys, but if you think she is sad that she will be alone on her special day then you are sadly mistaken cause her two
seriously
crazy friends are coming to her place for night stay
**yaay, slumber party! I'd always wanted to play truth or dare with Rose
**
and will be celebrating her birthday. The door bell rings and mimi smiles excitedly thinking must be them, she opens the door and finds rose and sonee
+SB
grinning broadly especially rose showing all her teeth
(uh-oh RoSuds moment!
)
as if posing for a toothpaste advertisement. All three hug each other tightly and soon the whole house gets filled with laughter. Sonee and rose take out a packet from their bag and show mimi her birthday gift, a beautiful pullover along with a cute little cap.


Thank you. It is very cold here now so it'll be very useful.
But I see my little cousin getting away with that cute pom pom hat.
Mimi all happy says," aww its so nice..i shall wear it tomorrow for sure." She thinks for a while then comes up with an idea," hey girls lets go shopping." Sonee who is busy unpacking frowns and replies," but why should we go shopping we have our clothes for the party."
Soneejee that's exactly it...and you probably chose the outfit too!
Mimi shakes her head in disagreement," no ways, I am not giving you a choice, its my birthday and I get to decide what you both shall wear tomorrow
(!!!!)
and I am going to pay for your dresses..end of discussion we are going ..thats it" rose and sonee exchange a helpless look and agree to go out.
In the mall rose and sonee are looking through various out fits when mimi comes with a long dress for rose,
Nooo!
Rose I know I'm always telling you to do parda-varda but ONLY when you're going idhar-udhar and will be in front of OTHER people...NOT when you're in our safe company! Let's just pretend I chose this for you instead:
Suds also approves it.

she is happy with her selection and pats mimi's back," fine I like it 'now what about our sonee..what do u have for her." Rose's eyes dancing in excitement knowing very well that mimi will come up with something really spectacular for sonee.
Correct.
Mimi winks at her and brings her hand holding an exotic outfit from behind and shows it to rose, her eyes widen in shock then her lips break into a naughty smile, she knows that mimi will never disappoint her and even today she hasn't. mimi clears her throat and goes close to sonee who is standing near the footwear section," soneeji , this is for u, I am sure u will look devastating in this." Now comes the priceless moment which mimi and rose are waiting for
(
)
,*sonee's reaction* eyes popping out, mouth open wide and face losing all its color out of shock making her wonder are, these two really her friends?
(
Oh Soneejee...your're too innocent
)
As if listening to her inner voice both of them shake their heads innocently but she knows that these girls can be anything but innocent, she purses her lips and declares," no matter what I am not going to wear this." And turns her back to them, mimi pouts disappointingly and looks at rose who still has a mischievous smile, she whispers into mimi's ears,"
(of course she does, she's my less-angelic conscience
)
try emotional blackmailing..she will definitely fall for it." Taking her advice mimi hold sonee's shoulder and turns her around then with a grim and pleading face asks," cant u do this much for me on my birthday?"
(
)
sonee gets emotional and drops her head thinking," ajeeb dharma sankat mein phas gayi hoon..izzat bachaoon ya dosti?"
(kya bacha hai teri izzat ki anyway? Choose us. Be smart.)
both mimi and rose exchange a look that the trick is working just then sonee's mind also for a change starts working although as per rose she has no mind but still today it comes up with a rescue plan," ok I will wear that dress but I have a condition." She picks up a pair of gum boots," I shall wear these boots as well."
Nice try Soneejee!
Mimi narrows her eyes wondering whats the use of wearing this dress if she will have the boots on, she is about to protest when rose presses mimi's hand to stop her and says," done sonee u can wear these boots." Leaving mimi confused," sonee why don't u choose a pair of sandals for me too till then me and mimi shall go and pay the bill." On the way to the cash counter rose tells mimi," she thinks she is really smart but not smarter than us ..what if at the last moment after wearing that outfit her boots go missing? U know anything can happen." Mimi and rose smile proudly and give each other a high five.
And I found the perfect image of our high 5ing scene too!
Don't we look like the innocent girls we are?
After the shopping gets over the girls begin to walk back home when they come across a weird looking woman sitting at the corner of a pavement with a crystal ball. Sonee and rose don't believe that a crystal ball can tell one's future but mimi curious to know about hers approaches the lady who pouts after every two seconds and stuffs her scarf in her mouth (
) whenever she sees something in that crystal ball," hello maam I am mimi can I know a little bit of my future?" (seriously I'd be the last person to do this
) the lady smiles at her and introduces herself with a pout," I am babi" sonee raises her eye brow and asks," bhabhi? Kiski bhabhi?" (Saach mein...Soneejee aap aake sauten ko nahin pehchan paye?
) the lady rolls her eyes and replies," not bhabhi..its B A B I..babi" she then begins to gaze at the crystal ball and says looking at mimi," hmm so you have started working once again?" mimi nods her head in agreement, while rose and sonee exchange a look wondering how does she know, then dismiss her statement as just a fluke. (Na-uh...Purohitji ke aatma uss mein guss gayi that's how she knows!) Babi states further which surprises all the three girls," mimi my dear I believe u suffer from sleeping disorder..i mean u sleep at really odd hours (
...no, the hours are just odd. Period.) when the whole world is sleeping u are wide awake and vice versa." (Yes! Finally, someone notices the world needs to change!) Mimi is astonished as to how does she know such a personal thing of hers so correctly, she looks back at rose and sonee who are also in a similar state and now stand close to her beginning to believe this babi who further predicts," my child if I am not wrong tomorrow is your birthday 'but..there is still one night to pass by." Mimi feeling something is not right questions her," do u see something bad happening?" babi pouts and shakes her head," tonight is THE night ..no matter what u don't have to sleep tonight..if u do so then.." rose getting worried because of the way she is speaking talking mysteriously asks," what will happen if she sleeps tonight?" babi places her palms on her cheeks and answers," then she wont wake up for next 50 years!" (
) mimi is shocked (
) to the core, rose who was till now starting to develop some faith in all this shrugs off her shoulders and has this I don't believe it look on her face whereas sonee who is the most knaive of them all gets tensed and asks," bhabhi..oops sorry I mean babi ..cant u suggest any remedy for this." Babi stares at the crystal ball closely and comes up with a solution," if she falls off to sleep then before her birthday gets over she can be woken up only by her prince charming." (
I get to sleep for half a century or woken up by my prince no less. Maybe this isn't such a bad thing.
) an Mimi wonders from where do I get my prince charming, he is still in my dreams, I am yet to meet him. Rose throws a challenging look at babi and asks," what if her so called prince charming doesn't turn up?" babi reads the suspicion in her eyes and smirks," then be prepared to see your friend awake after 50 years." (Oh man, I'd miss my family and you guys and the forum so badly.
I'd never get to see what happens in DABH either.
) Rose pays her for her services and pulls both of them from there.
All three are walking back silently, the words of babi ringing in their ears, rose doesn't like to see her friends upset so to cheer them up says," look mimi, firstly all this is just rubbish, this is not a fairly tale (No, it's a craziest fairytale.) and you are not a sleeping beauty **mimi pouts here** so don't take all this seriously, secondly we all know that u hardly sleep at nights so why do u worry about all this?" sonee also agree and says," you are forgetting that tonight we all will be together and trust me we will not let u sleep even for a second." Mimi smiles and begins to feel better, rose thinks why leave this opportunity of knowing something about mimi's prince charming and asks," so mimi rest assured we wont let u doze off but IF by any chance u go off to sleep then darling please tell us something about your dream man, I mean how will we find him." For the first time mimi starts blushing (
) which is a treat to watch especially for sonee as its always the other way round. (
) Mimi pauses thinks then replies," hmm I don't expect a lot but he should be intelligent, talented with a mind blowing smile (Oh yeah!) and his eyes..his eyes should make me feel like drowning in them." (Taking Rose and Soneejee right into the eye-pool with me.) Both rose and sonee listened to each and every word carefully they know something like that will not happen but still they didn't wish to take any chances. Just to make things lighter rose suggests," mimi if u really wake up after 50 years then we will have to find some ramu kaka for u." and laughs out loud, mimi understanding the humour adds on while eyeing at sonee's legs," **drooling** well in that case I wouldn't mind getting naughty with the ramu kaka." (Nope. I wouldn't.) Making sonee go furious, embarrassed and flushed all at the same time, she pulls down her skirt a little (
) more in an attempt to hide her legs from those mischievous eyes and asks," tum dono ke ghar maa behen nahin hain kya?" rose elbows mimi playfully and replies," maa behen toh hain janeman par tu kahan hai?" sonee tries hard to get upset with them but both of them know that she can never get annoyed with their silly harmless (and innocent) flirtations.
At mimi's place all the girls change into pyjamas (
I should've chosen your nightwear too I see) and start preparing the dinner actually rose is doing everything alone in the kitchen because she has no faith in sonee's culinary skills and mimi lacks them completely (you got that right.
) so sonee busies herself in her favourite pastime i.e vm making and mimi tries to finish off her office assignment quickly so that she can enjoy her birthday to the fullest. After having a simple dinner cooked by rose **drool again** all the girls engage themselves in having fun which is pulling sonee's legs. (
) The night gets old, rose and sonee begin to feel sleepy but they cant tonight they have to keep a strict eye on mimi and not let her sleep. Rose comes up with an idea," mimi lets watch something really boring that drives away our sleep."
Mimi : ok then lets watch LTL 's current episodes (
)

Rose (frowns): sorry sweetheart I don't believe in self torture ..something else
Mimi (thinks hard): how about diya aur baati hum (dabh) (
)

Rose: u mean dabba? (
) Fine lets watch that

Sonee: ohh please ..spare me the horror ..i am going to complete my vm's u gals carry on ..and hey rosie don't u dare let her sleep.
Rose n mimi start watching that dabba, 15 mins. later rose begins to yawn and asks mimi in disbelief," do u seriously watch this crap .. no offence to anybody but still what has happened to your taste?" (I don't know. It's definitely active when Soneejee's walking around) Mimi doesn't bother and continues to watch the show, suddenly she feels some weight on her shoulder, rose madam unable to bear the show further drifts off to sleep. (Aww!
) Mimi smiles then changes the channel and to keep herself awake begins watching the latest episode of LTL. Within minutes the wide awake mimi spots someone on the screen, someone very close to her dream man and closes her eyes happily and before she realizes she too dozes off along with rose. Sonee stretches herself, a satisfied smile playing on her lips, she has finally completed her vm and as usual she wants rose to be the first one to watch it. She comes out of the room and is astonished to see rose sleeping on mimi's shoulder and mimi resting her head on rose's head. (double aww!
Sonee tu bhi aaja aur hum dono ko teri lap mein sula de
) Sonee screams," ROSIEEE" rose wakes up in shock and straightens herself quickly as a result mimi's head falls on her lap, now she is surprised to see mimi sleeping, her gaze shifts to sonee who has hands on her waist and is angrily glaring back at her, for a moment rose thinks that dutta's angry spirit has gotten into sonee. (probably...like purohitji and Babi)

Sonee (furious): rose what have u done? How can u be so careless, u let her sleep?
Rose (guilty): I know a sorry wont make asleep mimi awake but what could I do? Usne mujhe itna thakela programme dikhaya ki meri aankh lag gayi. (no, no...you found it so soothing you fell asleep.
)

Sonee (irritated): haan aankh lag gayi ..otherwise your eyes keep wandering up and down. (woah, Sonee...itna bold statement.)

Rose bites her lower lips and warns her," sonee don't use double meaning words..right now is not the correct time..lets do something to wake her up." Both of them shake mimi and call her out but she doesn't open her eyes. They sit on the sofa defeatedly and wonder what if babi's words come true?
Sonee (worried): rose we need to do something really fast, we cant let this happen to her.
Rose (nods her head): ya we have to find her prince charming as soon as possible, lets advertise about him on the face book and India Forums. I am sure we will get a good response soon.
Advertisement on Facebook and India Forums
Rose and sonee invite proposals for their friend 2* years, 5'* working in top MNC seeks good alliance from well to do, intelligent and talented boys. Walk in interview tomorrow after 8 AM at 420 Lovers street, Canada.
Continued below...