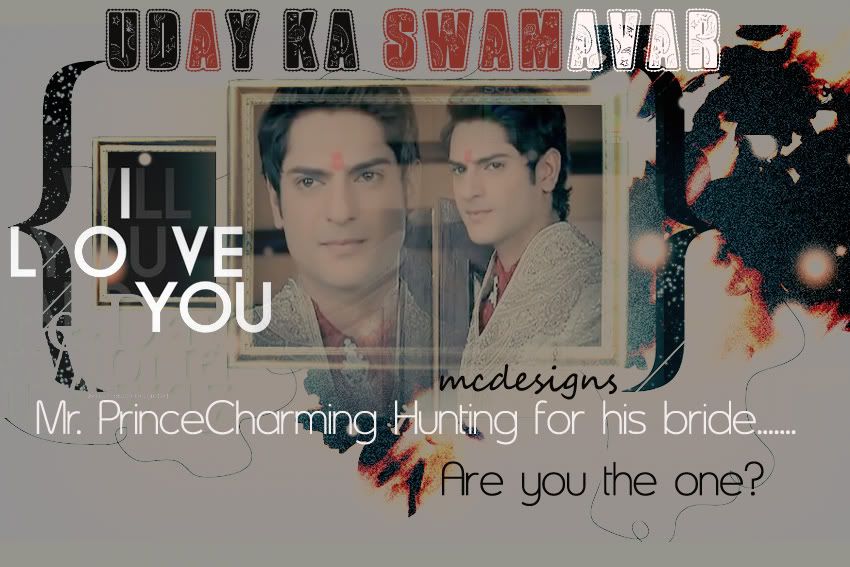 a fun post to cheer up
after the crappy episode today
since manayat is showing too much attitude and she doesn't know what she has
so uday ji app manyata ko cho do is forum mein bahut si ladkiyan hain jo apko bahhuuut zayda pyar karti hain
bas kisi ko bi pick karlo we can sing for u
watch movies together
dance is optional if u suggest
or going to party
don't worry hum bikul nahin piyage waise bhi jiske pass hum jaisa bf ho use sharab ki kya jarrort
. manyata ke pass uska akash hain naa
. waise hum sab girls ko appka evil+ prince charming attitude bahut pasand hain
jab app smile karte hain hum toh faint hi ho jate hain
so jaldi se manyata se breakup karo
aur humari forum se koi ladki chuno
from all ur deewani's
little fanfic on uday's agreement
me- *coughs* appp I-F ke bride hunt me partcipate karege, plz yes boliye naa
uday- what? are u serious?
uday: Mere liye bride hunt?
Me- kyun nahin you are hot,killer eyes and smile, bindaas attitude n should i continue?
Uday: humari aaj tak inti tarif(praise) kisi ne nahin ki
me- aur karega bhi nahin
uday: hmmm... let me think
me. don't think naa dekho tumari popularity ho jayegi aur waise bhi I-F ki girls are the best in the world.
uday- kitni girls participate kar rahi hain?
me- about 100 or soo
oh
me- aur nahin toh kya app bhi tooh udayveer hain naa 100 ka app ke toh millions ki line lag jayege
uday- akhir hum bhi uday hain line toh lagegi naa.
e-
me- so u agree?
uday- kyun nahin lekin manayta?
me- manyata toh bhag gayi akash se saath. waise bhi u deserve better naaa.
uday(angry) i deserve the best
me- yes u do my love
uday- kya?
me- kuch nahin kuch nahin
k
me- are u ready?
uday- hum apka bride hunt karenge.
me- yipeee

Requirements
* Madly in love with uday
* thoda sa attitude is a must.
* Jay ko irritate karna is the golden rule

~List of the Brides~
Miss.Colorfull(shivani)
poulomi12
reeha...k
filmyprincess
ChocolateQueen
kasharhilover
moksha89
sexyheels
Sheetal.Shalini
mahi0809
tackerfan
adventure_gurl
alisha_yashAran
kittykisser
muskaan1gill
sparkjule


Edited by Miss.Colorfull - 15 December 2011 at 8:57pm